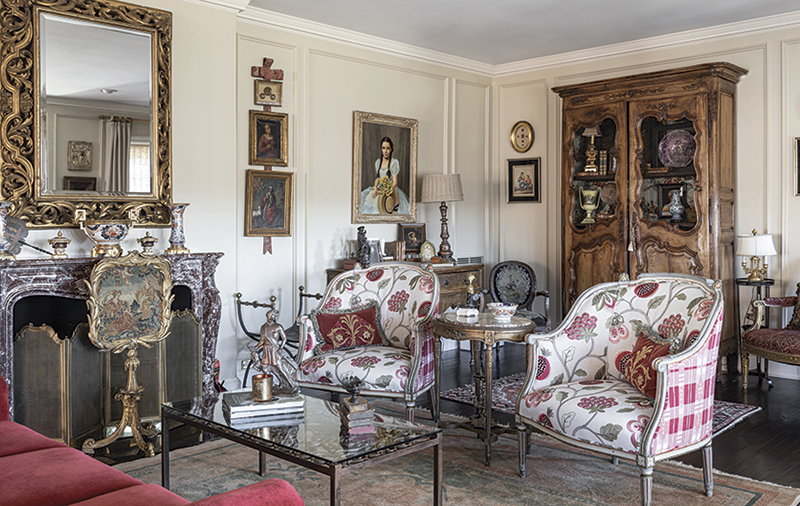 There are less-is-more people who feel better with edited rooms.
And then there are more-is-more people who feel most at home surrounded by objects they've collected over time.
Jim and Susan Birt are definitely in the more camp. Jim is a property developer and Susan is the Acquirer-in-Chief. They have grown children and a grandchild.
"I love buying French and Italian antiques. I just can't stop," Susan says with a laugh. "I've taken Jim on many forced marches along 45th and State Line," Kansas City's antique district.
"As you shop, you get to know the dealers," says Jim. "Every piece has history. And it becomes kind of a hobby." Jim's mother was Italian, so many pieces also came from family trips to Florence and Paris.
The Birts tried downsizing, they truly did. But their former Brookside cottage and garden just didn't suit them. Their prized possessions couldn't breathe.
So when a fifth-floor Plaza-area condo in a desirable 1929 property—complete with English knot garden—became available, they jumped. In its early days, their historic home once belonged to Kansas City fashion doyenne Nelly Don. With warm, linen-colored walls, dark oak flooring, architectural moldings, and a fabulous crystal chandelier in the dining room, the condo was the perfect new home for the couple's collections.
But they needed help. Lots of help.
Who found the right spots for all the treasures? Rich Hoffman of Stage Right Designs, who has worked with the couple for years.
"When moving them into this condo, it was my job and joy to display each and every piece, to reinvent each piece. Each one had to find its new home and shine on its own," says Hoffman. "The word 'edit'—Susan's least favorite word—was stricken from conversation, and rightly so. Things went up. Things went down, often moved, then moved again, and again."
"See it, enjoy it," says Jim philosophically.
Antique furniture got taken apart and put back together. In order to fit in the freight elevator, the movers had to disassemble an 18th-century biblioteca, now in the living room, and cut the 18th-century dark oak dining table in half. Paintings were restored and reframed. New rugs were found for the new rooms. Garden pieces were repurposed. "Lead figures can be found dancing in unexpected places," says Hoffman.
Today, the Birt home looks lived-in, in the best possible way.
Accents of pomegranate red and sea blue drift from room to room in upholstery, painted decoration on furniture, needlepoint, and paintings.
In the living room, a portrait of Jim's mother as a young girl takes pride of place next to the fireplace. The biblioteca, made of wild cherry wood, looks no worse for wear after being put back together. The room is awash with saints and holy figures. "We love ecclesiastical art," says Jim. "There is so much social history and material culture involved in each piece," adds Susan. Two armchairs in a pomegranate-embroidered upholstery take up the color theme.
In the dining room, a needlepoint-esque patterned fabric cushions the chairs around the table. A trumeau over a cabinet, purchased from Barbara Farmer at Parrin & Co., features an oil painting of pheasants and fruit. On the oak vasselier, an 18th-century miniature carriage with working parts continues to fascinate Susan. "I am still enchanted," she says.
In the tiny breakfast room, where the couple has dinner every night, a painted round-topped table also came from antique dealer Barbara Farmer, reputedly by way of Cyndi Lauper. Such is the story-within-a-story of each piece.
The condo has two principal bedrooms. One is decidedly masculine with a dark wood four-poster, hunting paintings, an Art Deco French chest, and a collection of little boxes.
In the second, pale blue and cream lend a softer touch, along with an antique Italian lady's desk, painted with floral motifs. On a corner table are more little boxes, porcelain and china that also delight Susan.
Everywhere you look, there is something to catch your eye.
"This is a place where anyone could easily walk in and be at home—looking out at the top of the trees," says Hoffman. But it's the perfect perch for this couple.
---
The It List
Design
Stage Right Designs | 816-678-9874
Antiques
Christopher Filley Antiques & Design | 816-668-9974
Parrin & Co. | 816-753-7959
Flowers
Craig Sole Designs