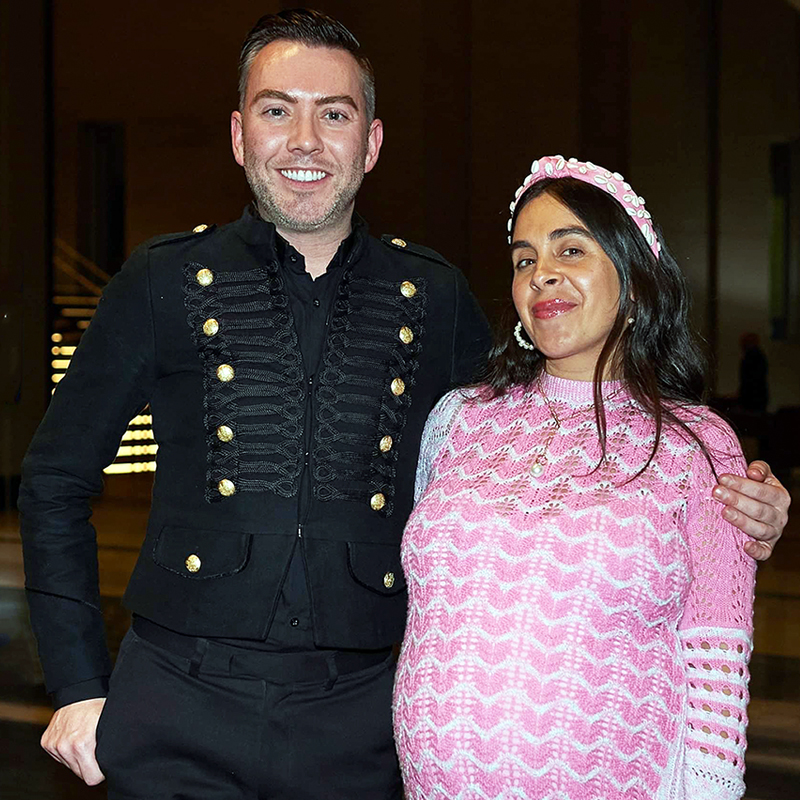 The Nutcracker Ball
''We. Are. Back." That was the opening toast by the artistic director for the Kansas City Ballet, Devon Carney, to kick off the 54th annual Nutcracker Ball black-tie gala. Presented by the Kansas City Ballet Guild, and co-chaired by Tempe Ostergren Elsberry and Karen Yungmeyer, it was a hotly anticipated gathering of more than 450 ballet patrons—particularly given last year's canceled occasion. In addition to raising funds that support the ballet and its various educational and outreach missions, the event also serves as the unofficial kickoff to the holiday party season and the beloved, dizzying schedule of The Nutcracker performances.
Ball guests gathered at the sparkling new Loews Hotel Kansas City—my first time there for a large event. Able to walk the few blocks there, I smartly met friends early at the Bar Stillwell, just off the lobby. In plush velvet sofas, with soaring glass walls framing the city skyline, we sipped on a round of the Pleasure to Burn cocktails—tequila, jalapeño shrub, pineapple syrup, and lime.
Hot Gossip: Upon being overserved and carried out of a holiday party, who quipped "But I just had a physical; I don't know what happened."
It felt so incredible to have everyone together, dressed in gowns and sequins, or in my case, a nutcracker-inspired jacket embellished with rows of brass buttons and braided military detail. We made our way to the ballroom for cocktail hour, more mingling, and ultimately sat for a decadent dinner amongst festive Craig Sole Designs florals.
As we dined, special acknowledgements were given to the honorary chairman, (dearest man and friend) Michael Fields, as well as the annual Pirouette award recipient, Dr. John Hunkeler, for individual devotion and patronage to the ballet across decades.
And what's a ballet ball without a smattering of ballet? With tables arranged around a circular center stage, we were all treated to pop-up mini performances by company dancers. I'll note that I especially loved the interspersing of current electronic dance-music beats with Tchaikovsky's Nutcracker score. It felt fresh and fun.
Overheard: "Aren't these new pants cute? They've got the elastic waistband—with me through the good times and the bad."
Afterwards, guests took to the dance floor for some twirling of our own, with the Fountain City 45s band adding a jolt of energy. And people danced. Over the years, I've been to a number of the ballet's balls and similar legacy arts organization galas, which I always enjoy. I was telling my friend (and co-chair) Karen, days later, how electric this year's event felt. While no one hopes to have another global pandemic halt our arts and revelry—one silver lining might just be our renewed, collective ability to savor it all a little more now that we are back.
Spotted: Julia Irene Kauffman, Jeff Bentley, Peggy & Terry Dunn, Jackie & John Middelkamp, Maurice Watson, Ursula Terrasi & Jim Miller, Amy Embry, Susan and Dr. Stephen Bubb, Ann McCray, Barbara & Jack Spilker, Mary Leonidas, Julie Anderson Clark & Vince Clark, Nicole & Myron Wang, Siobhan McLaughlin Lesly, Mike Sigler, Greg O'Bourney, Kurt Knapstein, Linda Lighton & Lynn Adkins, Don Loncasty, Dr. Terry Anderson & Michael Henry, Dan DeLeon, Lauren DeLeon, Lauren Merriman, Garret Toms, Jane Ehinger, Tara Raghuveer, Erin & Will Gregory, Dr. Amy Patel & Joe Rathermel, Barbara Reed, Holly Bawden, Annie Simmermon, Emily Moore, Aisa Palomares
---
A Toast to Twenty
I'm not sure at what number I began attending the Heidmann Art Salons, organized by Scott Heidmann and Ken Petti. What I am sure of is: at each and every one, I've been captivated not only by the new genre-spanning artworks, but equally by the curated stream of art-lover attendees assembled with the same thoughtfulness as the art gracing the gallery walls. For the 20th salon held in the art gallery space of the Crossroads Hotel, 30 artists were featured.
Many were reprise appearances (a nod to the past), but several were brand new (a look ahead to the future). Rachel B. Hayes was back with a massive and colorful parachute-like quilted textile sculpture. There were glazed earthenware figures from Paolo Porelli, of Rome, juxtaposed with Linda Lighton's ceramic lipstick bullets (determined to be my next purchase), and gilded, cast-concrete sculptures by Jill Downen. I also loved Hadley Clark's beautiful and gripping dress made of discarded cotton waste—work of art, ready-to-wear—or both? Mark Westervelt had two pieces delicately constructed from dried paint chips, and Kit Keith, an artist new to the salons, had a series of acrylic portraits painted on found onion-skin letterhead. Perhaps high on the night's euphoria, I picked up a mesmerizing eye study painting by Benjamin Parks. Several other artists included Peregrine Honig, Miguel Riveria, Jeff Robinson, Michael Lucero, Eileen Lang, Jay Norton, Stuart Heidmann, and Shea Gordon.
Hot Gossip: What KC couple just had a prominent nuptials profile published in The New York Times?
The art salon was but one component of a nearly month-long string of events making up "Santa Cause"—random acts of Christmas, helping families with children in need during the holiday season. Other events across the month of December included pet portraits with Santa, food and toy donation drives, and a Fellini-inspired, entertainment-packed dinner at the hotel's Italian restaurant, Lazia. (It's finally reopened after a 16-month pandemic closure/reimagining—and is every bit worth your return.)
Spotted: Karen & Jack Holland, Helen & Frank Wewers, Dr. Regina Nouhan, Carol Meunier, Barry Eisenhart, Katrina Revenaugh, Lisa Lala, Pam Dicapo, Holly Post, Tom Mentzer, Jackie Streiker, Luis Mortera, Jeremy Bennett
---
A Change for the Dreamlike
I've never attended a trumpet-focused instrumental jazz concert before. But when Mary Kemper Wolf mentioned the opportunity—naturally, I jumped. For the U.S. debut of his sophomore album, A Change for the Dreamlike, Missouri native Hermon Mehari returned from Paris to share his masterpiece at the 1900 Building. (It's worth mentioning that Mehari's first album, Bleu, debuted at #1 on the iTunes Jazz chart.) Mehari conceived this album during two months of le confinement in the Corrèze region of France, living in an attractive barn that appears on the album cover. Sheltering in place during the initial pandemic uncertainty, by the miracles of modern technology Mehari was able to virtually collaborate with other artists across France and from Kansas City for the album. 
Performing with Mehari were pianist Kae Dilla, drummer Brad Williams, and Peter Schlamb on the xylophone and various other instruments. The album is a very personal "lock-down" journal—each entry featuring various memories, fantasies, and wishes. The song Conversation with my Uncle is a melancholic exchange between trumpet and spoken word. In it, Mehari's uncle recites Mehari's father's refugee story—something the musician wished had been recorded prior to his death. Eritrea explores Mehari's Eritrean heritage and incorporates elements—which Mehari carefully studied in this vein—into his music for the first time. And in Shenandoah, Mehari analogizes the Dordogne River, which was near his confinement barn, to the Missouri River he grew up next to.
Yet another Kansas City-to-Paris "connection"—the MiRR Collective, co-founded by Mehari and formed to organize, develop, and promote artists working on creative and multidisciplinary projects in jazz, improvisational, and contemporary music, digital arts, and choreography. MiRR also holds a biennial festival and distributes music under the MiRR label. Mehari, especially, has notably worked to strengthen connections between our two cities, always including Kansas City artists in MiRR's Jazz Days Festival. And he's working on more ways for each city to exchange and connect. The evening's concert event benefitted MiRR, which was also accompanied by a dedicated art exhibition, curated by Kemper Wolf. And while the concert was an ephemeral evening, the exhibition will remain free and open to the public through January 15.
Witnessing Hermon Mehari on stage was an incredible experience. From his gleaming smile, to his laidback white linen ensemble and barefoot appearance, to his tender and deferential demeanor—he exudes the purest form of genuine joy. He manifests smiles. If you're interested in hearing more from Mehari, he recently began his own radio show on KCUR 89.3, called "The Session." Beaming from Paris, he's able to celebrate and share music that inspires him every Saturday evening from 7-8 p.m.
Spotted: Gary Wolf, Georgia Wolf, Lee Langston, Lisa Garney, Anna Marie Tutera, Sarah Morris, Benny Lee, Don Schreiner, John Escalada, Rachel Smith, Matt Anderson
---
Kappa Kappa Gamma Homes Tour
For 70 years, the Kappa Kappa Gamma Alumnae Association of Greater Kansas City has hosted its annual holiday homes tour. I was delighted to attend the preview night and kickoff party—shockingly, my first time at this event. This year, four incredible and diverse homes formed the tour.
Homeowners Janet and Gary Hall, Chasitie and Mike Walden, John Schuppan, and one anonymous couple generously allowed ticket-purchasing Kansas Citians into their homes to get a glimpse of how they celebrate the holidays. Studio Dan Meiners and Craig Sole Designs were back with their floral and décor magic to transform these homes into shimmering showcases—not to mention Wild Hill Flowers and Events, which made its tour debut. Pickwick & Co. had rooms full of scented candles, giving each home a signature scent paired appropriately with the unique feel of each residence—Fraser Fir being my favorite.
Overheard: "It's not that I don't like a good deal; I just don't always need one."
I also loved how the Kappa tour board assembled homes with a variety of styles: a modern French country, a regional prairie-style modern, a masculine Tudor revival (the original owner invented the three-ring binder!), and a French modern (including an entire grandparents' wing).
After touring the homes, my group ended at the 1900 Building for cocktails, nibbles, and the opening of the event's holiday boutique. Vendors included Art from Architecture, Dalton Ink, Erin Paige Love Designs, The Farmer's House, Mary Don Beachy Children's Books, Pearly Girls, Poppy's Creations, Shop Jane Birch, Spruce Home, and Teal Lotus. There was jewelry, leather items, artwork, baked goods (including the famous fudge), and of course, Pickwick's four scented candles featured on the tour.
Beneficiaries of the tour rotate—they've raised millions over the decades—and this year they included Jewish Family Services, House of Hope, and the Kappa Kappa Gamma Foundation. Congratulations to the tour board co-chairs, Maddy Poletis, Patti Sosa, and Rory Welsh.This event has absolutely secured itself in my future annual holiday plans.
---
So, KC—where do you want to go? XO
email: dlair@inkansascity.com  | Instagram: @damianlair #OurManINKC