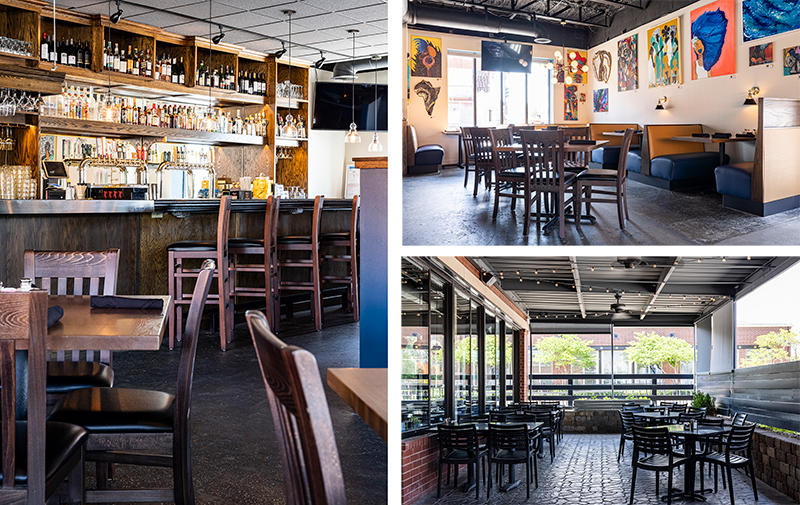 Good neighborhood restaurants have a few things in common: approachable menus with enough variety to keep diners from getting bored; tasty and affordable food and drinks to keep guests coming back; and the enthusiasm of the neighborhood they're in.
Cliff's Taphouse, a new Martini Corner spot that opened this spring, checks all those boxes and more.
Inside, the restaurant has the look of a polished, modern bistro, and the walls are hung with purchasable pieces from community initiative Black Space Black Art. A covered patio borders the parking lot and sits slightly below street level and puts diners right in the middle of the neighborhood, which feels energetic but not so frenzied as to be stressful. The old KCTV broadcast tower looms large in the background, and the relaxed patio is a main attraction on a sunny summer evening as the clock ticks down toward the end of happy hour, offered 3 to 6 p.m. Tuesday through Friday.
The happy-hour deals are an undeniable draw, offering discounts on a sizable chunk of the lunch and dinner menu, as well as beers and a dedicated $5 cocktail list. The special drinks skew fruitier and less complex than Cliff's regular cocktail menu, where you'll find several variations on Moscow mules, plus a negroni, and Rebekah's mango mojito, made with fresh squeezed lime, grapefruit juice, and mint.
Naturally, a place with taphouse in the name takes pride in its beer list. Cliff's offers 20 or so beers on tap, with many coming from local breweries. The featured drafts aren't the most unique offerings from any of the KC spots—on this outing, it reads mostly like a greatest hits list of local beers—but there's still plenty to enjoy in one spot, especially if you're pairing it with food from executive chef Laura Valdivia.
So many chefs attempt to stand out by offering their "elevated" interpretation of classics that don't end up hitting the mark, but Valdivia smartly leans into the sense of familiarity and focuses on making food that wouldn't freak out a 10-year-old but still appeals to grownups.
The smell of wings is pervasive and deeply tempting, as is the dish itself, available in Asian-glazed or buffalo flavors. The wings are served in their full glory and the chicken is tender, although the buffalo sauce is a little sweeter than what you'd expect and can't quite stand up to the blue cheese dressing's tang. Other starters include buffalo cauliflower bites and roasted veggie tostadas, two dishes that make it clear Cliff's wants to offer options for gluten-free, vegetarian, and vegan diners.
Of course, there are also the hearty dishes you'd expect to enjoy with a beer. The taphouse burger is juicy, if cooked past the requested temperature, and the waffle fries are robust, crisp, and delicious, with visible grains of salt nestled into the lattice. Cliff's also serves up a fried-chicken sandwich and a salmon BLT, in addition to a host of soups and salads.
The baked mac n' cheese features cheddar, Parmesan, and Monterey jack with cavatappi noodles and toasted garlic breadcrumbs for a craveable version of the childhood favorite that lets the cheddar flavor shine instead of trying to mask it with funkier cheeses. Spaghettini in a roasted-beet sauce with goat cheese and zucchini is a more sophisticated pasta option, although no less fun. Additionally, Cliff's menu includes a selection of heartier entrées, such as shrimp and grits and flat-iron steak.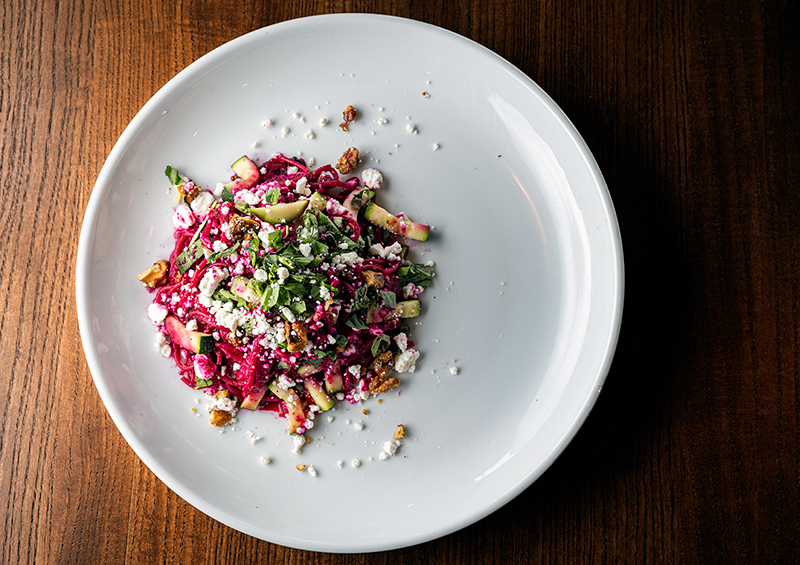 It's a menu that's easy to imagine exploring over the course of many meals—especially when you factor in Cliff's weekend brunch, complete with bottomless mimosas. It's even easier to envision future visits when the owner stops by to chat, asking about the experience and what they could be doing better.
His sincere desire to make the restaurant a place people simply enjoy being at catches you off guard and explains why Cliff's Taphouse is such an unexpected pleasure. The restaurant isn't putting on airs or selling an aspirational experience—it's meeting diners where they are and celebrating them from its corner of Union Hill.