An invitation to readers to cook the Smoked Salmon Eggs Benedict and Ruby Red Fizz cocktail from our April 2023 cover—and submit their photos.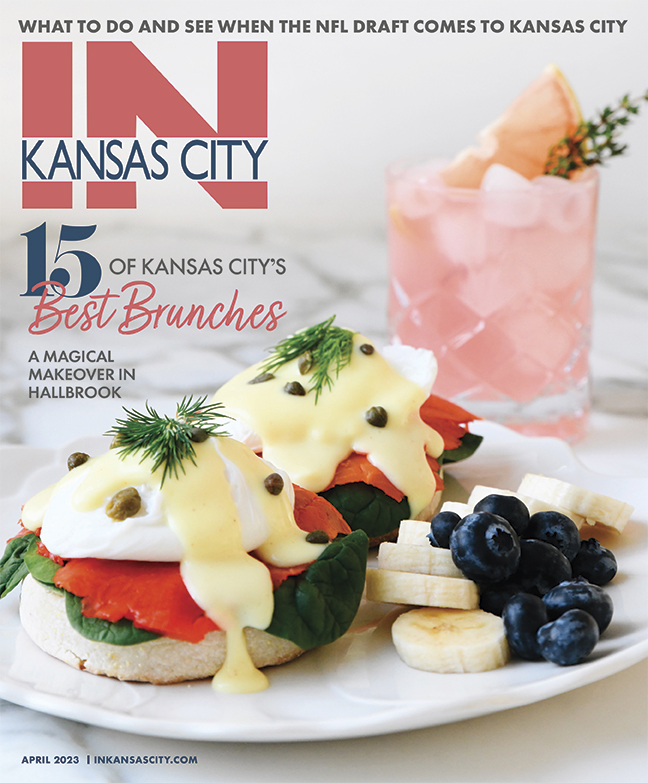 We think our April Cocktail & Cuisine cover looks good enough to eat! So for all our home chefs, we're sharing the recipes from our mouth watering cover shoot. But for those of you who'd rather have someone else poach your eggs or mix your cocktail, check out our food writer Jenny Vergara's list of 15 of Kansas City's best brunches.
If you choose to Cook the Cover, we'd love to see how it turns out. We'll feature the best renditions on our Facebook (@InKansasCityMagazine) and Instagram (@InKansasCityMag) at the end of the month. To send us your version of the cover, email a photo to news@inkansascity or tag our profile and using the hashtags #inkansascity #cooktheinkccover. 
---
Smoked Salmon Eggs Benedict
Serves 2
Step one, make the hollandaise sauce:
2 large egg yolks

1 ½  tablespoon freshly squeezed lemon juice

8 tablespoons (1 stick) unsalted butter, melted

Pinch of cayenne

Pinch of salt
In the top of a double boiler or in a large heat-proof bowl set over a saucepan of simmering water, whisk the egg yolks with 1 ½ tablespoons of water, whisking vigorously, until the mixture thickens, about 4 minutes. Remove from the heat, and stir in the lemon juice. Slowly whisk in the melted butter until thickened. Season with salt and cayenne pepper. Cover and place in a warm spot until ready to use for the eggs benedict. If the sauce gets too thick, whisk in a few drops of warm water before serving.
Step two, poach the eggs:
Water

2 teaspoons white vinegar

4 large eggs
Fill a saucepan about two-thirds of the way up with water and add the vinegar. Bring the water to a simmer over medium heat. Gently break an egg into a small bowl, and then slide the egg into the simmering water. Simmer for 3 minutes for a soft yolk or for up to 5 minutes for a firm yolk. About a minute or so in, gently stir the water to make sure the eggs aren't sticking to the bottom of the saucepan. Carefully remove the eggs with a slotted spoon and set on paper towels to let dry. Continue until all the eggs are poached.
Step three, assemble and serve:
Additional ingredients:
2 ounces

fresh spinach

, trimmed

We opted to use fresh spinach for the cover, but if you prefer you can

sauté it in a skillet with a tablespoon of butter until spinach is wilted.

2 English muffins, cut in half and toasted

3 ounces smoked salmon

2 teaspoons capers

Fresh dill

A pinch of black pepper
Place an ounce of smoked salmon and an ounce of fresh or sautéd spinach on each English muffin half. Top with a poached egg and a drizzle of hollandaise sauce. Garnish with capers, fresh dill, and a little black pepper and serve with a side of fresh fruit.
---
Ruby Red Fizz Cocktail
An easy and festive cocktail for a weekend or holiday brunch. Recipe courtesy of TILL Vodka
2 teaspoons agave syrup

1 ½ ounces grapefruit-infused TILL Vodka

2 ounces freshly squeezed pink grapefruit juice

1 ounce Campari
Combine agave syrup, infused TILL Vodka, grapefruit juice, and Campari in a mixing glass. Stir ingredients together until well incorporated, and then pour into a lowball glass filled with ice. Garnish with a sprig of thyme and a slice of grapefruit.