Brunch is back! It's the weekend, and Kansas Citians love to begin with a great brunch.
In the before times, Kansas City was in the middle of a brunch boom, with new restaurants—dedicated exclusively to the morning daypart—opening across the city. It was a trend that was sweeping across the country at the time. Then during the pandemic, the convivial mid-morning meal had all but disappeared from restaurant menus as we were stuck inside cooking for ourselves and our families.
Now, despite the price of eggs and the lack of labor that all restaurants are still dealing with, it seems that brunch, like hope, is rising like a fluffy biscuit in the oven. Look around and you'll find favorite brunch spots opening early, ready to cook up your favorite brunch dishes and shake up your favorite drinks again. It feels like another milestone reached on the long road back for restaurants and a reason to raise a glass.
It's hard to pinpoint exactly why brunch is so popular with the people, but there is no denying its power. The first thing it has going for it is the party aspect of the meal. It is the one meal that you must eat with friends, and the more the merrier. There is also something that feels decadent, almost naughty, about drinking in the morning, which adds to its mystique for many. However, my personal theory is that with eggs and bacon, pancakes and waffles, fried chicken sandwiches, burgers, and giant cinnamon rolls all on the menu, it is the friendliest food you can find, even the pickiest of eaters will join the clean-plate club at brunch.    
While there is room for both breakfast and brunch to coexist in this town, they serve different purposes. Breakfast is quicker and more businesslike. It's typically enjoyed weekdays, early in the morning, and centered around coffee. Brunch is leisurely and social, happening on the weekends and served late morning or early afternoon, and can be a boozy way to slide into or out of your weekend.
It is worth mentioning that there are several local spots that serve a delicious but dry, booze-less brunch, including Succotash, You Say Tomato, Messenger Coffee, and Housewife KC. But for the purposes of this list, I'll be sticking with those brunch spots where you can get a cocktail, wine, or beer to go with your meal.
Here are 15 local places serving that lazy late-morning meal with suggestions on what to eat and drink at each spot. What are you waiting for? Email your neighbors, text your friends, call an Uber—brunch is back!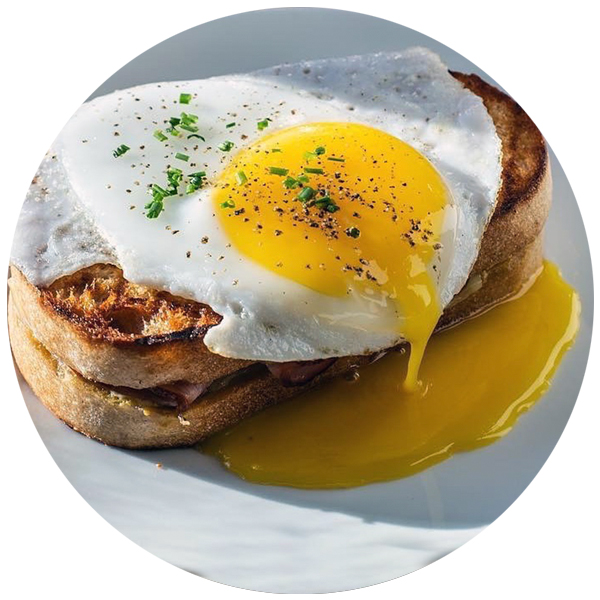 ÇaVa
Sundays 11 a.m. – 3 p.m.
As Kansas City's only Champagne bar, ÇaVa will help you slide into your Sunday with a smile. Its brunch menu speaks mostly French with crêpes, potato crust quiche, and pastries all at your beck and call.
EAT: Croque-madame made with Fantasma pit ham, cow's milk comtè cheese, Dijon, and a sunny-side-up egg.
DRINK: Cappelletti spritz, a ruby-red aperitivo topped with bubbles.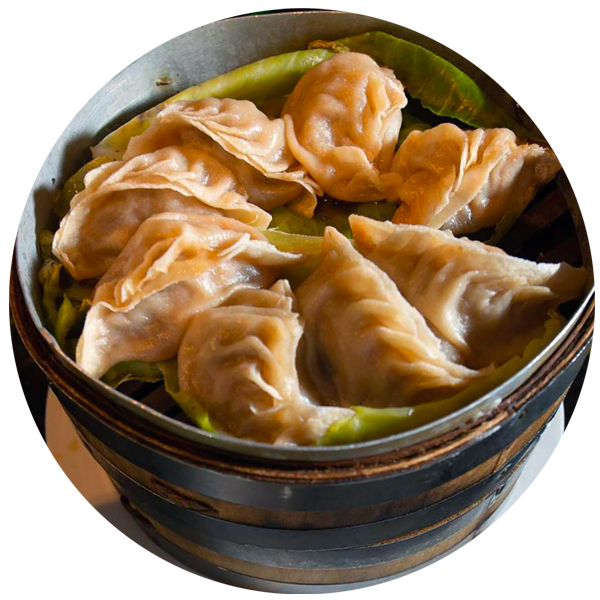 Bo Lings
Saturday & Sunday 11 a.m. – 3 p.m. at Plaza and Overland Park North
With hundreds of dumplings to fold and buns to steam, Bo Lings serves their full dim sum menu weekends only at two of their five locations. Richard and Theresa Ng offer a wide selection of traditional Cantonese small plates served by carts to your table at brunch.
EAT: Baked or steamed barbecue pork bun, steamed shrimp and chive dumplings, and egg custard tart
DRINK: Drink a cup of hot tea or a glass of sauvignon blanc—or maybe both.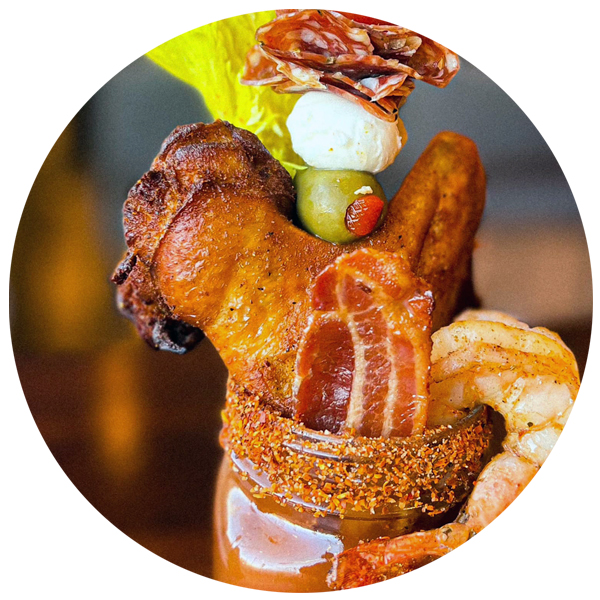 Union on the Hill
Saturday starting at 10 a.m. & Sunday at 9 a.m.
Gather at George Atsangbe's newish spot for shrimp and grits, corned beef hash, or salmon toast, and a drink menu with the trifecta—bellinis, Bloodys, and mimosas.
EAT: Grilled maple bacon-glazed doughnuts
DRINK: Liquid Brunch is a Bloody Mary that comes with your choice of bacon-fat washed Rieger vodka or cucumber-infused gin stuffed with skewers of chicken wings, shrimp cocktail, and cured meat and cheese.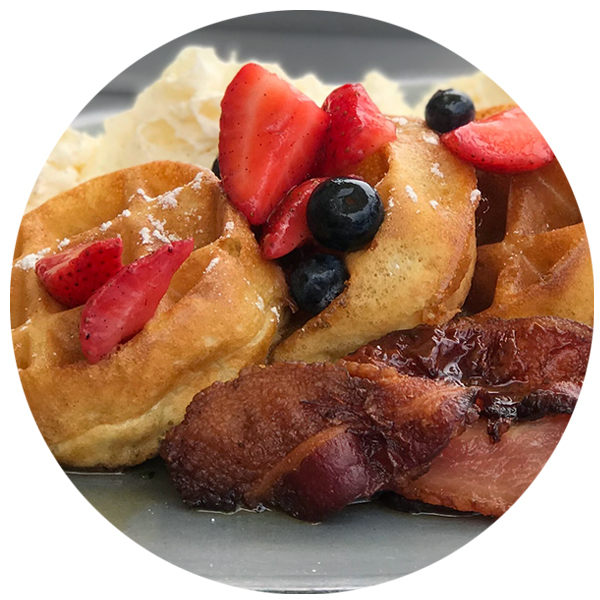 Third Street Social
Saturday & Sunday 10 a.m. – 3 p.m.
With two locations, Third Street Social is both convenient and built for brunch. Dishes like the Hot Chicken Benny, breakfast tacos, and Belgian waffles only confirm the rumors. Offering one of the largest specialty brunch cocktail menus of the bunch, everyone will find something to love.
EAT: Chicken-fried beef tenderloin served with scrambled eggs, fried potatoes, and chorizo verde gravy.
DRINK: Irish Coffee made with Jameson Irish Whiskey, a touch of sugar, and topped with whipped cream.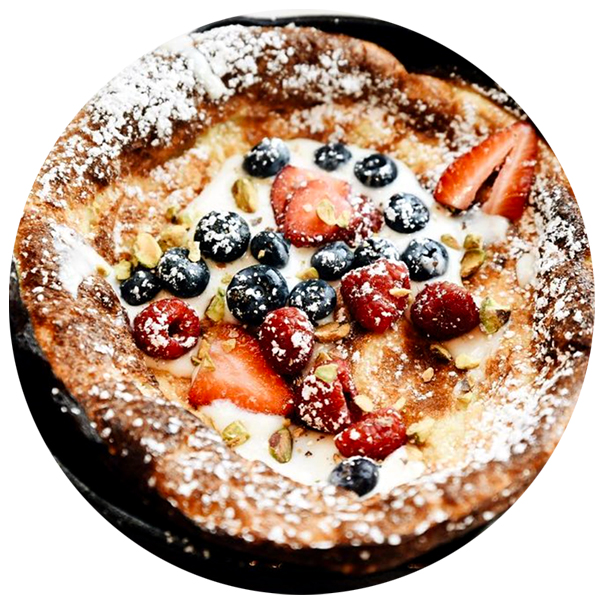 Blu Hwy
Saturday & Sunday 10 a.m. – 2 p.m.
When James Taylor opened Blu Hwy, he wanted to take people on a trip, and the brunch menu does just that. From a fresh beet and grapefruit salad to the decadent Madame Cristo sandwich—a take on a Monte Cristo topped with a fried egg—you must make the journey.
EAT: Dutch baby pancakes topped with fresh berries, sweet and sour cream, lemon, and pistachios.
DRINK: Spill the Tea cocktail has peach green tea-infused vodka, mint, lemon, Rockwell vermouth, and soda.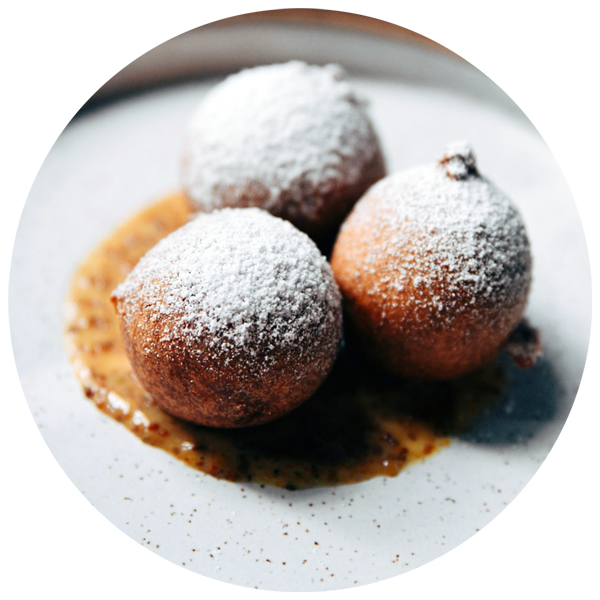 The Town Company
Sunday 10:30 a.m. – 2 p.m.
The recently rolled-out Sunday brunch at The Town Company is worth a visit with the chefs Johnny and Helen Jo Leach behind the menu. Try their breakfast sausage bun, pig-head doughnuts with maple mustard, or the hearty hearth breakfast with a fine selection of cocktails, wine, or beer.
EAT: Chicken and sweet potato waffle with sweet-and-sour maple and chives.
DRINK: Sudden Windfall cocktail made with Kansas City Club gin, sweet vermouth, banana, and chamomile.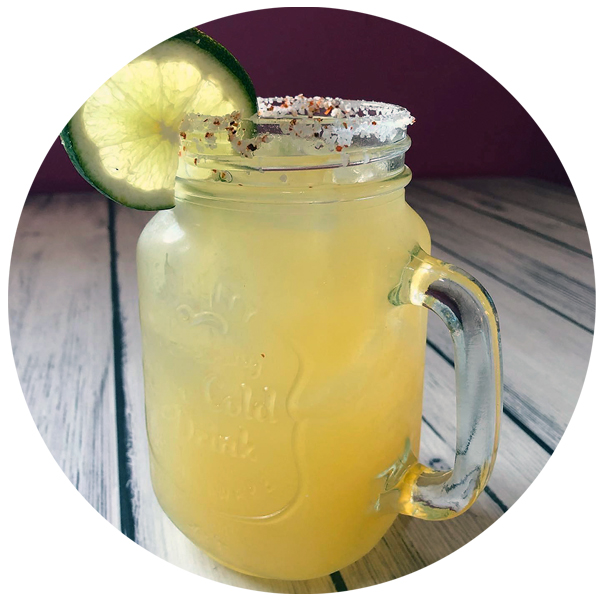 Jarocho Pescados y Mariscos
First Sunday of the Month from 10 a.m. – 3 p.m. at KCK location
The chef Carlos Falcon is serving a fantastic seafood and Mexican food spread called "El Bruncho" for $31 the first Sunday of the month at his Kansas City, Kansas, location only. A full bar offers your favorite Mexican beer brands, wine, and cocktails.
EAT: Fresh oysters, shrimp ceviche, cochinita pibil tacos, birria, elote, and more.
DRINK: House margarita.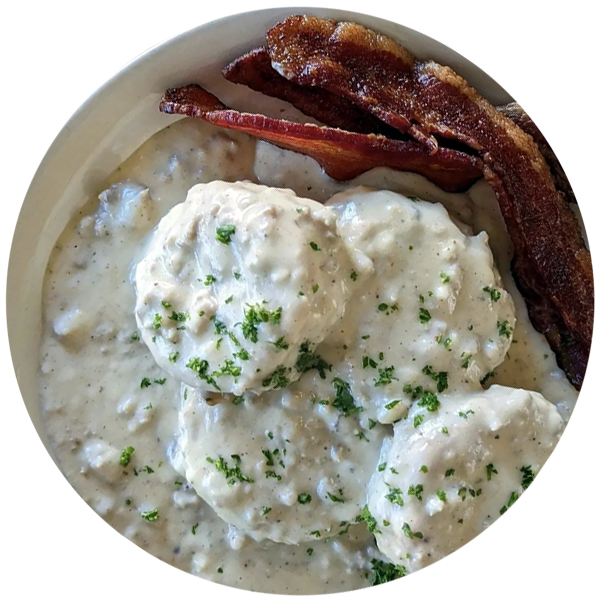 Happy Gillis Café & Hangout
Thursday – Sunday 9 a.m. – 2 p.m.
Cozy, craft cuisine is what you can expect from this wildly popular brunch Columbus Park eatery. The breakfast sandwich and meatloaf sandwich are both hard to beat while you sip on a cup of Broadway coffee or enjoy a cocktail or bubbles.
EAT: Biscuits and gravy with either house-made sausage gravy or mushroom gravy topped with a fried egg.
DRINK: Classic Horsefeather made with J. Rieger Kansas City whiskey.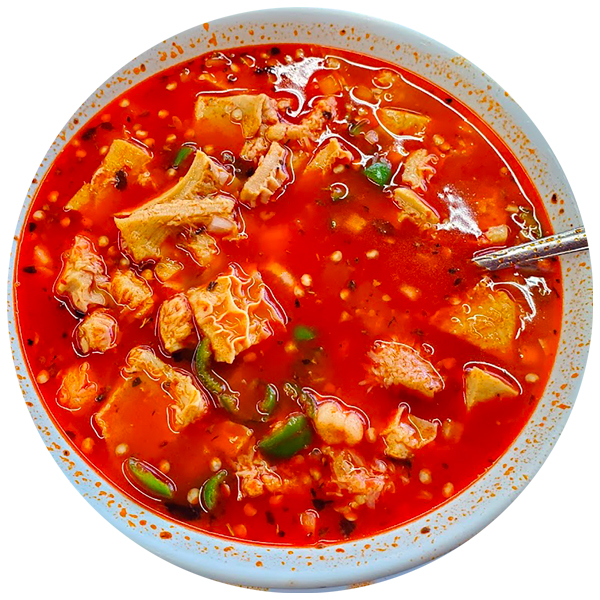 Los Alamos Cocina
Tuesday – Sunday 7 a.m. – 3 p.m.
Agustín Juarez and his family are the heart and soul of this Westside Mexican restaurant that now stays open past 3 p.m. Fridays and Saturdays for dinner and drinks. Around brunch time, choose from huevos rancheros, chilaquiles, migas or tacos, burritos, or platters with your choice of meat, beans, and rice.
EAT: Menudo or posole soup available weekends only. Cures what ails you!
DRINK: It is a toss-up between Gus's palomas or the Vampiro, crafted with tequila and a popular bright-red Mexican sangrita, Viuda de Sanchez, which is made from orange juice and chiles de arbol.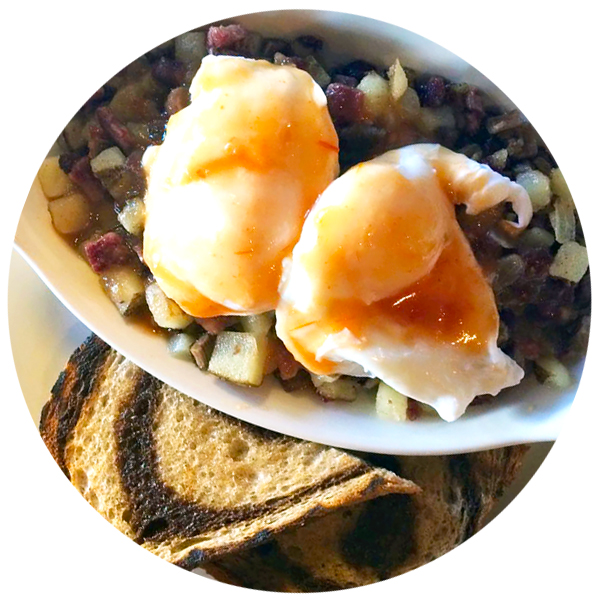 BLVD Tavern
Saturday & Sunday 10 a.m. – 2 p.m.
The chef Derek Nacey and Meghan Nacey dominate the weekend brunch scene making the best version of all the brunch basics and beyond. How about a French dip, or maybe the French toast? The bar serves delightful signature cocktails and beer and wine.
EAT: Corned beef hash, a medley of house-made corned beef, potatoes, onions, smoked tomato red-eye gravy, over-easy eggs, and marbled rye toast.
DRINK: Pomegranate sangria, created with red wine, pomegranate juice, brandy, and triple sec.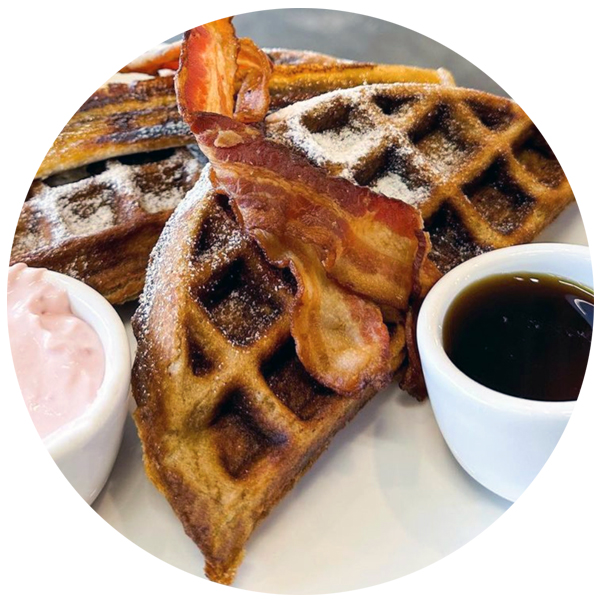 Billie's Grocery
Monday – Saturday 8 a.m. – 6 p.m., Sunday 8 a.m. – 3 p.m.
The fresh vibes and vegetable-forward menu are one reason to hit up Billie's Grocery for brunch seven days a week, but you can also enjoy a deli-style Reuben and a glass of wine, too. Just make sure to get a sweet treat on your way out.
EAT: Bacon banana waffles are gluten-free with crispy bacon, caramelized banana, 100 percent pure maple syrup, and creamy mascarpone.
DRINK: Pineapple rosé mimosa.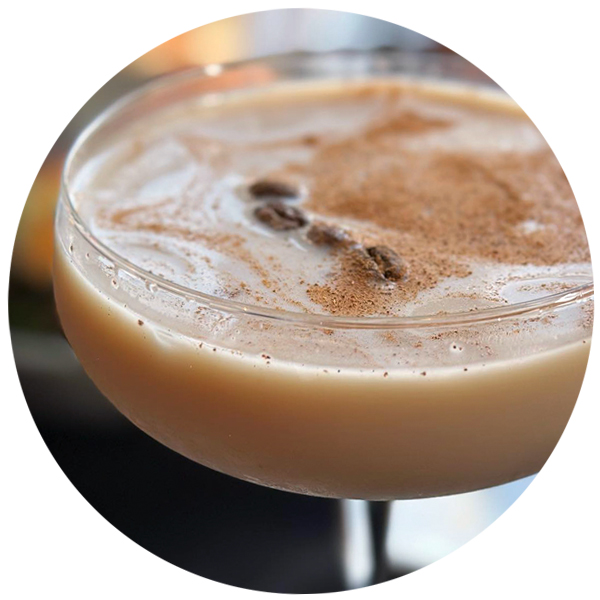 The Farmhouse
Wednesday & Sunday 9 a.m. – 2 p.m.
Chef Vincent Paredes is behind Kansas City's favorite farm-to-table weekend brunch spot serving delicious doughnuts, steak and eggs Benedict, and breakfast chimichangas, along with a full bar serving seasonal cocktails, beer, and wine.   
EAT: Lord Kyler made with Bloom Bakery jalapeño cheddar bread, pork sausage, two cheddar scrambled eggs, chorizo gravy, cilantro, potato hash.
DRINK: Mexican espresso martini.
Westport Café
Sundays 10 a.m. – 3:30 p.m.
The convivial atmosphere and the chef Romain Monnoyeur's tasty French bistro food, including grilled oysters, steak and frites, and quiche Lorraine, at Westport Café draw the crowds, but the clever cocktails make people stay long after the plates are cleared.
EAT: Omelette with fine herbs and French fries.
DRINK: Bronson's Milk Punch (classic or tropical). Order this where it all began!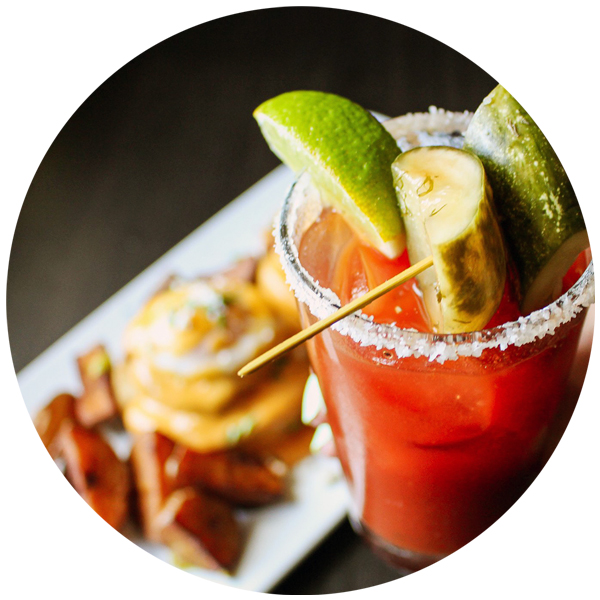 Pierpont's at Union Station
Saturday & Sunday – 10 a.m. to 2 p.m.
Perfect place to take visiting friends or family for brunch, as it pairs a historic local sight with a glamourous meal at Pierpont's. Consider The Conductor breakfast burger or any version of eggs Benedict and truly anything from their signature bar will pair nicely.
EAT: Cajun Benedict with fried green tomatoes, Tasso ham, and poached eggs on an English muffin with blackened hollandaise sauce and breakfast potatoes 
DRINK: KC Massacre, a Bloody Mary made with J. Rieger whiskey, barbecue sauce and a splash of IPA.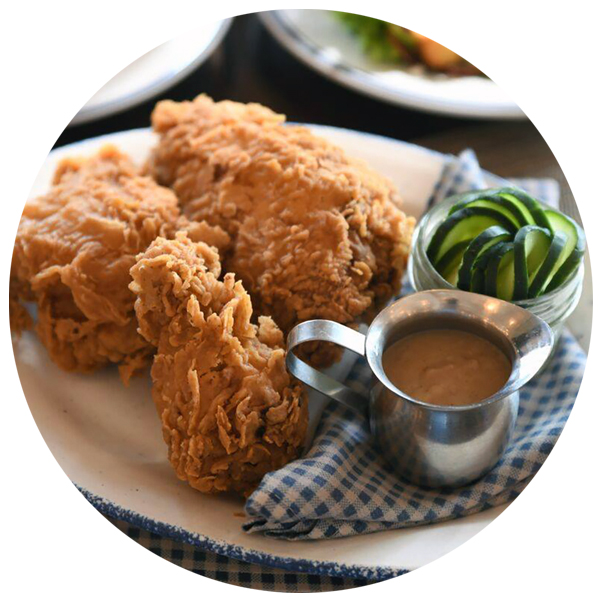 Rye
Saturday & Sunday 9:30 a.m. – 3:00 p.m. at Plaza and Leawood
Another great choice with multiple locations featuring chefs Colby and Megan Garrelts's culinary team's farmhouse favorites, such as buttermilk pancakes, burnt-ends hash, and steak and eggs. The bar stands ready to make any adult beverage to order.
EAT: Two-piece fried chicken plate with mashed potatoes, ham gravy, and garden greens.
DRINK: Pimm's Cup.