Chef Adam Glass has been working in Kansas City's food scene for 12 years with stints in fine-dining restaurants such as Chaz at The Raphael Hotel and Cafe Provence, among others. But he found his true passion as a personal chef. Glass launched MyChef KC—an in-home, customizable personal chef service specializing in weekly meal prep—in the middle of the pandemic. (Ambitious, isn't he?) As he says, "People still craved chef-prepared food. The ability to prepare it safely in the comfort of their own home created a true value."
One of his newest recipes originally started as a low-carb vegetarian option. "I've always enjoyed using different things as 'bowls' so I opted for the spaghetti squash, which is a familiar favorite and super versatile," he says. "Black beans add some extra protein, and the slaw and salsa verde kept things light. I've since added shrimp for my non-vegetarian clients as it pairs well with the flavors. It's an eye-popping dish that's light but leaves you full and satisfied."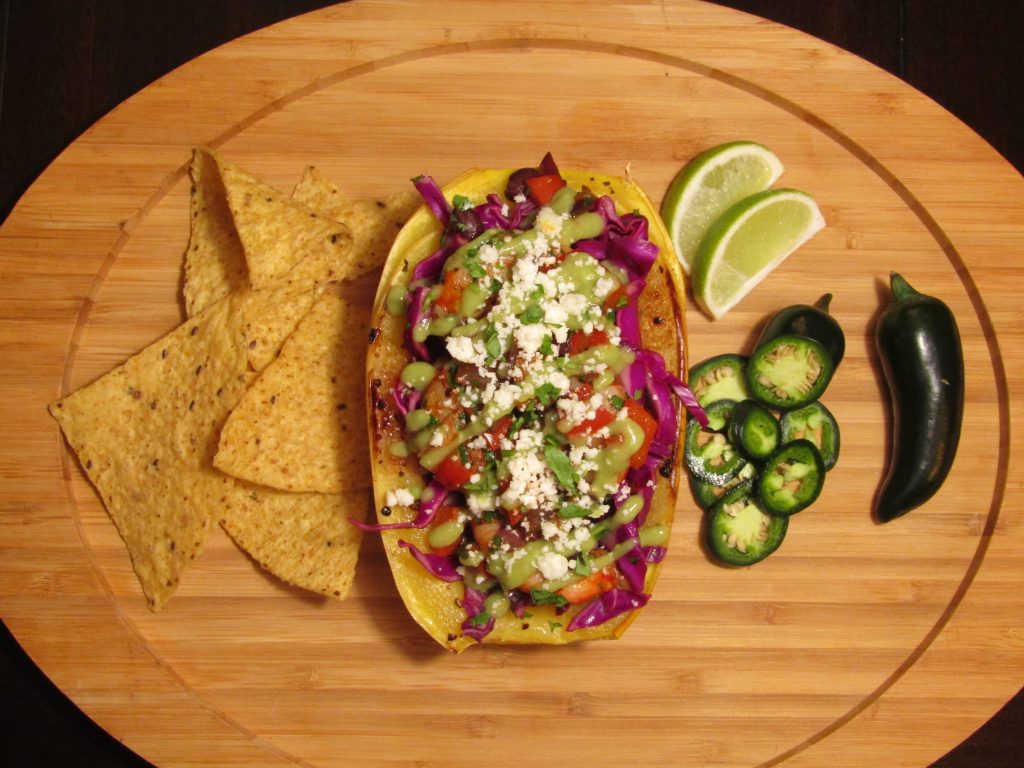 MyChef KC's Spaghetti Squash Shrimp Taco Bowls
Serves 4
Ingredients:
2 medium spaghetti squash
1 pound medium-sized shrimp, peeled & deveined
2 cups shredded red cabbage
1 can black beans, drained & rinsed
1 red bell pepper, medium diced
½ red onion, medium diced
½ bunch cilantro, chopped
1 lime, zested and juiced
2 cloves garlic, minced
½ cup Cotija cheese, crumbled
2 teaspoons chili powder
1 teaspoon cumin
Olive oil
Salt/pepper
Avocado Salsa Verde
4 tomatillos, washed and halved
2 garlic cloves
½ cup green onions, roughly chopped
½ bunch cilantro, roughly chopped
1 lime, juiced
1 medium yellow onion, quartered
1 medium avocado
½ jalapeño, roughly chopped (optional)
1 tablespoon honey
Salt/pepper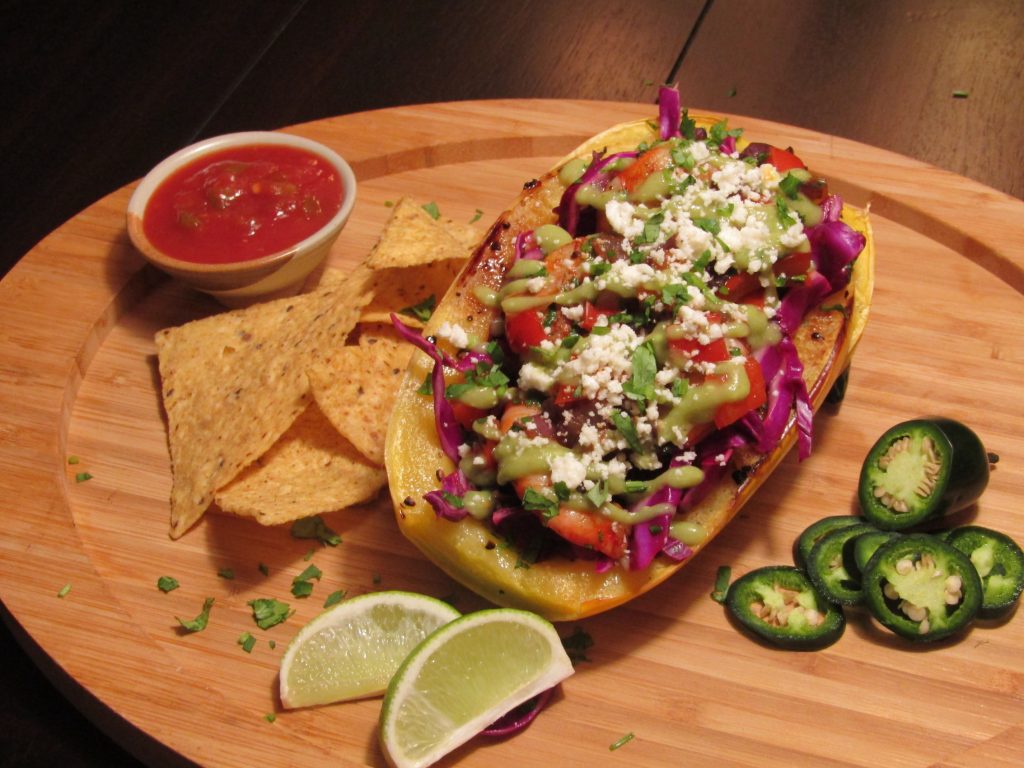 Directions:
1. Roast the Squash
Preheat the oven to 400 degrees. Halve the spaghetti squash lengthwise and scoop out the seeds. Drizzle with olive oil and season with salt and pepper. Place the cut side down on a lightly greased baking sheet. Roast for 30-40 minutes until fork tender. Prepare the rest of the ingredients during this time.
2. Salsa Verde
Toss the tomatillos, green onions, yellow onion, and jalapeño in a small amount of olive oil, salt, and pepper. Roast at 400 degrees for 15 minutes. Once cool enough to handle, add all ingredients except for avocado in a blender and puree. Add the avocado and puree until smooth. Check seasonings and reserve.
3. Slaw Preparation
In a mixing bowl, combine the red cabbage, beans, cilantro, lime juice, half of the minced garlic, 1 teaspoon olive oil, salt, and pepper to taste. Mix and reserve.
4. Shrimp
In a sauté pan over medium-high heat, add 1 tablespoon olive oil and sauté the red onions and red bell pepper for 3 minutes until it starts softening up. Add the garlic and shrimp. Season with chili powder, cumin, salt and pepper. Cook for 2-4 minutes until shrimp is cooked through.
Assembly
With the spaghetti squash still warm, lightly fluff the flesh in each half with a fork until loosened. Layer the slaw, followed by the shrimp. Drizzle the salsa verde on to taste, top with crumbled cheese.  (Optional garnishes include chopped cilantro, sliced lime or sliced jalapeños.)