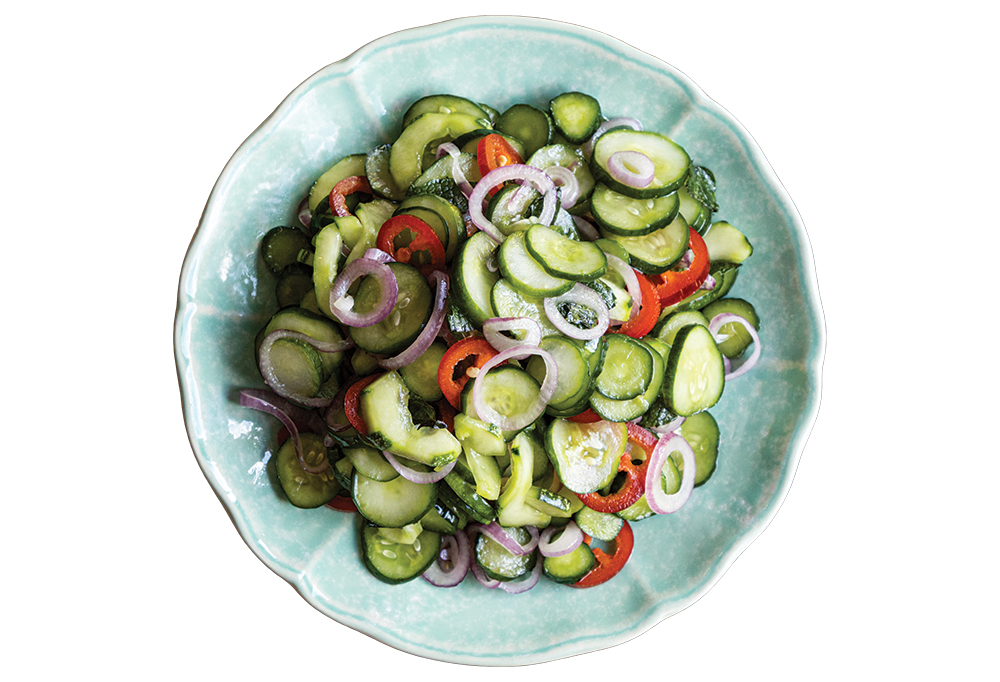 Of all the ingredients that say summer to me—and there are quite a few—there is one that I impatiently wait for: cucumbers. Cucumbers come around when summer is in full swing and I love to take advantage of this vegetable's fresh, bright flavors. A healthy source of "crunch" and texture in any dish, cucumbers have a clean, cooling flavor and an ample water content that is perfect in the scorching summer season. Although there is seldom a day when I have cucumbers in my garden that I don't have at least one little open-faced butter and cucumber sandwich, it is an extremely versatile vegetable. Cucumbers are interesting when sautéed or turned into a chilled soup, but absolutely shine in salads and when pickled.
Every culture has some version of a composed salad, most of them based on tradition, seasonality, and the creativity and thriftiness of cooks. And although it could be assembled with only raw vegetables dressed with a simple vinaigrette, I find composed salads to be much more interesting when there is a mixture of both cooked and raw vegetables. Here is my technique. I hope you adapt it and make it your own.
There are three basic types of cucumbers: small pickling cucumbers, much longer and larger slicing cucumbers, and the less-frequently seen Middle Eastern (and Mediterranean) versions that have interesting skins and a less assertive flavor. If you're not gathering them straight from the garden, look for cukes that are firm-fleshed without wrinkles (a sign of dehydration and certain disappointment). For the recipe that follows, all of these varieties may be used interchangeably. Just be sure to pay attention to the details about skins and seeds.
Anyone who has ever grown cucumbers knows that when they arrive, they come in an avalanche. One way to preserve the bounty is pickling and canning cucumbers. The entire process can be very rewarding—or intimidating, time consuming, and frustrating. But when you only have a cucumber or two and not much time, this salad is my favorite alternative to the lengthy pickling process—and you can eat it almost immediately.
Begin with a cucumber or two (or more), depending on the number of people you are serving and the size of cucumbers. If the cucumbers are larger or if they have thicker, tough skins, peel them in stripes so they still have a little skin but not too much (if the skins are really tough, peel them entirely). Cut off about a quarter inch of each end and discard it. That is where bitter flavor compounds can be concentrated. If the cucumbers are smaller, say less than an inch in diameter, you can simply slice the cucumbers into rounds. If larger than that, cut the cucumber in half lengthwise and look at the seeds. If the seeds are large and well defined, you should taste a chunk and see if you like the seeds or not. Sometimes they can be bitter or tough depending on the age and variety of cucumber. If you don't like the seeds, scrape them out with a spoon and discard them. Next slice the cucumbers, either in rounds or half rounds, approximately an eighth to quarter-inch thick. Thicker slices have more crunch, but thinner slices are ready to eat sooner—very little maceration time. It's your call. Place the cucumber slices in a colander and sprinkle them generously with salt—like more than you would ever want to put on them to eat. Toss gently. Slice a smaller sweet onion or red onion—or even a few shallots if you have those—the same thickness you sliced the cucumber and toss it with the salted cucumbers. Take a few spicy peppers, like serrano, jalapeño or fresno (milder)—or even a pinch of crushed red-pepper flakes—slice them thinly as well and toss them with the cucumber mixture. Tear a few sprigs of fresh mint into shreds and stir them in. Allow this mixture to macerate for half an hour or so while the water drains away (a little less or more time won't be the end of the world). Lightly rinse the mixture, shake it a bit, and allow it to drain for a few more minutes. Taste it. If for some reason it seems salty, rinse and drain again. Pour the cucumber mix into a bowl. Drizzle with extra-virgin olive oil and a generous splash of wine vinegar. That's the basic salad. It's also a great jumping off point for any number of variations. Some delicious examples: add cherry tomatoes and a handful of fresh basil (although tomatoes and mint are wonderful together); add crumbles of feta cheese and olives; use dill in place of either the mint or basil; toss with grilled or poached shrimp and a drizzle of lemon juice; add cilantro and lime to any of the variations; toss with thick Greek yogurt; serve with prosciutto and grilled, garlic-rubbed bread; add sugar or a good drizzle of honey for a spicy sweet variation; or add poached seafood for a delicious entrée salad. Whatever version you decide on, just let this ingredient shine in a refreshing salad before summer gets away from you.
---
In Your Pantry
When you're in a hurry, a few spice and herb blends in the pantry can make the difference between a ho-hum meal and a sensational one. Purists may like to make their blends from scratch, but purists aren't in a hurry. Keep these seasonings in mind the next time dinner needs a quick little something extra.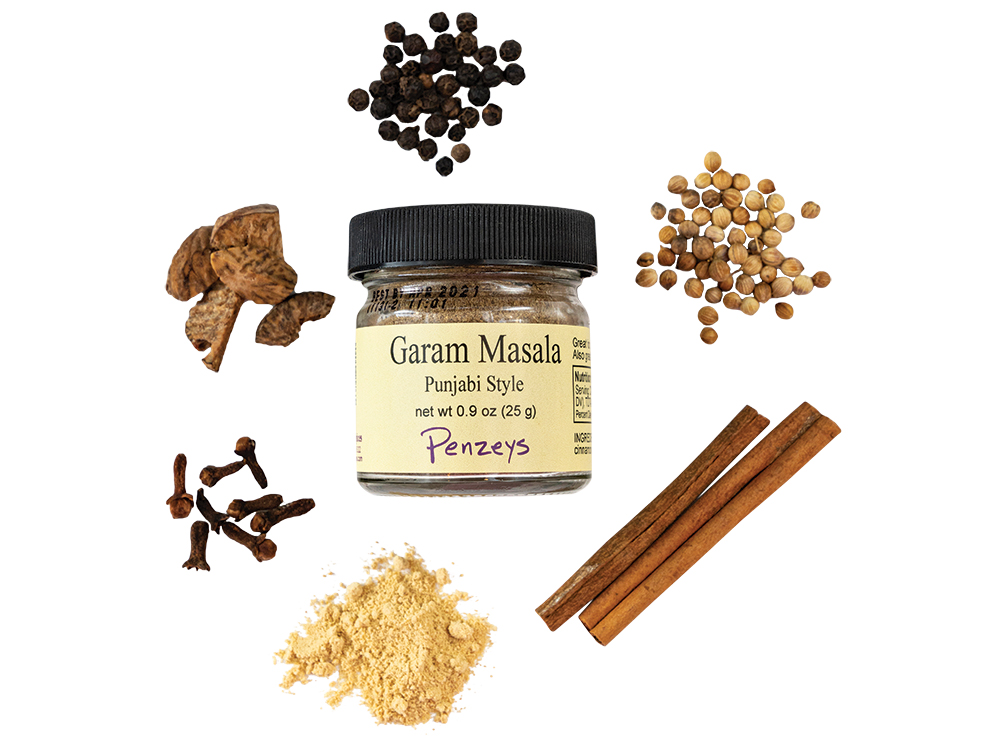 Garam Masala
A classic from the Indian subcontinent, this blend (think curry) comes in countless variations. There is no definitive authentic garam masala, as the mixture varies from town to town, household to household. A combination of (usually) black pepper, coriander, cinnamon, ginger, clove, nutmeg, and a few other toasted spices, this seasoning is frequently added towards the end of cooking for maximum flavor. Prepare or purchase only small amounts of this blend because the flavor fades with age. Available at international specialty stores or any Indian market.
Za'atar
This versatile Middle Eastern seasoning staple can go on just about anything.  Referring to both an herb and a condiment combination of ground dried thyme, marjoram and/or oregano, citrusy sumac, salt, and toasted sesame seeds, try za'atar on pita (or other breads) with olive oil or hummus, grilled eggplant or other vegetables, chicken, fish, or lamb. Make your own blend or purchase from Middle Eastern markets or specialty foods stores such as Penzey's or Savory Spice Shop.
Porcini Powder
Add this Mediterranean flavor enhancer to your culinary arsenal ASAP.  Porcini mushroom (Cepè mushroom or Boletus edulis) powder is available online or can be made at home. Simply toast some dried porcini mushroom pieces, allow them to cool and pulverize them in a spice grinder or blender. To make a brilliant rub for steaks, add a bit of spicy dry red pepper and salt to the grinder when you process the mushrooms. Keep it on hand to instantly add the savory flavor and umami qualities of mushrooms to many dishes.