While we won't miss the blistering heat that came with this summer, we will miss the ripely delicious tomatoes, melons, and other produce that liven up our summer meals.
Thankfully, there are still a few weeks left in the season, and Martin Hueser, chef at Affäre, (1911 Main Street) is sharing his recipe for Lobster Melon Salad—the perfect dish to make before the summer season ends.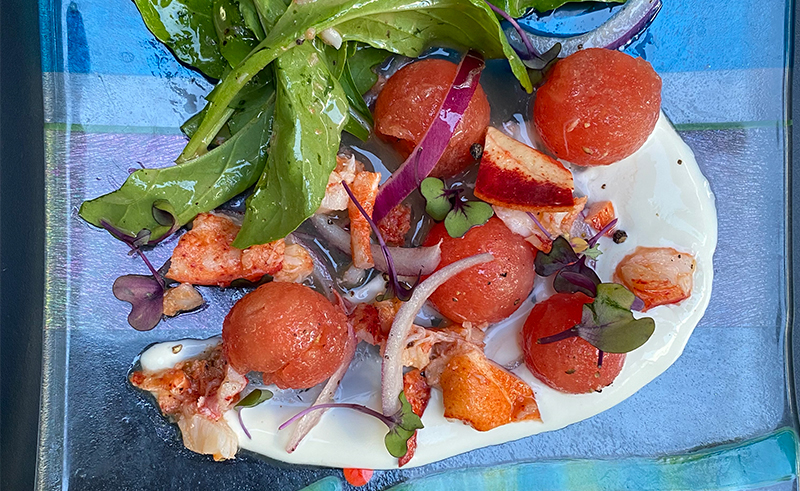 Lobster Melon Salad
Serves Four
Ingredients
8 ounces steamed lobster 

3 tablespoons lemon juice 

1 tablespoon olive oil 

Salt and pepper, to taste 

2-3 cups seasonal melon (personal preference, enough for 5-8 pieces per serving) 

1/2 cup red wine 

1/2 cup extra-virgin olive oil 

1 cup crème fraîche (see recipe below or use store-bought) 

1/2 red onion, peeled, quartered, and sliced into fine julienne 

1/2 grapefruit, peel off the skin (including white membrane), cut into segments 

Chopped fresh herbs, as desired 
Instructions
Chop steamed lobster meat into 1-inch pieces. Marinate the lobster in a mixture of lemon juice, olive oil, salt, pepper, and sugar for no more than 30 minutes. 
Use a melon baller or cut melon into 1-inch cubes. In a small mixing bowl, combine olive oil and red wine vinegar with a whisk, and pour over melon allowing to marinate for 15 minutes. 
Spoon two tablespoons of crème fraîche on four plates. Add melon balls, red onion slices, chilled lobster meat, and grapefruit. Garnish with fresh herbs. 
Homemade Crème Fraîche (make 2 days in advance)
In a bowl, mix 1 cup heavy cream and ¼ cup buttermilk; let sit at room temperature for 24 to 48 hours, then place mixture in the fridge overnight. Spoon crème fraîche into cheesecloth and allow excess moisture to drain out. Put the mixture in a bowl and season with lemon juice, salt, and pepper. If desired, fold in 2 tablespoons of chopped fresh herbs per cup of crème fraîche.