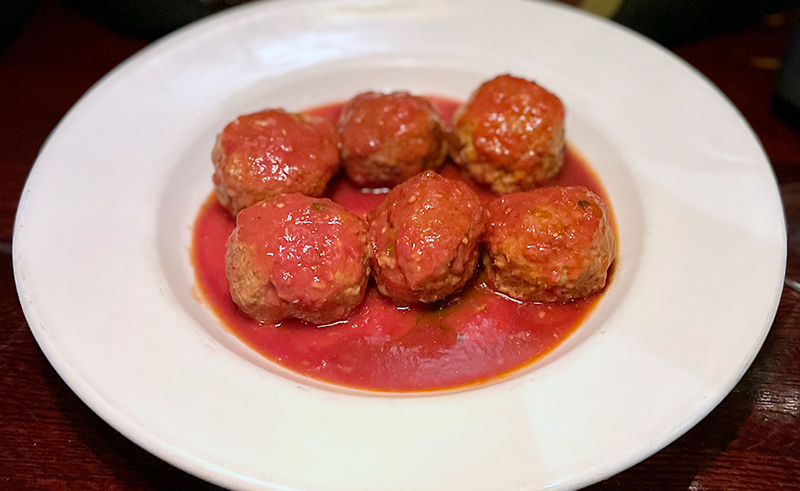 When Jasper Mirabile Jr. was a child, he'd watch his nana make meatballs for Sunday dinner. "There was nothing better than waking up the next morning to the smell of frying meatballs," he recalls.
Now Mirabile has spent years making those meatballs for Kansas Citians dining at Jasper's Italian Restaurant at 103rd Street and State Line Road. Those meatballs have become a staple of the restaurant, and Mirabile is sharing how to make them at home for an easy and delectably delicious night in with the family.
"A loaf of crispy Italian bread and fried meatballs, it does not get any better," he says. "I still do this today with our family and love to see our granddaughter's eyes light up when she gets the first taste of the fried meatballs. La dolce vita!"
Here's how to make them:
Jasper's Italian Meatballs
Serving: 18-20 2 1/2 – 3-inch meatballs
Ingredients:
1 pound 80 percent lean ground beef
1 pound ground pork
2 large eggs
1 cup grated Romano cheese
2 tablespoons chopped Italian parsley
3 cloves garlic, minced
1/2 cup minced onion
1/4 teaspoon salt
1/4 teaspoon freshly ground black pepper
2 cups bread crumbs
1 1/2 cups water or beef broth
1 cup olive oil
Instructions:
In a large mixing bowl, combine the beef, pork, eggs, cheese, parsley, garlic, onion, salt, and pepper. Mix well, then blend the bread crumbs into the meat mixture. Slowly add the water or broth until the mixture is moist.
Shape the meat mixture into 2 1/2- to 3-inch balls. Heat the oil in a large skillet over medium to high heat. 
Fry the meatballs in batches, being careful not to crowd the pan. When the bottoms of the meatballs are well browned and slightly crisp, after 5 to 6 minutes, turn and cook the other side for 5 minutes to brown and crisp them. 
Remove from pan and place in tomato sauce. Let meatballs simmer in tomato sauce until ready to use.