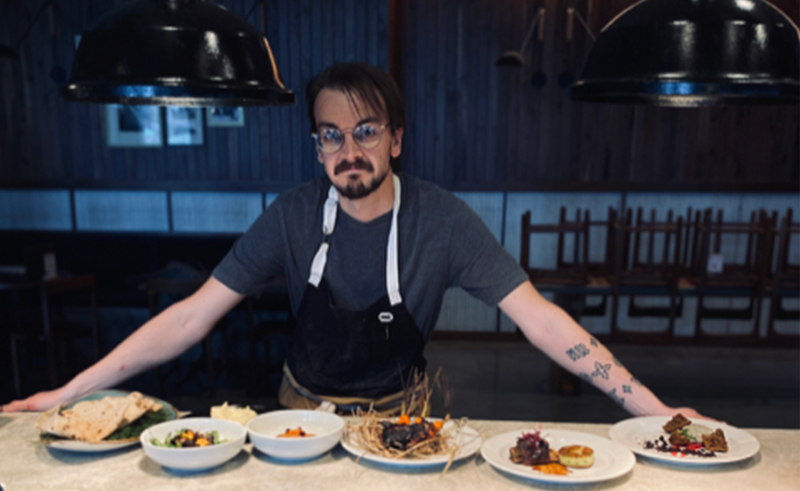 Growing up, Alec Weaver was inspired by his dad, the owner of Lonnie Q's BBQ in Topeka, Kansas. Now, Weaver is a chef at Strang Hall's Solstice and Anousone concepts, and he's treating guests to a six-course meal inspired by his roots during the next installment of the Strang Hall Dinner Series on June 27.
As part of the six-course meal, each table of four will be served a whole hen to encourage diners to "be their own little tribe at the table" as they feast on either the white or dark meat rubbed with North African harissa chile paste. 
"I'm trying to put my personal fingerprint on everything I'm doing for this dinner," Weaver says. "I want the flavor and smokiness to evoke a primitive gathering around a campfire."
Want to try out the chef's signature recipe in your kitchen? Here's how to make it: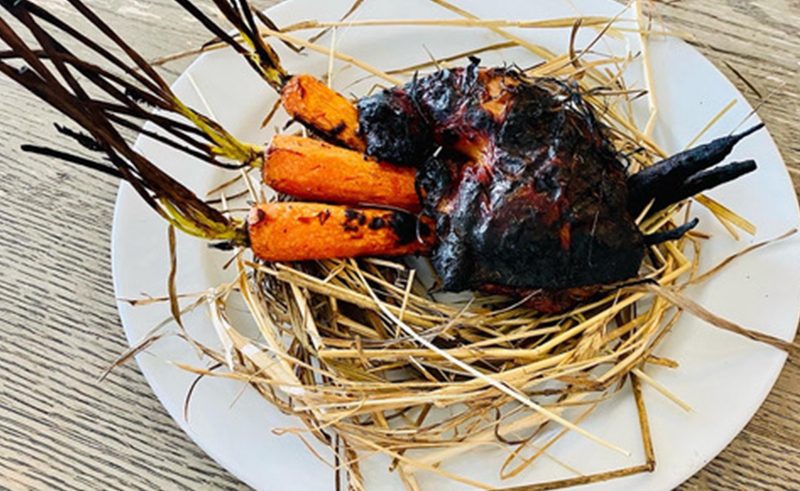 Harissa Hens and Miso Carrots
Time: 12 hours
Ingredients:
⅓ cup harissa paste
3-4 tablespoons honey
Salt, to taste
1 Cornish game hen (halved) or small chicken (quartered)
4-5 small carrots (preferably with the top-greens still on)
2 tablespoons white miso
Equipment:
Pot
Baking sheet (2)
Heat-resistant/fireproof container with a tight-fitting lid (optional)
Pot or bowl with ice water
Wire spider strainer or tongs
Paring knife
Small handful of clean, organic hay or straw (optional, available at pet supply stores or at farm/agricultural supply stores)
Instructions:
Mix harissa and honey with salt until desired flavor is achieved.
Rub hens with the harissa and honey mixture and set in an airtight container in the fridge overnight to marinate.
Bring a small pot of water to a rolling boil.
Peel carrots and trim tops to 1-inch length. Blanch carrots in boiling water for a few minutes until they are easily punctured with a paring knife but still firm. Immediately plunge par-cooked carrots into the ice water to cool off.
Once carrots have cooled, rub with white miso, and set in an airtight container in the fridge overnight to marinade.
Once ready to cook, preheat your oven to 425 degrees F.
Place carrots and chicken on separate baking sheets and roast on top rack until carrots are beginning to caramelize and the hens have reached an internal temperature of 165F (about 20 minutes).
At this point, both are ready to be enjoyed—however, if you are feeling ambitious, you may set the hens on a bed of dry, clean hay or straw in a fire-proof vessel (such as a cast-iron skillet or Dutch oven) and ignite the straw, covering with a tight-fitting lid to trap the smoke and impart a rich, complex flavor to the hens. 
(Pro Tip: Exercise caution and perform this step outdoors or underneath an industrial kitchen hood.)