Even though today is National Onion Day, Cody Hogan, Lidia's Kansas City's executive chef, says he doesn't really need a special day to celebrate the potent veggie. "Although I understand the sentiment," he says. "Many people are generally oblivious to them—unless they're about to kiss someone. Personally, I don't think there has been more than a day or two in the last 25 years when I haven't had some type of interaction with onions. Desserts withstanding, it's not much of a stretch to say that good cooking would be impossible without some form of onion."
Hogan is unveiling one of Lidia's own famous onion-centric recipes. "I learned this onion tart recipe filming Lidia's television show one season," he says. "It highlights the sweet essence of onion and wraps it in a crust. In the spirit of pandemic quarantining, I used some filo pastry for the photo instead of Lidia's crust recipe."
Like any good chef, Hogan says feel free to freestyle and make this recipe your own. He's not against using a prepared frozen pie crust or puff pastry. And in the spirit of National Onion Day, Hogan even tossed in "a handful of chives and scallions straight out of the garden for freshness."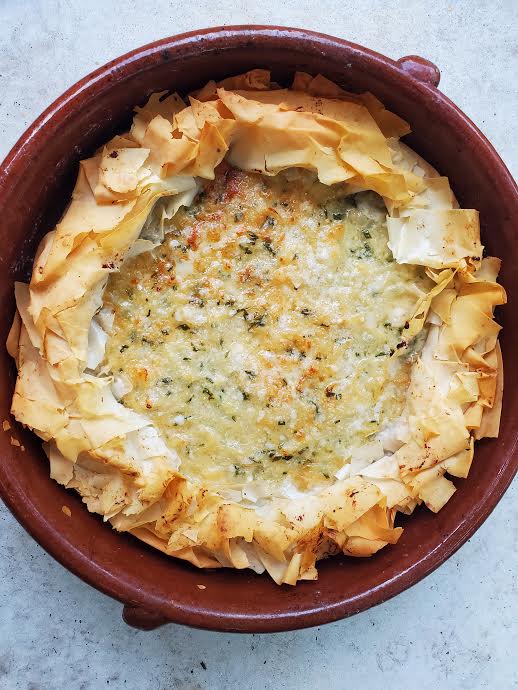 Lidia's Crostata di Cipolle (Onion Tart)
Ingredients:
Dough
3 cups all-purpose flour, plus more for rolling
1½ teaspoons kosher salt
2 sticks cold butter, cut into cubes
6 tablespoons cold water, plus more as needed
Onions
Four tablespoons butter, plus more for the cookie sheet
3 pounds onions, halved and thinly sliced
2 teaspoons kosher salt
1 cup heavy cream
½ cup grated Grana Padano Cheese
Directions:
For the dough: Pulse together the flour and salt in a food processor. Scatter in the butter cubes, and process in pulses until the butter looks like coarse crumbs. Drizzle in the water, and pulse until the dough just comes together, about 10 seconds. Add a little more water if it's too dry, or a little more flour if it's too wet. Dump the dough on a floured counter and knead a few times, until it comes together. (Chef note: It shouldn't be too sticky or crumbly.) Wrap the dough in plastic wrap, and let it rest in the refrigerator while you prepare the onions.
Preheat oven to 350 degrees F. In a large skillet, melt the butter over medium heat. Add the onions, and season with the salt. Cook until wilted but not colored, about 10 to 15 minutes. Add the cream, bring to a simmer, and cook, covered, until tender, about 20 minutes. Uncover, and increase the heat to simmer away any excess liquid, which will take about 15 minutes. Let cool while you roll out the dough.
Butter a 15-by-10-inch rimmed cookie sheet. On a floured surface, roll out the dough to a rectangle a little larger than the cookie sheet. (Chef note: If you have a hard time rolling out such a large piece of dough, roll between layers of parchment paper.) Fit the dough into the prepared pan, letting the excess dough hang over the edges. Spread the onions on the dough, and sprinkle with the grated cheese. Fold the hanging dough back over the onion to form a border crust around the edges. Bake until crust is crisp and golden, about 40 to 45 minutes.
Let cool on a rack at least 15 minutes before cutting into squares to serve. Salute!