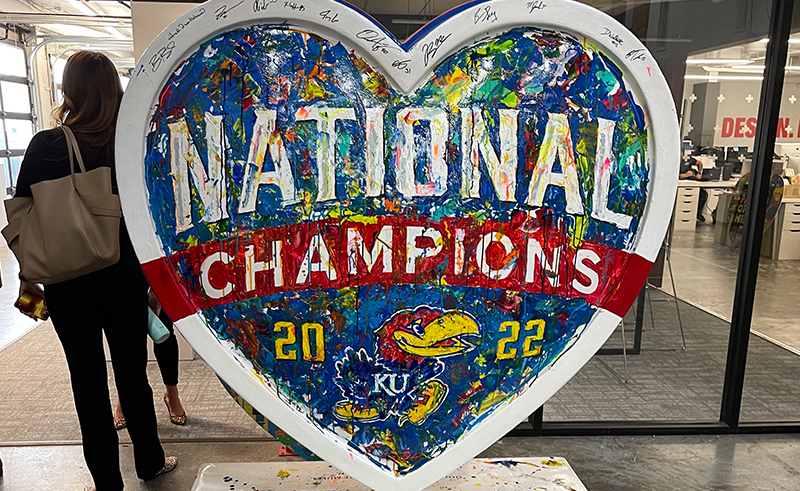 KU Basketball's NCAA championship win last month is something most Kansas Citians won't soon forget, and now the win has been forever commemorated with the addition of the 156th and final Parade of Hearts heart.
Designed by local artist Megh Knappenberger, the heart will go on display May 19 at the Lawrence Field House. 
"It was such an honor to create the KU Champs heart! I wanted it to personify the joy of watching KU bring home a National Championship," says Knappenberger. "For all the Jayhawks in Kansas City, it was a night we'll never forget. The post-game locker room scene of water bottles spraying everywhere inspired me to include lots of bright splatters of ink—almost like the heart had been there in the room with them."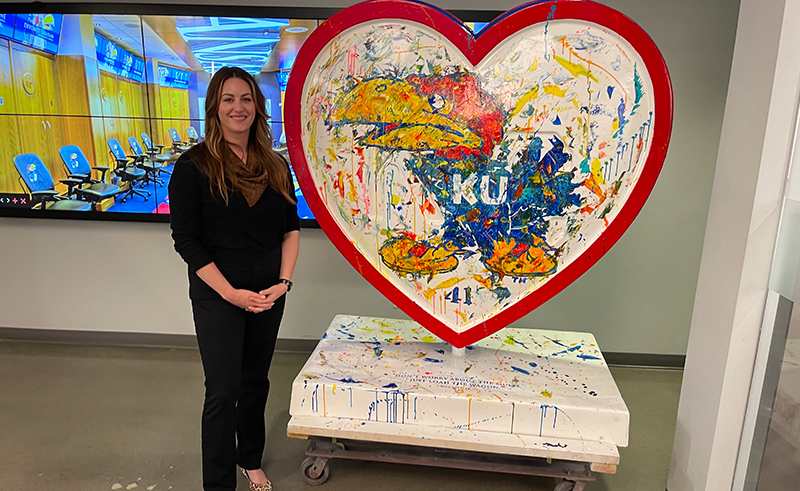 The front of the heart applauds KU's championship win with signatures from each team member and coach Bill Self. The back of the heart has the '41 Jayhawk—an alumni favorite, and the heart's base includes a quote from Self's father, "Don't worry about the mules, just load the wagon."
The KU heart will be on display through the first week of June and is the second surprise addition to the public art installation. Earlier in May, Parade of Hearts unveiled a heart in support of Ukraine.
Trying to view all 156 hearts before they go away to be auctioned off in June? Check out our Parade of Hearts viewing guide.