When the Parade of Hearts debuted 154 local artist-designed hearts earlier this year, the public art installation sought to unite the Kansas City metro as America's heartland with an experience rooted in hope and unity.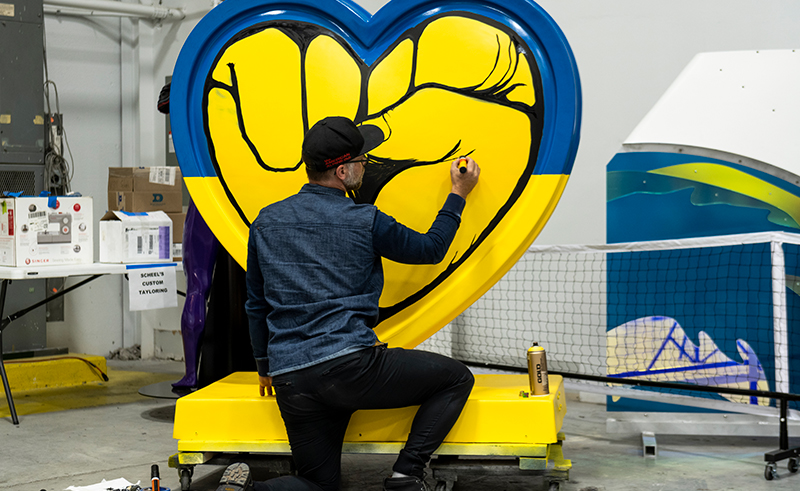 Soon after the debut, Ukraine was invaded by Russia. Many Kansas Citians support Ukraine and its mission. Now a 155th heart is joining the Parade of Heart ranks to honor that support.
"We finished the Parade of Hearts, and then the war broke out in Ukraine," says artist Jeremy Collins, who designed and painted the new heart. "As artists, as musicians, as writers, we all try to figure out, 'well, if I can't go out and help in person, what can I do?' So, I did a small drawing of this heart fist, which is a response to all the atrocities and tragedies for humanity in the world. Now we have this large physical heart that we can pass on to our Ukrainian neighbors."
Unveiled at the National WWI Museum and Memorial this afternoon, the 155th heart is called "We Are With You." The Parade of Hearts Committee commissioned Collins and sourced original art from displaced Ukrainian children residing in a refugee center in Bucharest, Romania, to display on the heart's base.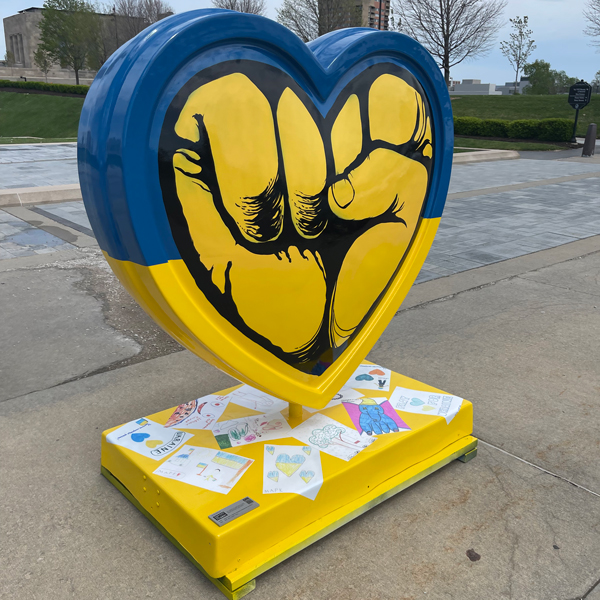 "The people of Ukraine are fighting for freedom and to protect democracy. It makes sense that this heart would be placed here at the National WWI Museum and Memorial," says Matthew Naylor, president and chief executive officer of the museum. "Just as in WWI, we again see that the decisions of a few can have catastrophic implications for millions. The museum and memorial exist as a space to memorialize those who sacrificed their lives in WWI, and we invite the public to join in honoring the people of Ukraine and the sacrifices of those who have died."
All 155 hearts are on display through the end of May. Beginning in June, the hearts will be auctioned off, and the funds raised will be used to support arts in the Kansas City metro. 
Need help finding them all before they go? Check out our Parade of Hearts viewing guide.