Sponsored content:
The Show-Me State Offers Exciting Day-Trip Options For Wine Lovers
Drinking superb wine is its own reward. But the Missouri Wine and Grape Board thinks you deserve even more. Its popular Missouri Winery Visitors Program (MVP), encourages wine lovers to earn points by visiting the state's more than 125 wineries. Those points can mean some pretty sweet rewards including invitations to exclusive experiences, drinkware, and wine accessories. Joining the program is free and easy: visit missouriwinemvp.com to register and start exploring.
Within a few days you'll receive a packet to help make the most of your visits: a personal MVP membership card and a zippered case for tickets you'll collect; a guide to Missouri wineries (including an amenity list that indicates  food and lodging, event spaces, tours and even pet friendly wineries); a description of Missouri's sweet-to-dry wine varietals; and a map showing winery locations. An interactive map is also available at missouriwine.org/wineries.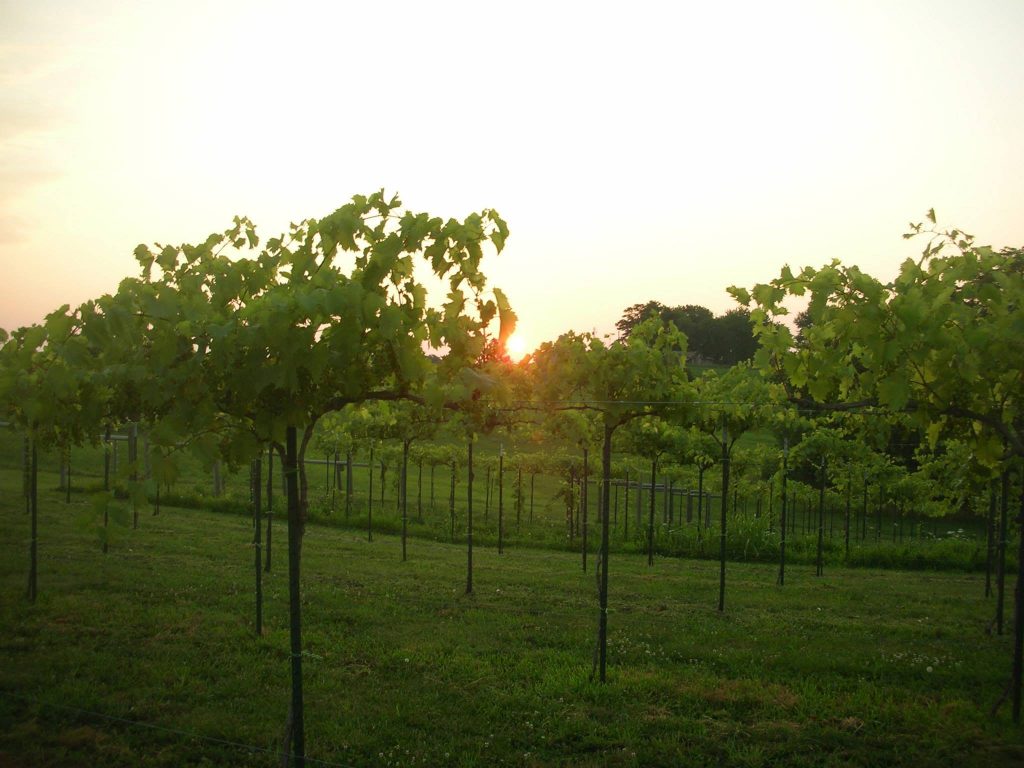 Taking MVP Membership to the Next Level
With these tools, you may be tempted to hit the road and become a super fan. That's exactly what Scott and Tonya Rombach did, starting in 2016. Soon, the couple began planning road trips to taste wines and collect MVP points. Scott considers "making friends from all over Missouri and the United States, winning awards, and learning new ways to taste and enjoy wine" as just a few perks of membership.
But it's not just couples that value MVP status. More and more young people are discovering Missouri wines. Melissa Hill, a member since 2016, enjoys introducing friends to participating wineries. She appreciates the VIP treatment her card carries including newsletters, personalized service from tasting room staff and attending the exclusive MVP events. Read more about the MVP experience here: (link to article).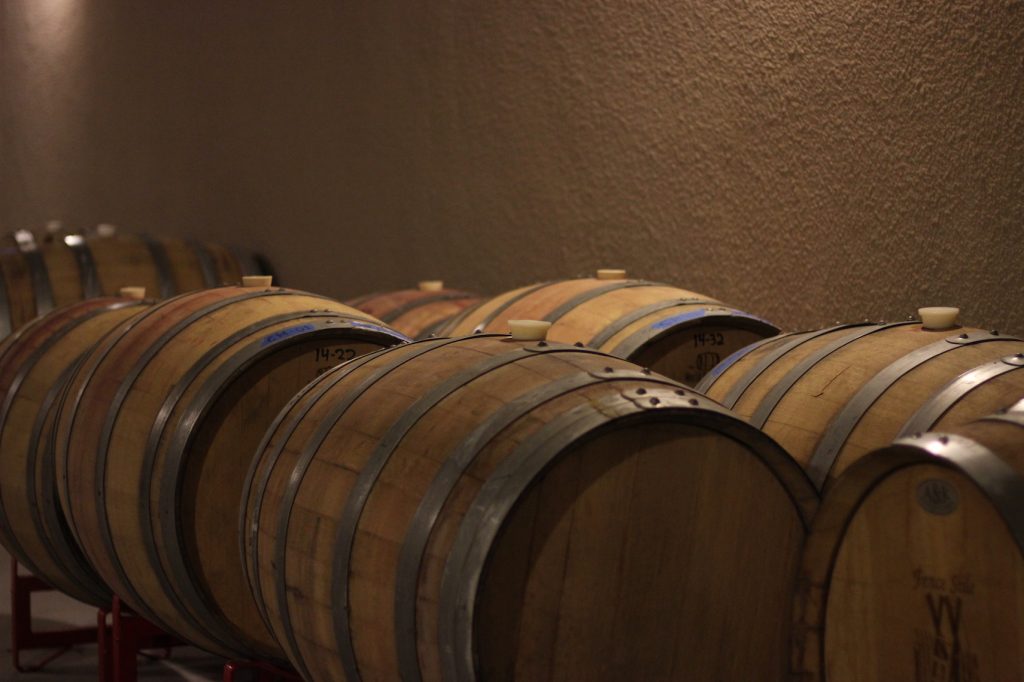 And while these super wine sleuths have made a game out of visiting dozens of wineries throughout the state, folks in Kansas City can stay closer to home while still uncorking a sense of adventure: two of the 11 Missouri wine trails—the Kansas City and Northwest Missouri groupings—offer exciting day trips or short drives where visitors can enjoy an array of tasty varietals.
Follow the trails or forge out on your own, you'll find that area wineries offer something special any time of year. Right now, the Midwest's bright foliage is on majestic display. And in winter, when the pressed fruit is resting in barrels, winemakers may have more time to spend with visitors. Check out the lifecycle of a grapevine at missouriwine.org to learn more about each season.

Choose an Urban Setting or Breathtaking Vineyard View
Not every winery stop overlooks rows of grapevines. Two swanky city locations offer other reasons to stop by for a sip and MVP points. Amigoni Urban Winery, housed in the handsome West Bottoms building that was once home to the Drover newspaper.
Winemaker Michael Amigoni answered questions about his wine club on a Sunday morning while pressing grapes (more proof that a winemaker's job is never done). "While the discounts are great," he says, "the real benefit is getting first dibs on limited-production wines that usually sell out." Wines are released every June and November and club membership start at $140.
With his hands still purple from his task, Michael will start setting up chairs for outdoor seating; heaters keep things cozy on a chilly afternoon. The barrel room is a popular choice for receptions and business meetings.
A few miles away, KC Wineworks is centrally located for First Fridays celebrations in the Crossroads Arts District. The high-energy vibe caters to fans throughout the year: slushies, in flavors like raspberry-lemonade and mango, are served in to-go pouches with straws; the Show Me Sangria, available in cans, makes an ideal summer patio drink; and its Fountain City Cider is a fall favorite. Try a pairing with three wines and Christopher Elbow chocolates, just one example of how wineries support the #buylocal rallying cry.

Ghost Sightings and Candlelight Tastings in a Cave
Along with weddings and special events, The Inn at Belvoir Winery's calendar lists paranormal experiences, which are especially popular this time of year. You may want to accompany your tour with a glass of Boo's, a dessert wine made from Norton (Missouri's official grape) and brandy. Winemaker Jesse Leimkuehler is an affable tour guide who's happy to provide details about each wine including fun histories of the names, like Casanova.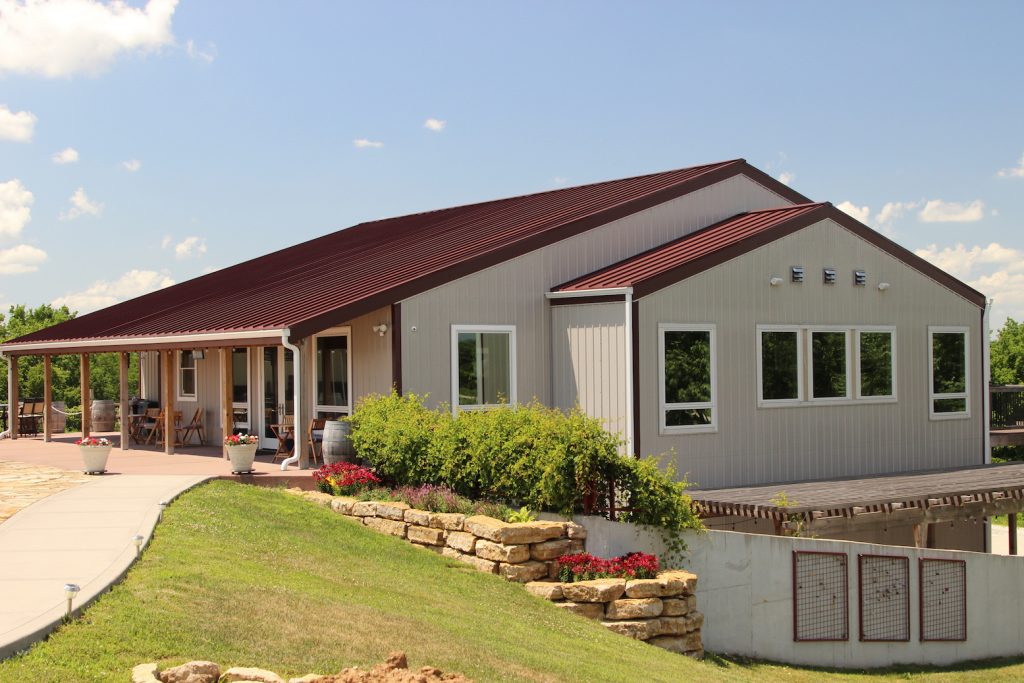 The view at Fence Stile Vineyards and Winery, near Excelsior Springs, is a fab alternative to Napa Valley. The patio's fire pit keeps visitors toasty during cooler weather. But winemaker Shriti Plimpton suggests a more intimate way to sip her Norton aged in J. Rieger & Co. bourbon whiskey barrels: a candlelight tasting in the wine cave. And while you're accruing MVP points, check out the variety of merchandise including scented candles using recycled wine bottles and even dog treats.
Sip While Shopping For Holiday Gifts
In fact, you'll find an array of gift items at most wineries, ranging from T-shirts and knit caps to note cards. Several offer wine club memberships for true oenophiles.
But the best gift is a bottle of Missouri wine, whether you're introducing someone new to these award-winning vintages or keeping a fan well stocked for the season. And don't forget your own wine cellar or fridge. When pouring a KC Wineworks  Chambourcin for Thanksgiving dinner, you can regale your guests about meeting the winemaker. And that's about as local as you can get.