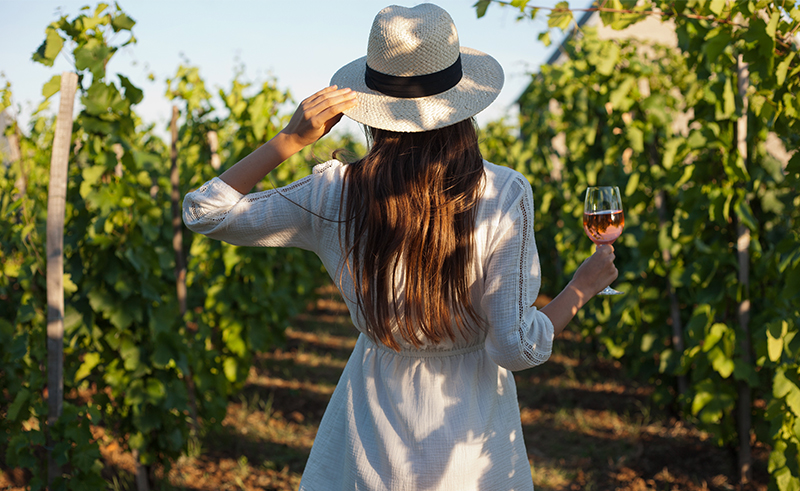 When you hear the term wine country the first places you might think of may include Napa or Sonoma Valley. If you live in Kansas City that's quite the drive. So, what if we said you can experience "wine country" much closer to home?
Turns out, before prohibition Missouri and Kansas formed one of the most significant grape-growing and wine-making regions in the U.S. While prohibition destroyed most of that growth, the history of the region is helping many local wineries across Missouri and Kansas flourish today.
The state of Missouri offers 11 wine trails featuring 130 local wineries, and the state of Kansas offers three wine trails featuring 58 wineries—many of which are within an hour's drive of Kansas City. 
Whether you're looking for a new favorite local bottle of wine or hoping to explore the local wine culture, let this be your guide to wineries in the Kansas City metropolitan area.
Wineries in Kansas City, Missouri
Amigoni Urban Winery 1505 Genessee, Suite 100, Kansas City
Produces small lots of handcrafted dry-style white and red wines in the Stockyards District of the West Bottoms.
Fountain City Winery 1409 W 11th St., Kansas City
Located in a West Bottoms industrial space, this spot serves a wide variety of its own red, white, and fruit-flavored wines, plus beer and limited seasonal cocktails.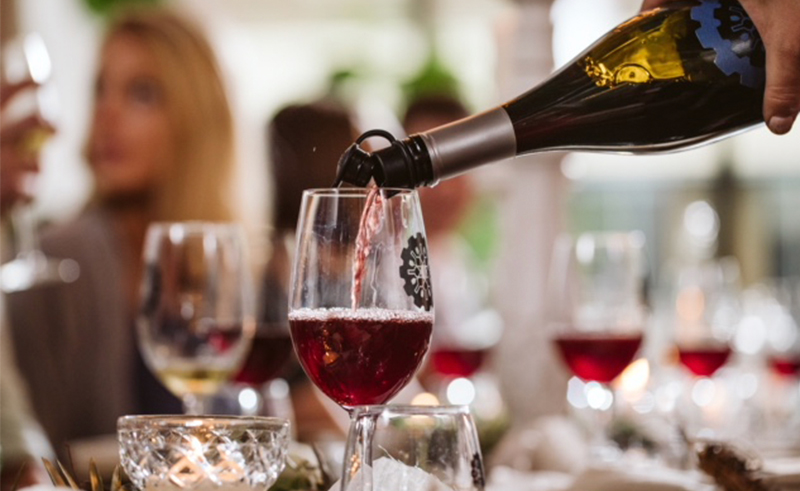 KC Wineworks 1829 McGee St., Kansas City
Wines made from locally sourced grapes in a modern tasting room in Kansas City's Crossroads district.
Vox Vineyards 19310 NW Farley Hampton Rd. #3, Kansas City
Vox hopes to raise awareness of the heritage and promise of North America's native grapes through their Missouri-made wines.
Wineries in the KC Suburbs (Missouri Side)
Albonée Country Inn and Vineyards 2200 Crenshaw Rd., Independence
This hillside inn, vineyards, and winery is located in Little Blue Valley in a cottage atmosphere.
Belvoir Winery and Inn 1325 Odd Fellows Rd., Liberty
Open seven days a week for free wine tastings, and visitors can view all the historic features and artifacts of the winery.
Jowler Creek Winery & Vineyard 16905 Jowler Creek Rd., Platte City
Grows more than 3,500 grapevines and produces several wines in styles ranging from dry to sweet. 
Lagoda Ridge Winery 100 E Pope Ln., Smithville
Enjoy specially blended and perfected wines made from the grapes grown in the vineyards.
Mallinson Vineyard and Hall 3029 N River Blvd., Sugar Creek
Their warm and earthy wines just might convince you you're on sabbatical in a small chateau in the South of France.
Stonehaus Farms Vineyard & Winery 24607 NE Colbern Rd., Lee's Summit
Offers a range of dry, semi-sweet, dessert, and fruit wines.
The Peculiar Winery 20709 Harper Rd., Peculiar
Over 20 handcrafted wines are fermented, filtered, and bottled on the 15-acre property.
Top Hat Winery 120 S Main St., Independence
A family-owned winery located on the historic Independence Square that produces six house-made wines.
Other Missouri Wineries Within One Hour's Drive of KC
Arcadian Moon Winery & Brewery 19203 Hazel Dell Rd., Higginsville
Situated amongst four lakes on 75 acres, this spot serves handcrafted wine and beer.
Fence Stile Vineyards and Winery 31010 W 124th St., Excelsior Springs
The only regional winery located in a cave, this winery provides tastings and tours, wine and other beverages, gift baskets, wine merchandise, and accessories.
Four Horse and a Dog Vineyard & Winery 15010 Salem Rd., Excelsior Springs
Focuses on producing semi-dry to dry wines, with some sweet offerings. For non-wine drinkers, they offer craft beers, hard ciders, and sangria.
Odessa Country Winery 2466 McNeel Rd., Odessa
Wines include several red-wine blends of Concord, Norton, and blackberry to go with Kansas City barbecue.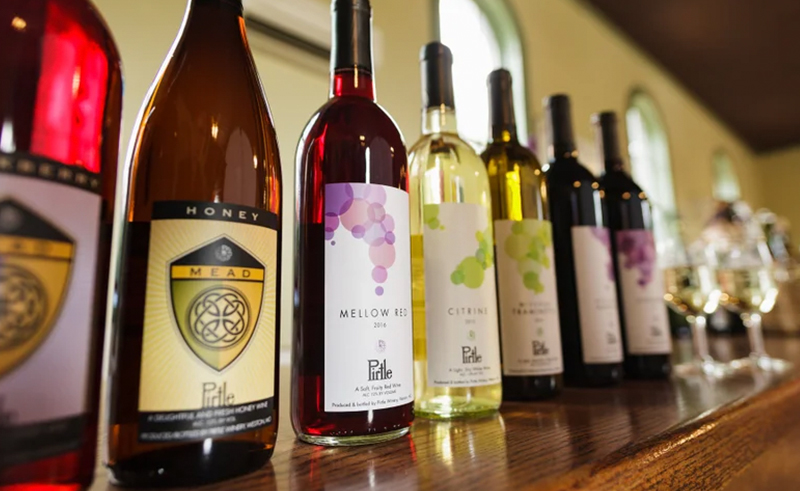 Pirtle Winery 502 Spring St., Weston
Located in a former Lutheran Evangelical Church, Pirtle Winery produces high-quality wines with character.
Riverwood Winery 22200 State Rt 46 N, Rushville
Located in a repurposed elementary school building, Riverwood is located in the scenic Missouri River Bluff wine country.
Terre Beau Winery & Vineyard 100 S Lynn St., Dover
Since 2007, Terre Beau has operated out of a chapel built in 1858 for pioneers and frontiersmen.
Van Till Family Farm Winery 13986 Hwy. C, Rayville
Try a handcrafted Missouri wine, or order a pizza to pair with your favorite bottle.
Weston Wine Company 540 Main St., Weston
Build-your-own wine flights and enjoy many weekly events.
Wineries in the KC Suburbs (Kansas side)
Aubrey Vineyards 16250 Kenneth Rd., Overland Park
At Overland Park's first winery, vines are grown at high elevations to yield the highest-quality grapes. 
Bourgmont Winery 20299 Quivera Rd., Bucyrus
A tasting room and venue in southern Johnson County offering wine made from locally planted and sourced grapes.
Holy-Field Vineyard & Winery 18807 158th St., Basehor
Sample locally produced wine in the tasting room, visit the gift shop or wine deck, walk the vineyards, or tour the cellar.
KC Wine Co. 13875 S Gardner Rd., Olathe
Known for hosting special events and festivals among the growing grape vines.
Stone Pillar Vineyard & Winery 11000 S Woodland St., Olathe
Grows Old-World French vines as well as French-American hybrids in its 12-acre vineyard.
Other Kansas Wineries Within One Hour's Drive of KC
Crescent Moon Winery 15930 246th St., Lawrence
Stroll through the vineyards, sample the wines, or simply sit for a while on the patio.
Nighthawk Winery & Vineyard 16381 W 343rd St., Paola
Enjoy sips in the tasting room or sit with a bottle and friends beneath a century-old walnut grove.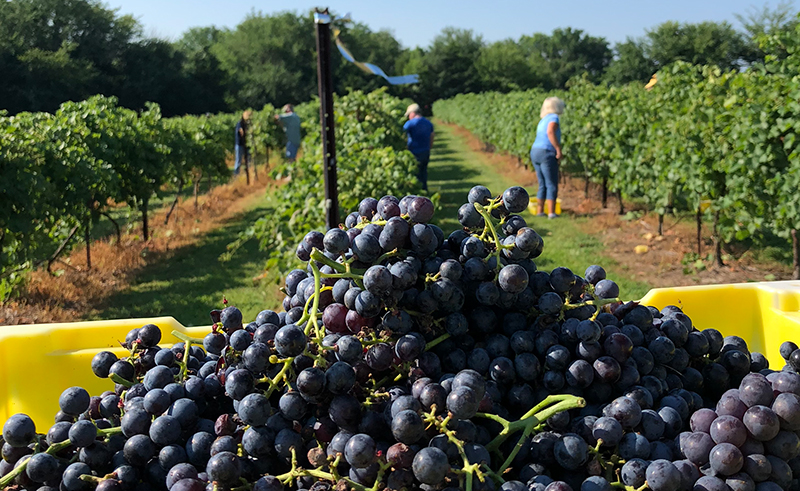 Somerset Ridge Vineyard & Winery 29725 Somerset Rd., Paola
You can find Somerset's award-winning wines at over 350 restaurants and liquor stores around the Kansas City area. Visit and you'll get to walk through over 8,000 vines while sipping the wine those grapes produced.
White Tail Run Winery & Vineyard 2327 N 400th Rd., Edgerton
Produces complex and flavorful wines from five acres of grape vines.
Z&M Twisted Vines Wines and Winery 620 Cherokee St., Leavenworth
Cultivates four varieties of grapes and specializes in "twisted" fruit wines.