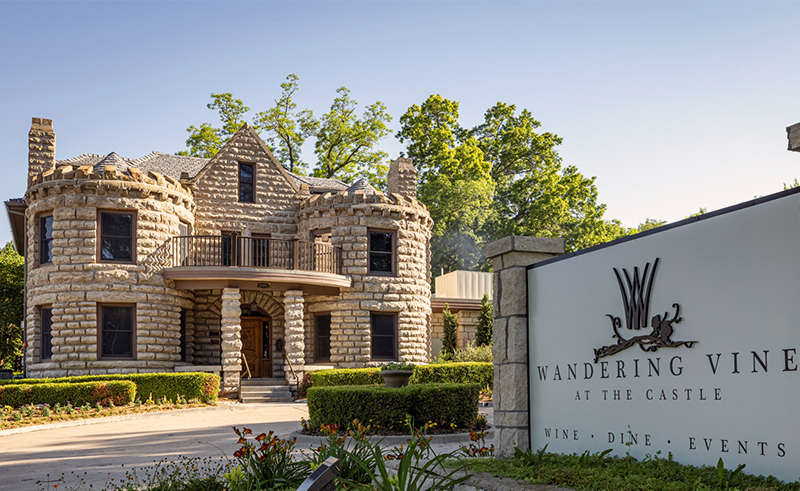 Branded Content
Take a trip down Johnson Drive in Shawnee, and a castle reminiscent of European landmarks might just catch your eye. Located off of Caenen Street, the property has been part of Kansas City's history for over 100 years.
Visit the castle, and you'll discover Wandering Vine, a romantic, fine-dining experience where the food, wine, and ambience are unmatched. Here's what to know about a meal spent inside the castle walls. 
The Name Wandering Vine Was Inspired by the Local Owners
Born and raised in Kansas City, high school sweethearts Dan and Carla Dyer have explored the world together. Dan's career in agriculture research took the couple to more than 40 countries over the decades. When it came time to retire, the Dyers wanted to celebrate the cultures they'd been so fortunate to enjoy.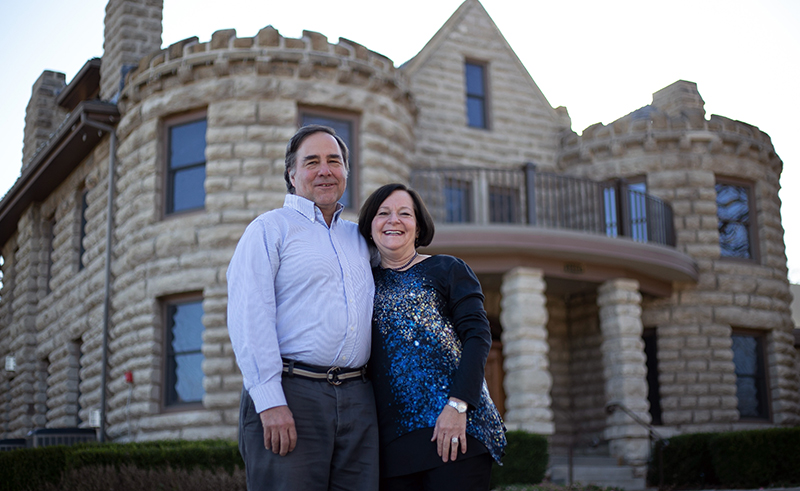 "No matter where you travel, food and wine are part of celebrations in every culture," says Carla Dyer. "It all tastes delicious because it represents what those cultures enjoy."
When Caenen Castle went up for auction in 2019, the Dyers were quick to jump on the opportunity. Within two days, they put in their bid and came up with a business plan that came to life in the form of Wandering Vine.
"We had gone through all kinds of different names, and our son suggested we write down what we were doing and why," Carla Dyer remembers. "During that process, Dan and I wrote individually and then we combined our documents. At that point, we realized we had deep roots in Kansas City—both born and raised here—but we were the wanderers of our families. We wandered off to see the world and it was the castle that brought us back home. That's how we came up with the name Wandering Vine."
Wandering Vine's Wine List is Unmatched
Peruse Wandering Vine's wine list, and you'll see approximately 120 choices that represent 19 countries.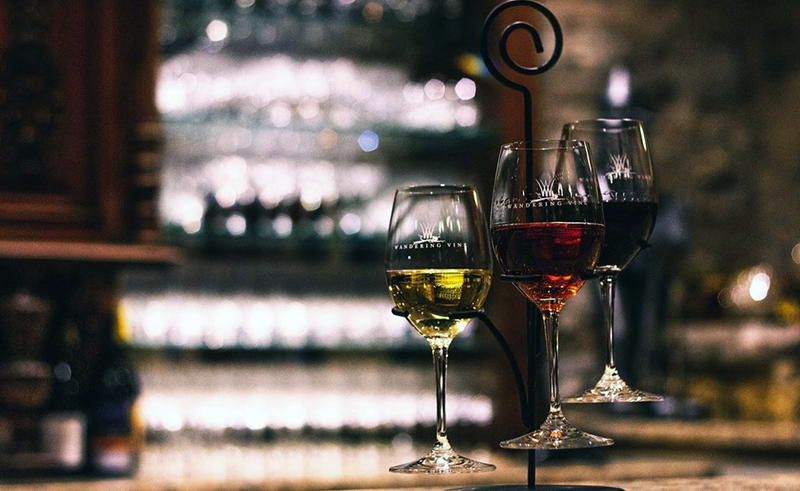 "We've identified wines we think are unique and interesting," Dan Dyer says. "We have several on our menu that were brought in just for us that you can't get anywhere else in Kansas City."
Trying multiple wines with your meal is encouraged at Wandering Vine, so you'll notice that 75 of the varieties on the list have the option to purchase by glass or bottle. Plus, there are 13 wine flights you can choose from that each feature two-ounce pours of three different wines to sample.
The Property's History Ties Into Wandering Vine's Theme
Before the Caenen family built the castle, it was farmland. 
"Remi Caenen and his brothers moved here as dairy farmers," Dan Dyer says. "Then, as Remi acquired more land, there were times the land was used for an asparagus farm, and they also raised mules for the U.S. Army."
Before that, the California Trail, which took travelers west in the mid-1800s, crossed right over what is now Caenen street behind the property.
"There's a pretty good chance anyone going west in the middle of the 1800s literally crossed this property on their way," Dyer says. "That's why we chose an American West theme for our cuisine at Wandering Vine. Our amazing executive chef Hannah Winnett and her culinary team craft our menu from the flavors of Kansas City and Westward."
The Wandering Vine Staff is Trained to Find Your Perfect Pairing
Everything on Wandering Vine's curated menu is made from scratch with fresh and seasonal ingredients. Whether you order chops, steaks, or scallops, expect something incredibly delicious plated with picture-perfect creativity.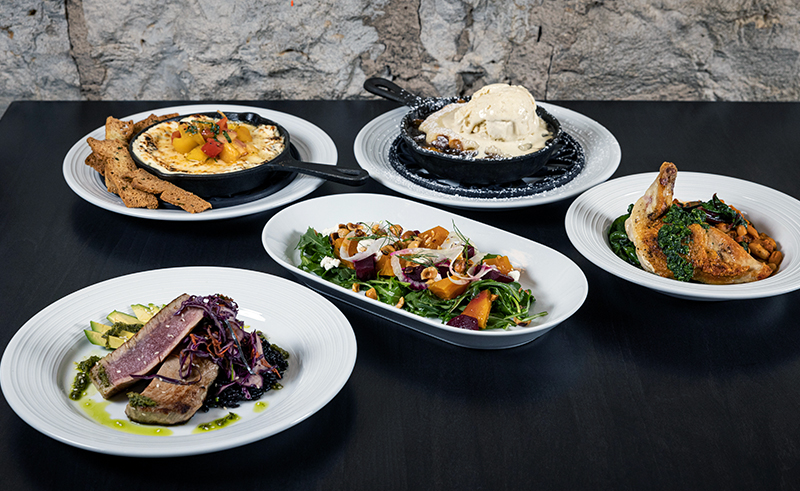 To make the most out of the menu, the Dyers suggest enjoying the wine and the food together. 
Wandering Vine's sommelier Evan Spieker and your server will be at the ready to recommend a wine to pair with your dish, or a dish to pair with wine—whichever comes first.
Travel the World During Wandering Vine's Wine Dinners
After sampling wine in so many different countries, the Dyers wanted to offer Kansas Citians a place where they could wander the world through wine and cuisine without leaving the metro.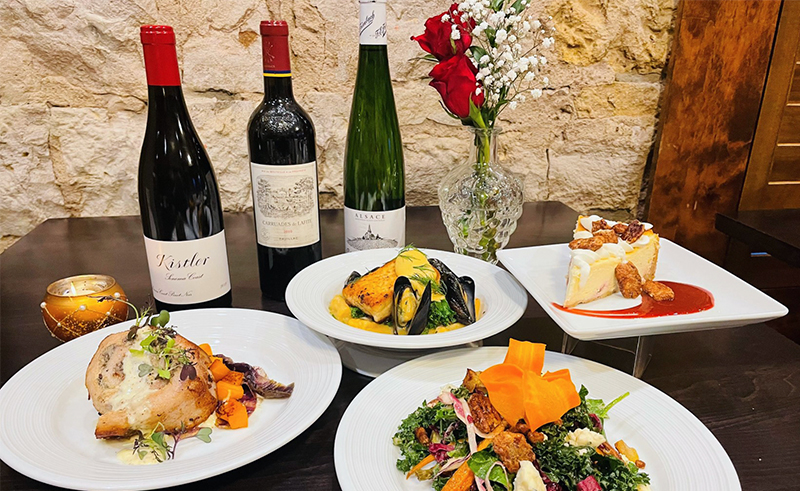 To facilitate the exploration, Wandering Vine hosts wine dinners about every six weeks to introduce guests to the wine, food, and culture of different geographical regions.
"We feature food and wine paired together from different regions of a country or area," Carla Dyer says, noting that past regions have included France, Spain, the Riviera Coast, Australia and New Zealand, Argentina and Chile, and Napa Valley. 
The next wine dinner offers a tour of Italy on April 19 and 20. View the menu here and call 913-379-1300 to set up your reservation.