Sponsored content:
When you think about starting your own business and wonder what's possible, keep Amigoni Urban Winery top of mind.
Kerry and Michael Amigoni started what would become one of the nation's first urban wineries in their basement. A little more than two decades later, they've carefully cultivated the business and now sell almost 5,000 cases of wine per year.

In the early days, Michael explored his passion for wine as a home winemaker. He sourced grapes locally and made wine in their basement, Kerry says.
Just two years later, Michael was ready to experiment with growing grapes. He and Kerry weren't sure how the vines would fare in the temperamental Kansas climate, but forged ahead with planting two French varietals in their Leawood backyard.
For two years, Michael bravely fought the freezes and frosts to keep the vines alive. That was enough success to convince the couple to enlarge their growing operation. They purchased ten acres of land in Centerview, Mo., (within an hour's drive of their home) and in 2001 planted their first acre of cabernet franc, viognier and chardonnay grapes.
The vines flourished, prompting Michael and Kerry to sell fruit to home winemakers and later, a regional winery. When that winery delivered a bottle made from the couple's cab franc grapes, they tasted the fruits of their labor (pun intended!) and realized they had an opportunity to take their business even further.
The Amigonis began making wine in the Livestock Exchange Building in the West Bottoms in 2006. Now it seems like local wineries are thriving everywhere, but at that time, Amigoni was an industry leader—especially for urban wineries.

As awareness of locally made wine continued to grow, the Amigonis realized they needed to add another piece of the puzzle: a tasting room easily accessible to the public. They knew they wanted to stay in the West Bottoms, so they moved to the Telegram Newspaper Building at 1505 Genessee St., growing from 800 square feet to 4,500 square feet with the move. And when the space next door became available in 2014, the Amigonis centralized everything at one location.
Their wine is now sold in approximately 20 states where Amigoni Urban Winery has wine-club members. They recently received an uptick in awareness thanks to a segment on season 4 of Queer Eye, an experience that Kerry remembers as a whirlwind.

"We were contacted by the Missouri Wine and Grape Board about a show shooting in Kansas City that wanted to feature a local winery," she says. "We agreed, not knowing what the show was. Two days after a team scouted the winery, they started shooting and it was really fun! We now have signs around the tasting room mentioning the show and people say they want to go back and watch it again."
Since the early days of their basement winemaking, the Amigonis have taken an open-minded and educational approach to wine. Now they're able to share that knowledge with customers and expand their views not only of wine in general, but also the nuances of locally made varieties.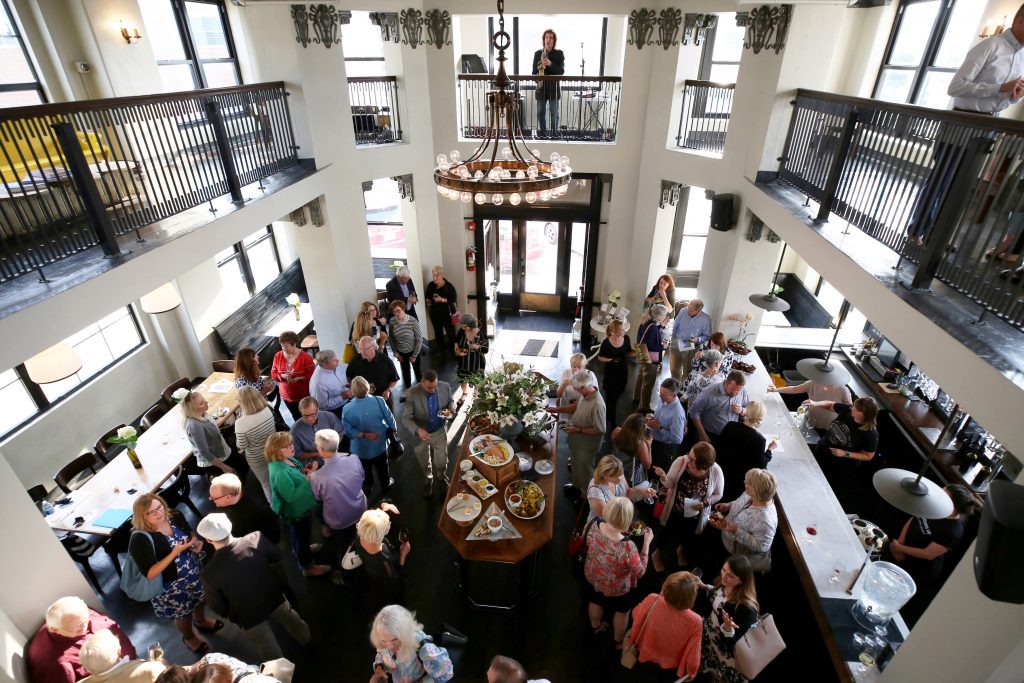 "We're really having fun and so are our customers," Kerry says. "We bring in varietals that we love but maybe aren't known by the typical customer—a syrah or barbera. We're trying to educate people in a fun way. Then they find wines they like and search for them. It's important for us to make our wine and the tasting experience educational and approachable."
Kerry says some people are intimidated when they arrive at the tasting room, which is why making them comfortable is her top priority.
Their commitment to trying new things encompasses the winemaking process, too. Last year, the Amigonis debuted their first sparkling wine—a syrah rosé. This spring, they'll bring back the syrah rosé and add a sparkling pinot grigio.
"That's the big surprise for this year," Kerry says. "It's a super exciting wine for us."
To stay in the know about upcoming events at Amigoni Urban Winery, sign up for the email list through Amigoni's website and follow the winery on Facebook. And when you can, raise a glass not only to Missouri wines, but also to the hardworking entrepreneurs who have contributed to this thriving industry.
"When we opened for business, there were 40 wineries in the state," Kerry says. "Now there are 130. The growth has been huge."