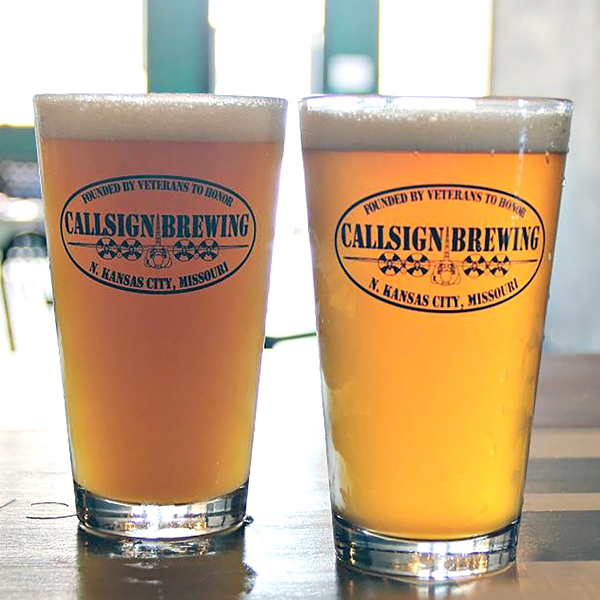 Callsign Brewing is getting bigger—much bigger. After years at its original 3,000-square-foot location, the North Kansas City brewery opened a new taproom and brewing operation in a prime location on Burlington Street in early January.
The new building includes a spacious, open taproom, an outdoor patio, and the heritage room, which will be used for additional taproom seating and events. Guests can look through a set of glass doors in the room and see the brewing equipment, which now includes a new 20-barrel system as well as a canning line.
Expanding operations was an exciting benefit of the new digs, says co-owner Steve Sirois. The space not only makes Callsign more visible to passersby, it provides room to expand to full-scale distribution with cans and kegs. Callsign sticks to mostly traditional styles, but the head brewer has been given more creative license as the business has grown and added more taps. 
"We're still going to keep a solid core of beers, but at the same time we're going to start branching off and doing fun, different stuff, that everyone can enjoy." That includes offering beverages other than beer, including Amigoni Urban Winery vino, cocktails featuring Restless Spirits Distilling Co. spirits, and a few beertails. 
But there's also room for other ventures within the sprawling space. Two restaurants will be opening in the building, with Wolfepack BBQ slated for one of the spots (and serving food regularly at Callsign in the meantime.) And in addition to offices, the new brewery has a dedicated studio for Sirois's forthcoming podcast, "American Brewed," which will cover all things beer and brewing as well as sharing veteran and service members stories—a pivotal part of Callsign's mission. 
The brewery dedicates each batch of beer to the call signs of lost military aircrafts in honor of fallen service members. Callsign also gives back to the veteran and first-responder communities through fundraising efforts and by helping connect those suffering from post-traumatic stress disorder with resources to get help. It's a cause near to Sirois's heart, as he has served in the Air Force for almost 32 years. 
Callsign's commitment to recognizing fallen service members through its beers has struck a chord since day one. Sirois simply calls the tale behind the brewery's founding "The Story," and he's been known to turn down the music at the taproom to share it for anyone around to hear. 
"What does possess somebody to drain their checking account and do this? It goes like this," he starts. 
More than a decade ago, Sirois received a home brewing kit as a gift. The first batch of beer didn't turn out well, but he was intrigued and kept at it, upgrading his setup and making better and better beer. 
In 2015, Sirois and his friend Morris Loncon were gearing up to participate in the UNICO Microbrew Festival at Zona Rosa and trying to come up with a name for their operation. A conversation about the people they had lost during their years of service inspired the idea behind Callsign, which debuted at the festival.
Among their offerings were Shell 77, named for a crew that they knew that had recently died in a crash in northern Kyrgyzstan, and Komodo 11, an aircraft that crashed during a rescue mission in Afghanistan. During the course of that single day, Sirois and Loncon met a widow and widower whose spouses were on Komodo 11, and they were surprised and moved to see their loved ones honored. Sirois and Loncon decided then and there to keep Callsign going.
"At Callsign Brewing, we are truly bigger than beer," Sirois says. "I feel like we hold up to that because it's not just about the beer—the beer still has to be good, but I know that if I save one more person's life, all of this is worth it to me. If we can get people back on track to real life and let them heal, then this, what we created, is worth my time."