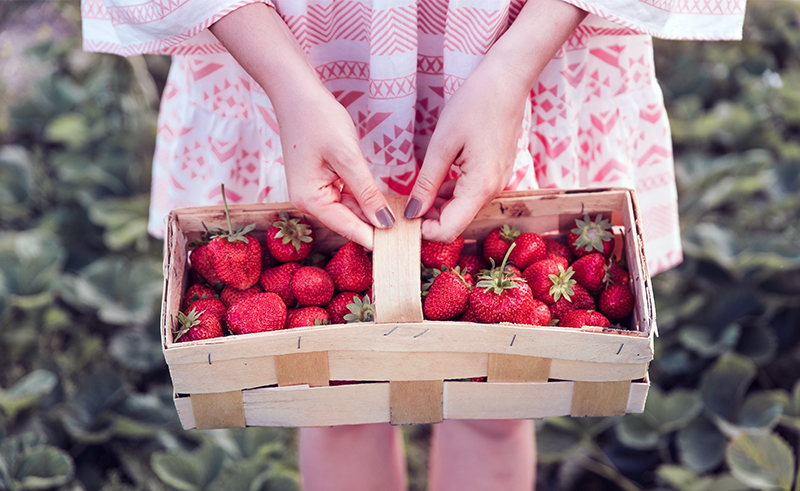 There's something extra juicy and delicious about a berry you handpicked from the vine. 
National Pick Strawberries Day comes on May 20, and that got us thinking about where to get in some strawberry picking across the Kansas City metro. 
As it turns out, there are a handful of places with rows and rows of strawberries you can visit to pick your own basket of fresh fruit close to KC. At most of these places, strawberry picking season begins mid-May. Stay tuned to their websites and social media pages for exact dates. Here's where to go.
Gieringer's Family Orchard & Berry Farm 39345 W 183rd St., Edgerton, Kansas
Pick from over five acres of Strawberries at Gieringer's. Strawberries cost $3.99 a pound and you can buy baskets to collect your strawberries for $0.50. If you bring along the kiddos, stop by the play area where you'll find combine and truck slides, rat racers, and a hay mountain.
Stone Briar Farms 9035 Edgerton Rd., De Soto, Kansas
Strawberries are priced by the pound (exact pricing to be announced) at Stone Briar. You'll get two free picking containers and do not need to schedule an appointment to begin picking.
The Fun Farm 650 N Jefferson St., Kearney, Missouri
The Strawberry Festival comes to The Fun Farm in mid-May. Pick from three berry varieties then have some fun on the farm's attractions. The giant slide, apple cannons, gemstone mining, and barnyard critters are a few activities you can do after gathering your basket of strawberries. 
Weston Orchard 18545 Co Rd. H, Weston, Missouri
Pick strawberries for $5 a person at Weston Orchard. The entry price includes access to the Cider Bar, all play zones, bags for picking fruit, and access to the U-Pick area. Picked produce is weighed and priced by the pound.
Wohletz Farm U-Pick Strawberry Patch 1831 N 1100 Rd., Lawrence
This strawberry patch has been inviting the public to join in on strawberry picking since 2009. Currently, strawberry season is on track to start mid-May and you can sign up for an email list for the latest updates on picking times.