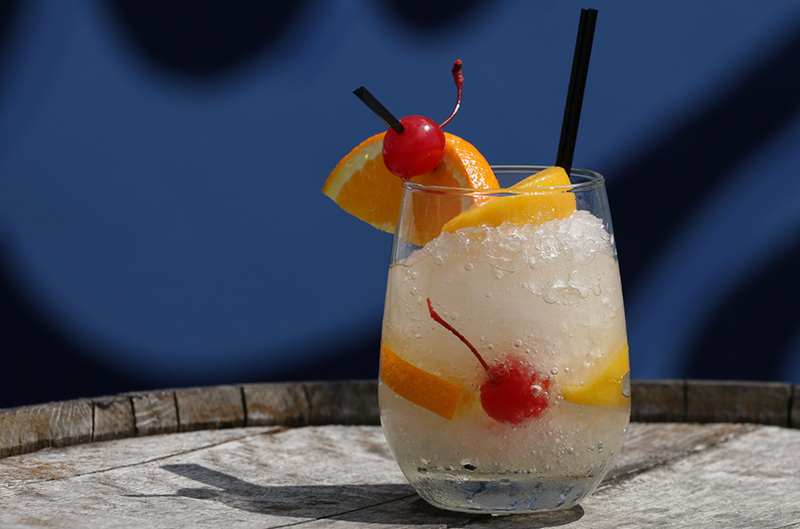 Summer's hottest spot to grab a drink? A rooftop bar, where cool cocktails, warm sun, and a gorgeous view combine for a departure from the everyday. And in a city with a growing number of sky-high destinations, The Well Bar, Grill & Restaurant looms large—literally.
While it's not the tallest bar in town, the Waldo mainstay's rooftop deck is a much-loved, spacious spot for locals from around Waldo and throughout the rest of the metro drawn to its laid-back atmosphere, daily specials, and that all-seasons patio, decked out with big umbrellas for shade and string lights for ambience—not that it needs it. Whether it's a summer afternoon or after dark, the deck has the feel of a cheerful party that just needs enough food and drinks for it to keep going indefinitely.
Luckily, sustenance is available in the form of bar favorites like burgers, served at The Well in variations that range from classic, veggie, and Southwestern and span from early mornings (the bacon and egg-topped Good Morning) to last calls (the bacon, caramelized onion, and gouda mornay-adorned Late Night).
The restaurant also offers up what just might be the city's most decadent ode to the Chiefs' quarterback with the Mahomes, a towering sandwich piled with fried mac 'n' cheese, grilled ribeye, Swiss, jumbo tater tots, crispy onion rings, cheese curds—and yes, ketchup. (Fitting, since The Well is an ideal spot for catching a game on one of the many TVs). For the less indulgent, there are plenty of salads, sandwiches, and wraps available, too.
Patrons will likely associate the term "well" at a bar with the most frequently used liquors in mixed drinks, and there's certainly an approachability to this Well's boozy beverages, which include specials every day of the week, from discounts on craft drafts on Mondays to $6 bloody Mary's during Sunday brunch service. In addition to a respectable number of beers on tap, The Well offers a long list of bottled craft beers from Kansas City breweries and others around the country. Plus, guests can put (lowercase) well drinks to the test during happy hour Monday through Friday, when they're available for $3.50, which will also get you a local craft draw.
Among The Well's signature cocktails, you'll find two takes on the margarita, a horsefeather made with Tom's Town Distilling Co. bourbon, and an old fashioned crafted using brown sugar and KC smoked bitters. Perennial summer favorites are also represented, from a refreshing cucumber mojito to white peach sangria.
The Well's version is available by the glass or pitcher, but if you want to make it at home, we've got you covered with this refreshing twist fit for a crowd—a frozen, fruity cocktail that will keep you cool as temperatures heat up.
The summer flavor forecast is looking just peachy.
White Peach Sangria Frozen Pitchers
12 ounces Ketel One Botanical Peach

6

ounces peach schnapps
30 ounces Moscato
12 ounces soda
12 ounces Sprite
Mix ingredients into a pitcher with slices of peaches, oranges, and cherries. Freeze for 4 hours. Scoop into a glass and serve with a slice of orange, slice of peach and a maraschino cherry garnish.
Note: It is important that you don't use too much alcohol, or the batch will not freeze properly.