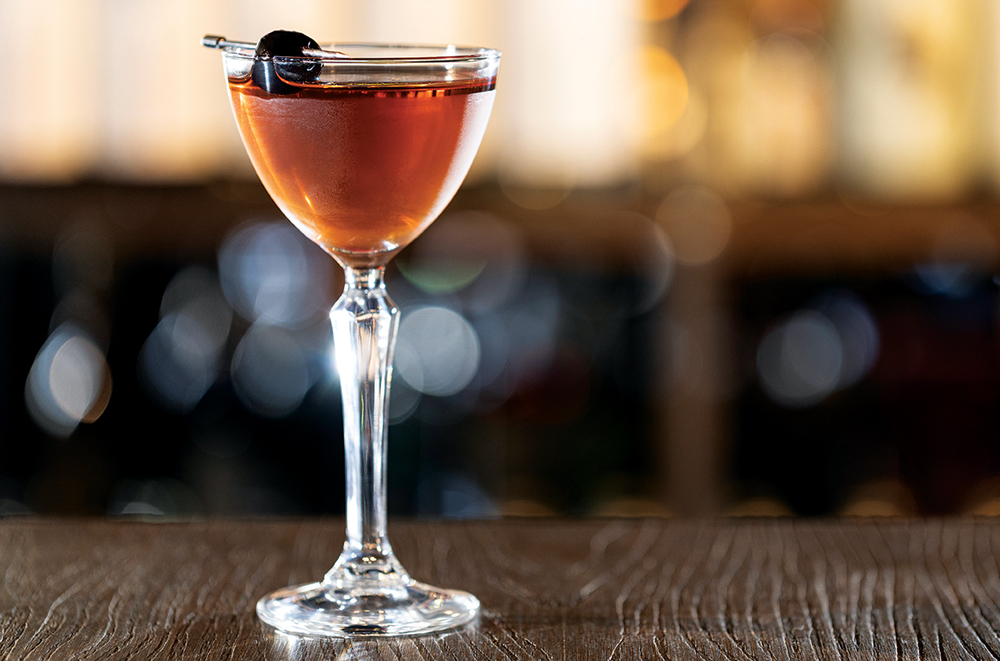 North Kansas City's Mitch e Amaro isn't your standard cocktail bar. In fact, it's not a bar at all, but a hybrid concept that sells spirits and home bar supplies in addition to serving drinks.
The brainchild of brothers Ben and Josh Edwards, Mitch e Amaro is designed to be a home bartender's best friend—the friend they wish they had when they first delved into the world of craft cocktails. As they experimented with making drinks at home, Josh says they struggled to find exactly what they wanted in Kansas City, even by special order.
So they created a store themselves, named for the pit bull Ben adopted around the same time, Mitch, and one of their favorite categories of liqueurs, Amaro. With help from Swordfish Tom's Jill Cockson, they curated their own selection of high-quality, not-so-standard spirits and liqueurs, including their namesake Italian bittersweet varieties.
"The idea is everything is good quality, it's just what price point you want," Josh explains. You won't find well liquors; instead, there's a carefully curated selection of Amari, whiskeys, gins, and mescals, many of which shoppers can sample at the unassuming L-shaped bar in the corner.
Josh is quick to establish that Mitch e Amaro's focus is not creating ground-breaking cocktails—there are plenty of amazing bartenders in Kansas City, and he has no interest in competing, he says. Instead, the goal is to allow visitors to try a cocktail, find something they like and leave with ingredients to replicate it at home.
To that end, the bar offers an expansive 15-page menu. There are curated cocktail lists for each spirit, but guests are also encouraged to build their own drinks with guidance from lists of gins and tonics that can be combined however they see fit—the same concept is also applied to manhattans, martinis, old fashioneds and negronis, allowing for a head-spinning number of combinations. Oh, and did we mention there are also options for flights and non-alcoholic beverages made using ever-so-trendy non-alcoholic spirits?
If your head is spinning, that's OK. Although Josh admits the sheer variety of possibilities can initially be overwhelming, he encourages guests to talk with their bartender to narrow down what they like and what they're looking for.
"The idea is to encourage exploration and trying new things in a way that's not prohibitively expensive," he says. "We want to make learning about a lot of these things approachable and easy and fun."
Questions are always encouraged, whether you're looking for a specific product or hoping for a primer in an unfamiliar category. Guests can try about 80 percent of what is on the store's shelves at the bar to try before they buy.
Mitch e Amaro's off-the-beaten-path line-up doesn't end with spirits and liqueurs—the shop also boasts books to help home bartenders expand their cocktail know-how, professional-quality barware, crystal clear ice, and an impressive lineup of bitters, including the pimento berry variety used in this take on a manhattan.
"With the apple brandy instead of whiskey and the pimiento bitters, which have an allspice taste, it puts warm, fall flavors in the forefront," Josh says.
---
Laird's Manhattan
2 ounces Laird's Straight Apple Brandy
1 ounce

 

Vya Sweet Vermouth
2-3 dashes Dale DeGroff's Pimento Aromatic Bitters
Garnish with Egbert's Premium Cocktail Cherry
Combine the first three ingredients in a mixing glass with ice and stir until dilution is achieved. Strain and pour, then garnish with the cherry.