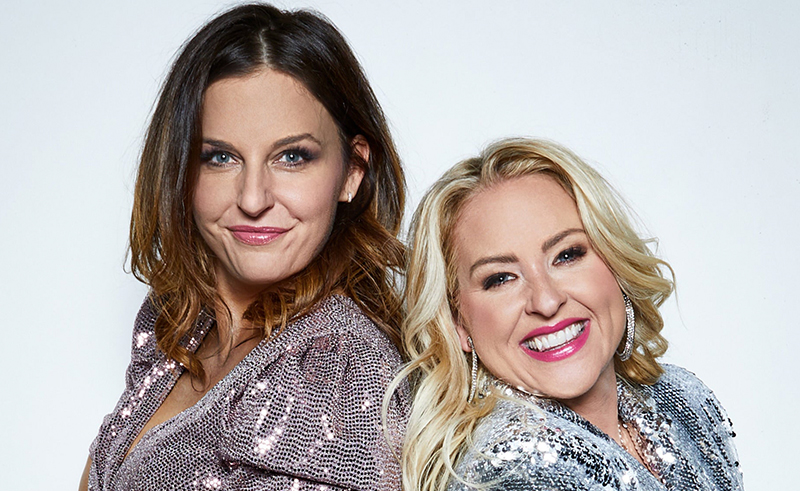 Kristin Hensley and Jen Smedley of #IMOMSOHARD may be raising their kids in Los Angeles, but they're doing it Midwest style—and they'll be sharing their parenting realities with a Kansas City audience at the Midland on January 29.
"Let me tell you, once you're Midwest, you never back," says Hensley. "They're California kids, but they're being raised by Midwest moms. They're not escaping the Midwest because they have us, and we love being from the Midwest where people are really warm and kind and down to have a good time."
The two moms are both from Lincoln, Nebraska. There were plenty of opportunities for their paths to cross, but somehow, the two didn't meet until they both lived in Los Angeles. Hensley saw Smedley performing at a comedy club. After the show, the two shared beers in the parking lot and formed a lifelong friendship.
"We went through breakups, singlehood, and we both dated my husband," says Smedley, as Hensley cuts in and adds that she was just the third wheel until she met her husband. Before they knew it, both were married and starting families—Hensley first, and then Smedley.
About a decade into their friendship, the two shared frustration over the 'perfect mom' content creators that dotted their social feeds with videos on picture-perfect parts of motherhood.
The two moms decided they would take a crack at showing the world the unperfect parts of motherhood with hilariously charming videos. In their 2016 debut on Facebook, Smedley had a moment where she couldn't recall the name of her 7-month-old daughter.
Before they knew it, they had sparked an online community of two million. Now they have their web series, a podcast, and books—and lots of shared memories.
Smedley's favorite memory from #IMOMSOHARD goes back to when they first started doing live performances. They went back to Nebraska to do a show in a movie theater that held 400. The show almost immediately sold out, and #IMOMSOHARD added six more sold-out shows. "I just remember this woman with a margarita leaning over and screaming at us, and I was like, 'Is that for us?' It was a very surreal moment," Smedley recalls.
Hensley's favorite memory happened not too long ago. When the moms had to shut down their second tour because of the pandemic, they switched to Facebook Live videos. They would play trivia with their fans and send the winners friendship pins. When they resumed live performances, a fan came up and showed them the friendship pin she had won. "I got a lump in my throat because it was so strangely connecting," says Hensley.
January 29 will be the third time #IMOMSOHARD comes to Kansas City. The pandemic changed the way both Hensley and Smedley experienced motherhood, which shaped the all-new show the two are performing.
"So much of motherhood is very isolating," says Smedley. "You are working for these unappreciative beasts all the time, and then when you get to share your story with another mom, they're so kind and supportive. It makes surviving motherhood a little easier."
Get tickets to #IMOMSOHARD The Getaway Tour here—and be prepared for lots of laughter.