Sponsored post:

Little known fact: The team at the iconic Arvest Bank Theatre at the Midland knows how to party. And they also know how to throw a party. Besides hosting some of the biggest names in music, the venue has also been privy to plenty of glam galas and seriously over-the-top shindigs.
We don't mean to name drop, but George R.R. Martin once threw one heckuva Hugo Losers' party at the Midland after a nearby sci-fi convention. "It was a little KC and a lot GOT's Westeros," says Katie Schillare, the director of special events. "They let the vendor team really run with ideas!"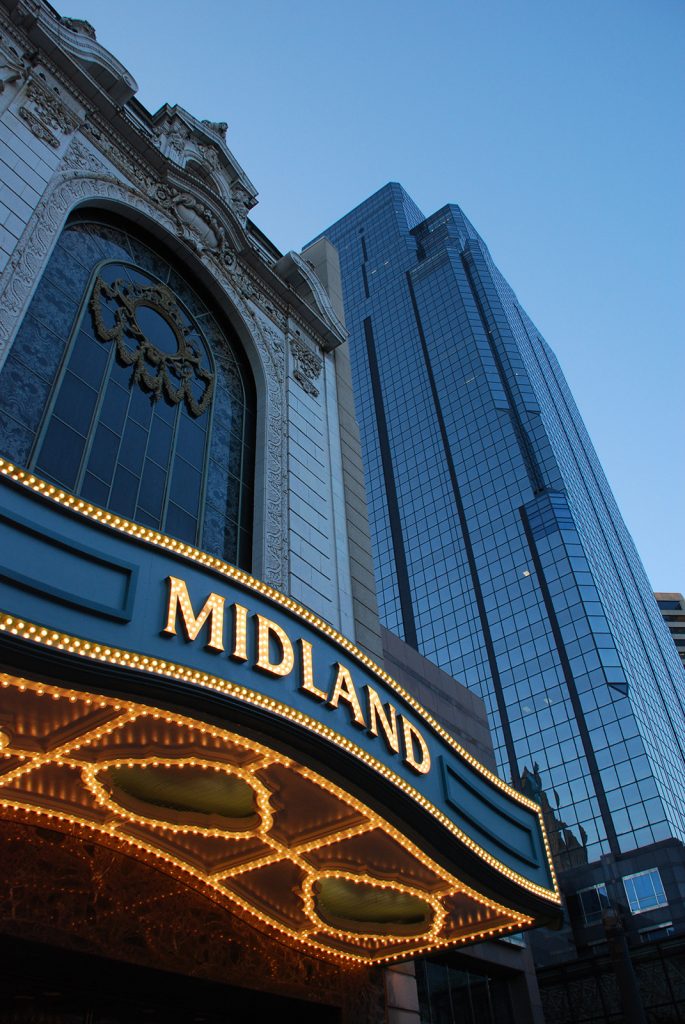 The party doesn't start 'til you walk in …
Schillare will be the first to tell you she's seen her share of revelry inside the theater. And why not? The space is perfect for a corporate conference, an intimate retirement party, and almost any event you can imagine. "We've hosted everything from a casual barbecue to a formal black-tie bash," she says. "I mean, we have Bob Dylan, kids shows like Peppa Pig, holograms of Roy Orbison and Buddy Holly with a full band, RuPaul's Drag Race, all kinds of podcasts, and even the Price is Right Live! As much variety as we have in our shows, we also can offer to our private events," she says, laughing.
It helps that the Midland has a behind-the-scenes production team which has worked together for more than a decade. "Our sound team, our lighting team, our event planners—all are in-house," she says. "They're here to provide the same attention to detail as when, say, John Mellencamp or Jack White performs. Our production design team has a level of expertise you won't find anywhere else. They treat every event like it's their own."
Given the passion the crew has for creating memorable wingdings, it's no wonder clients continue to flock to the Midland for private events. Schillare's battle cry? "Get out of ballrooms and into the iconic Midland!" In fact, she's personally rolling out the welcome wagon. "We're here to help bring your event vision to life. "
With such a stellar reputation, it's no wonder the Midland was the go-to locale for the star-studded Big Slick event for seven years. "Big Slick brought in big names and showed the community a new side of the venue. We worked to keep the event fresh for them every year," says Schillare. "We'd like to think we helped them grow the event."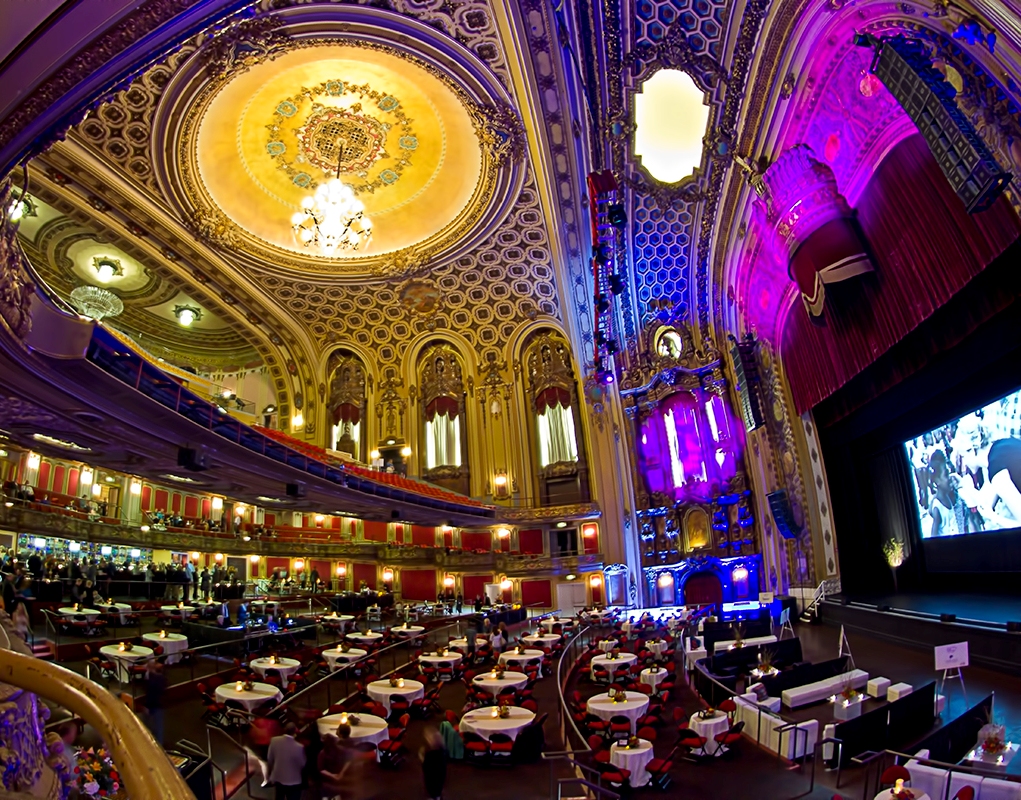 Built in 1927, the ornate hall is on the National Historic Registry. "When we remodeled 11 years ago, we tiered the floor and turned it into the ultimate multi-functional space," she says. "Now we can use the venue for everything from awards banquets to fundraisers to corporate meetings." The biggest throwdown ever held at the venue, you ask? It was the MLB All-Star Game Players Association after-party. "We transformed from a classic theatre into a hot nightclub with fabric installations, lounges, lasers and video gaming nooks," says Schillare. "It was surreal."
Schillare says the crew loves it when clients come in and need help upping the ante for their guests. "We have one corporate client who loves themes and every year they ask for our help," she says. "We're as involved—or hands-off—as clients want." One of the Midland's most well-received events involved a live band doing karaoke on stage so guests could actually sing with a backup band. The venue was turned in to one giant green room for guests to channel their inner rocker. "We're experts at providing the rock star treatment," she says.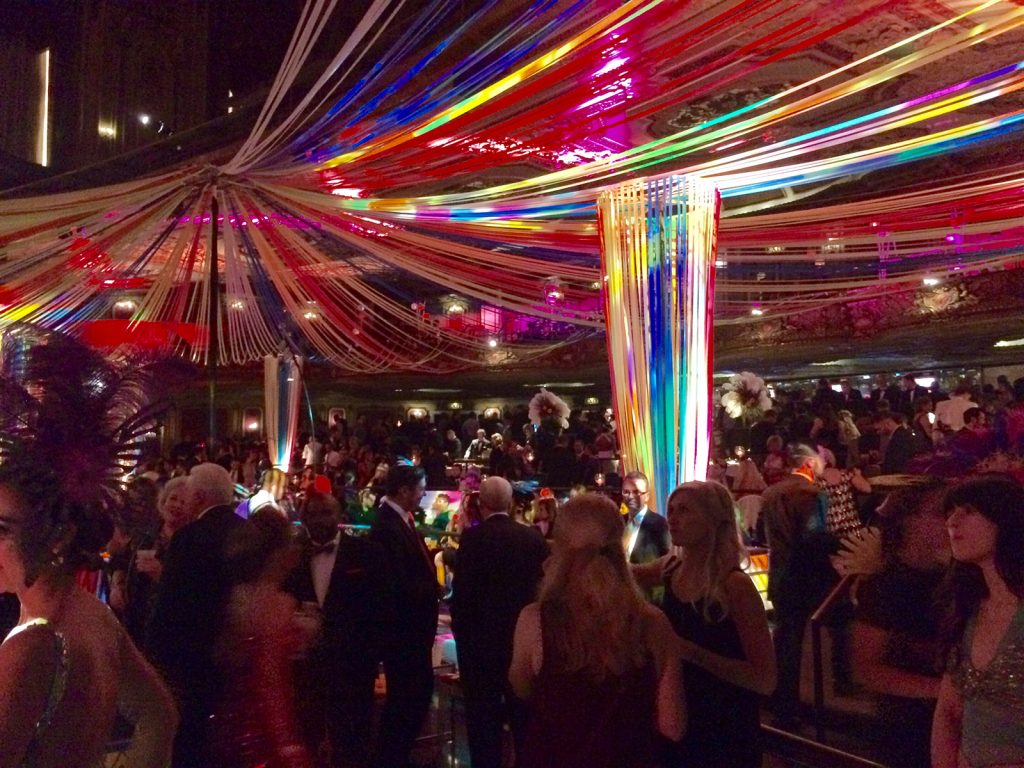 Versatility is the name of the game!
Because the theater allows outside catering, dine-around events have seen a surge in popularity. Those are Schillare's favorite affairs because—well, who doesn't like to mix, mingle and feast? "An engineering firm rented our space and we brought in 13 locally owned Kansas City restaurants which had tasting stations around the venue."
Whether you want to book a year or merely a month in advance, the team is eager to ensure your party goes off without a hitch. And surely you don't need to be reminded that the holidays are right around the corner. "This is a great place to throw a holiday party," Schillare says. "The décor and atmosphere of the building encapsulates everything the holiday season represents."
It's a common misconception that they only accommodate concerts or that the venue is far too spendy for, say, a cozy 50th birthday party. Neither could be further from the truth. "Venue rental on a Saturday during the summer is as low as $6,000 or $5,000 during the week," she says. "We've had a 60-person wedding here and a 2,000-person convention reception. We truly are a group of professionals who can make nearly all event styles and budgets work here."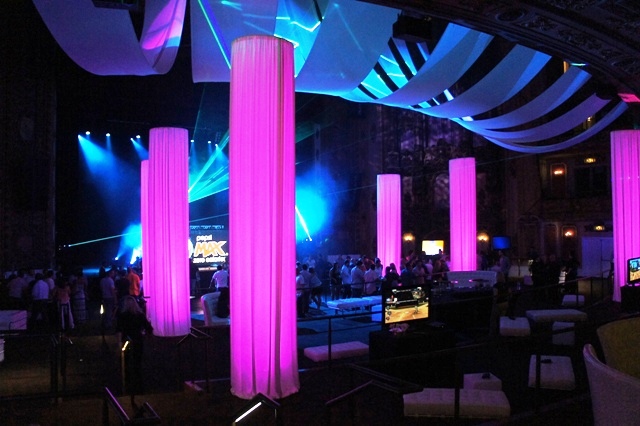 Take a virtual tour!
With its stunning architecture and sumptuous décor, Arvest Bank's Theatre at the Midland is becoming ground zero for companies and corporations to hold unique and spirited events—especially during the day. Schillare says seeing is believing. "There's a sense of excitement here. It's high impact," she says. "We'll let our creative juices flow and help you create a memorable event, simple as that. We're flexible. We're accommodating. We know what works in our space and we are more than willing to give you suggestions along the way."