If you were lucky enough to score tickets to Hamilton while the national Angelica Broadway Tour stopped by Kansas City Music Hall March 21 to April 2, there's a good chance you had more in common with one of the lead actors than you might have realized. 
Depending on the performance, Kansas City-native Bryson Bruce had plenty of stage time in starring in the lead roles of Alexander Hamilton, Aaron Burr, or Marquis de Lafayette/Thomas Jefferson. 
A 2010 graduate of Lee's Summit West High School, Bruce is the standby actor for all three characters, plus King George and George Washington. After seeing his performance on Wednesday, March 22, as Hamilton, we can confidently say he commands the stage.
Bruce, who grew up in Grandview, chatted with us about how his acting career started in Kansas City and led to his starring roles in Hamilton.
When did you first discover performing and how did growing up in Kansas City influence that?
My parents tell me this story how in kindergarten, I had more energy than I knew what to do with. They told me that my teacher would focus that energy by letting me read to the class during story time—because they had taught me to read before kindergarten—and I loved giving voices to the characters (like my mom would at home when she read to me). My parents then found The Academy of Performing Arts in Grandview, a family-owned business that offered courses in the arts. My sister was taking dance classes there at the time. They had acting classes as well, and once I had my first acting class around 6 or 7, I was hooked. 
When did you move to New York City, and what were the first professional roles you took on?
I moved to New York City after I graduated from Mizzou in 2014. I got into a few small creative projects, and got involved with the New York City Children's Theatre for a few productions (A Band of Angels and Young Charles Dickens) before landing a spot on the 20th Anniversary Tour of Rent in 2016-17. I traveled the world as a swing, covering four ensemble roles, as well as Benny and Collins. After that, I joined the First National Touring Company of Hamilton playing Lafayette/Jefferson from 2018 to 2021. I then got the opportunity to come back as a standby covering that role, as well as Hamilton, Burr, King George, and George Washington from February of 2022 until now.
How do you view your role as an actor and performer?
Acting for me is a rare opportunity to step into someone else's story and show another side of life. There are so many stories to tell and perspectives to share with the world, and I feel very fulfilled when I can take them on and add a bit of myself in there too. I learn something new about myself with every role I play, and I hope that those in the audience learn a little bit about themselves seeing well-crafted stories presented with care up on the stage.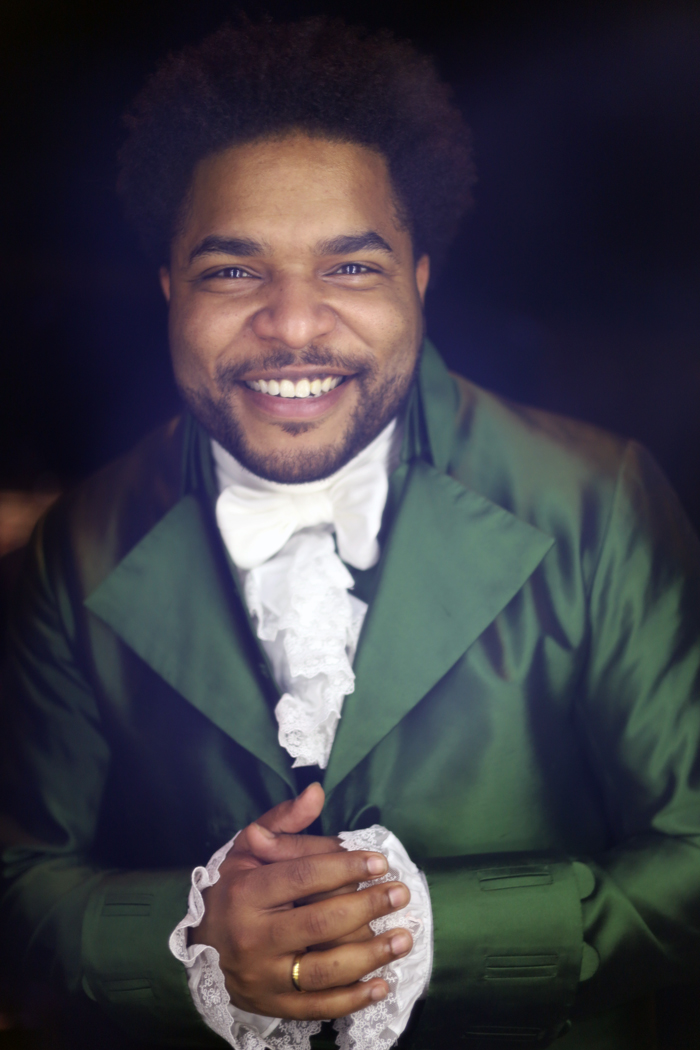 In what ways does your experience between Rent and Hamilton differ, and what parallels do you see between the two?
Rent and Hamilton both are mostly sung through; all the scenes and words are linked to the steady churn of the music underneath, as opposed to scenes with just freely timed dialogue. With that, you have to know exactly what you're saying and when, or the show will leave you behind. Another similarity is that they both captured a time in history worth retelling. With Rent, it was portraying the AIDS epidemic, and with Hamilton, it's the revolution.
They obviously differ in many ways. Hamilton has more hip-hop and rap, and most of the main characters are directly based on people in history, which make for a great challenge to portray each one differently. 
Currently, you're a standby for five characters. Those are big roles to know front and back. How do you keep yourself ready to switch between those characters from night to night?
There are occasional rehearsals during the week and during some of the performances that keep us standbys and swings ready for anything. I also love listening to the Hamilton instrumentals and sing along like Broadway karaoke. As for keeping the roles straight, I've always had a knack for memorizing scripts. If my line is coming up, I like to know exactly what the line is before mine, how many ways it can be said, and why it's said that way and not other ways, so that I know when and why to say my line. All of this usually leads to me memorizing the whole show that I'm in. With Hamilton—and I guess any show—the more I understand why the character is doing what they are doing, the lines link together like train tracks, and I can just follow the track I need that night to tell the story. 
What's your favorite scene to perform and why?
My Shot as Hamilton is one of my favorite songs to perform. Every time I rap the words of that young, scrappy, and hungry 19 year old, it re-inspires my inner teenager to keep doing what I love and pushing past all the obstacles in my way. 
What it's like playing such significant roles in musical theater in front of your hometown audience?
It's already so surreal stepping on this stage and doing this show for my hometown, but to have the opportunity to play Hamilton, Burr, and Lafayette/Jefferson while in town, I'm just so grateful for the chance to show so many sides of myself. This musical has taken the musical theater world by storm, and I love that I get to suit up and help tell this story while we're here. I will have played (at least) Hamilton twice and Burr once in the first week, and Lafayette/Jefferson three times in the second week. 
Did you ever see shows at the Music Hall when you were younger?
I'll never forget the first time I saw Wicked with my whole family at the Music Hall! The lights, the talent, the familiar plot turned on its head, I really could not get enough! When the first act ended, I was so full from the theatrics of it all, I thought the show was over! I was content and excited to discuss it with my family, only to realize we had a whole other act to go. A dream of mine is to one day play Fiyero in Wicked. 
While you're in town, are there any local spots you're planning to visit for old-time's sake?
Gates Bar-B-Q had my dad hooked when I was growing up, and I inherited that same obsession. I have to go and grab a beef on a bun before I leave!