The idea for Kansas City's newest music bar was sparked more than 30 years ago when Kansas City natives Alan Stribling and Michael Rorah met at a San Diego piano bar.
Stribling had an interest in becoming a musician, and he asked Rorah for advice after seeing one of his performances at the piano bar.
"I had never performed, so he inspired me to work and learn how to do it," Stribling says. "We spent quite a bit of time in San Diego, and he got me started with my first gigs, plugged me into the scene down there, and took me under his wing."
After honing his trade with Rorah, Stribling returned to Kansas City and spent a decade performing at The Raphael Hotel lounge before he embarked as a resident musician with Princess Cruise Lines. Meanwhile, Rorah did a 15-year stint as the house entertainer at Humphrey's in San Diego, played piano on cruise ships, and performed around Florida.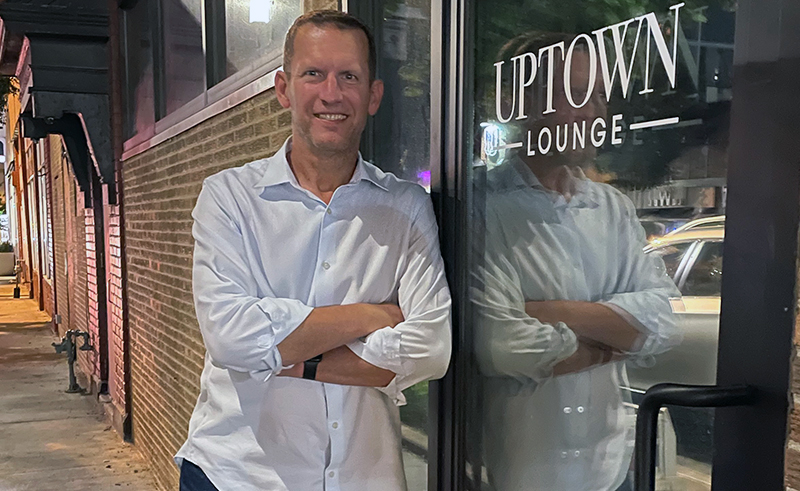 In 2020, Stribling and Rorah were both living in Kansas City.
"We had talked 30 years ago about doing a place like Uptown Lounge, and for the first few years we just had fun joking and talking about it," Stribling says. "When Mike found himself back in Kansas City, it was the first time we'd both been living in the same place at the same time in over 20 years, so we got serious about it."
The two set out to create Uptown Lounge, a piano bar that was "built for musicians, by musicians." When Stribling and Rorah learned of an opportunity to take over 3400 Main Street—the address that formerly housed Davey's Uptown Ramblers Club until a fire gutted the building in 2020—they jumped on it.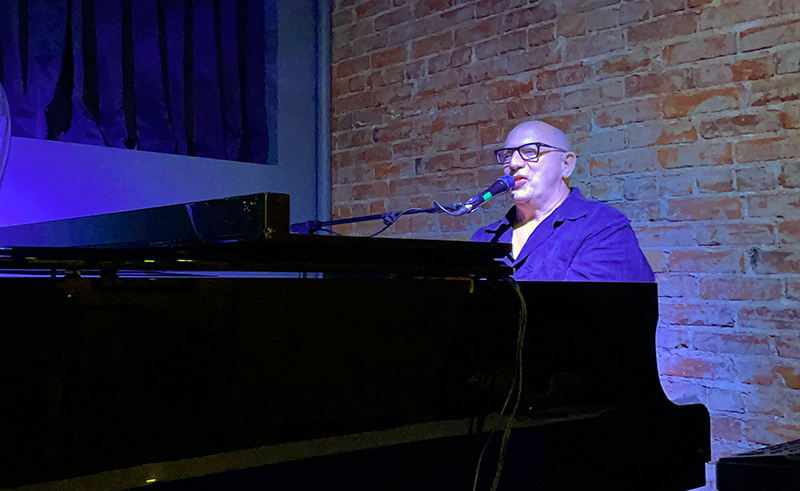 Due to the fire damage, the space needed a total remodel, and Stribling and Rorah were up to the challenge. With a background in construction, Stribling designed the layout and Rorah picked out the finishings, colors, and artwork.
The entire process took ten months, and Stribling tested several layouts to create the best venue for a piano bar. From the intentional ceiling height to the speaker placement, all aspects of the bar were optimized to create the perfect sound experience no matter where a guest is seated.
"We wanted to create an environment where it was comfortable for musicians and the audience," Stribling says. "We designed it so that people can come in and hover around the stage or they can come to the seating in the back to have a conversation with the music in the background."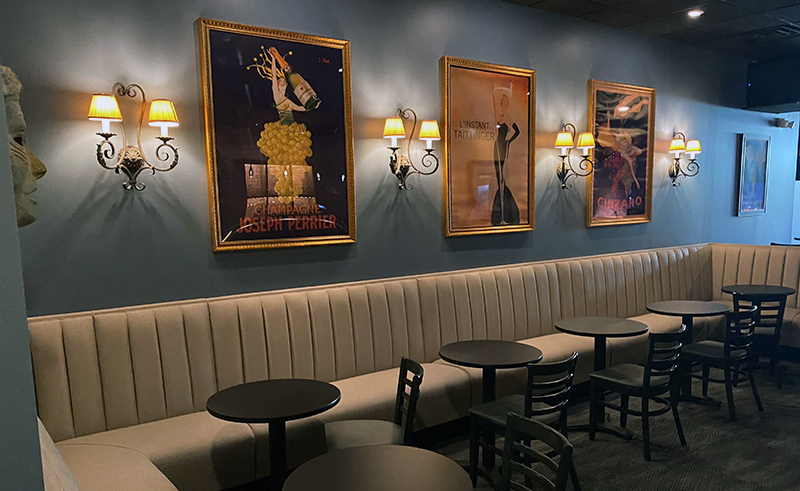 Open Tuesdays through Saturdays, patrons can expect performances every night where guests can hear jazz standards, piano-bar classics, show tunes, reimagined contemporary hits, and hosted jam sessions that highlight rising local talent. Visitors can even catch performances from Rorah and Stribling on most nights. Plus, the bar menu at Uptown Lounge offers top-shelf libations with a handcrafted cocktail menu.