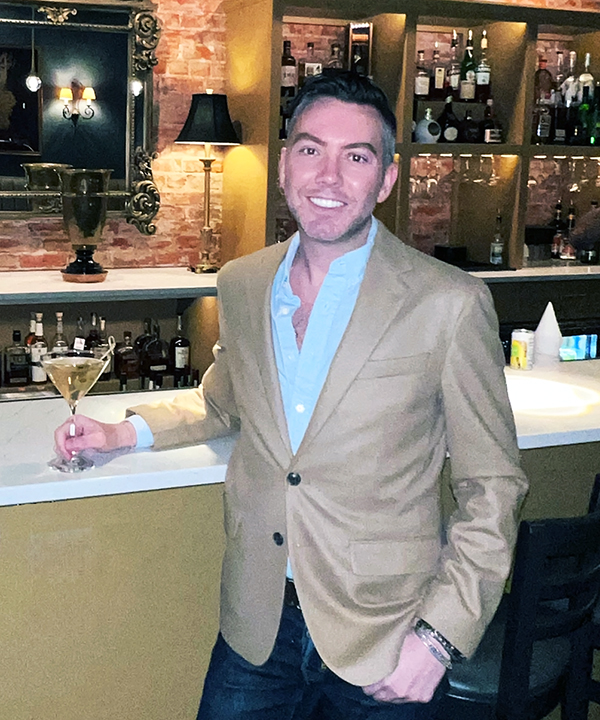 Uptown Spunk
Two musicians walk into a bar . . . The two were Alan Stribling and Michael Rorah, and the bar was Davey's Uptown Rambler's Club—recently flame broiled. (Rest in peace.) Enter: Uptown Lounge.
Both from the Kansas City region, Alan has been a fixture at the Piano Room in Waldo, Chaz on the Plaza—the bar and lounge inside the Raphael Hotel—and the gone-but-not-forgotten Plaza III. He also toured the country and was a regular on Princess Cruise Lines. Michael, prior to his Kansas City return, spent his time performing in tony spots across Hollywood, Beverly Hills, and San Diego, in addition to cruise ships. The two friends reconnected and began imagining a new music venue. As luck would have it (for them), the fire presented a plum opening.
If you had been to Davey's Uptown, get ready to be wowed—or, wowed regardless. The once ultra-divey bar has been radically reimagined as a fresh, chic cocktail bar and music lounge. New, but not too new. High-end, but not pretentious. It feels nice, like a place where you could sink in for a while. 
I dropped by with a friend around dinnertime, and we quickly ran into a couple we know. They had just finished an early anniversary dinner nearby. Drinks on us! As we caught up on recent travels, Alan's fingers were dancing across the piano. Other patrons were calling out requests, and the bartender even chimed in for a duet on one tune. You never quite know what's going to happen next. In addition to Alan and Michael, you'll hear other local talents, such as Emily Dix, Matt Villinger, or Austin Reed, and occasional appearances from legendary Chicago jazz recording artist, Steve Million.
I'm told that impromptu jam sessions and surprise performances are a regular occurrence—particularly later in the evening when various musicians wrap up their paid gigs and are ready to kick it on their own terms.
The lounge is open Tuesday through Saturday evenings. It's the perfect grown-up spot for drinks before dinner or somewhere to wind down afterward, when you're not quite ready to head home. Get thee there.
OVERHEARD
"What'd you do, look at the menu and say 'OK'?"
Zero + Zero = Yum
Remember the lockdown? Remember wondering what life might look like on the other side? How things would be forever changed? Prognosticators opined that cities would empty (they didn't), and offices would become quaint relics (workers continue trickling back, albeit begrudgingly). What many missed in their planet palm read, though, was what sort of good things might fall in our lap, as a result, and stick around. 
Zero Zero Handmade Pasta, and its new Westside brick-and-mortar outpost that I visited on opening day, is one such example. Founder and owner Mitch Fagan had been playing with and making pasta for a large part of his life. During the worst of the pandemic, Mitch threw his pasta experiments into high gear. Eventually, out of a commissary kitchen in the West Bottoms, he started making enough of his creations that he could offer them commercially, via home delivery.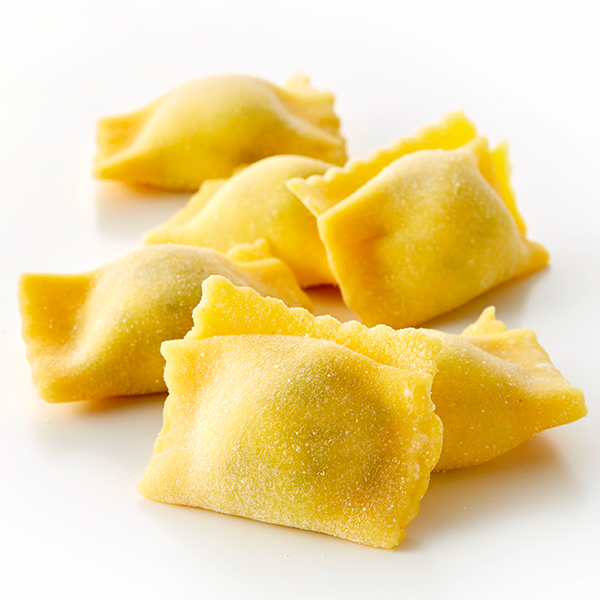 All the pasta is made with double zero—or doppio zero—flour. In Italy, grind sizes vary from 00 to 2. Double zero is the finest grind—the consistency of delicate baby powder. This requires less water in the pasta-making process and delivers a product with maximum stretch and durability. Perfect for pizza dough and pasta. Zero Zero uses flour produced in Kansas City by Marion Milling. Stone-ground from local heirloom wheat varieties, the age-old stone-grinding process retains a high percentage of the original wheat berry. The result is a more nutritious flour that brings the unique flavor of the grain to the forefront.
At the shop, you can snag some frill-free spaghetti and pappardelle, but the real treat is their stuffed pasta. I scooped up the very last batch of carrot mascarpone agnolotti, which they said pairs best with their Parmesan cream sauce (yes—they've got your sauces covered, too). As of this writing, I have not yet plopped them into a boiling pot, but I will as soon as I return home from travel. I was able, however, to order their prepared pasta of the day while in the shop. The made-to-order for eating on the spot (available only on Saturdays) lemon and garlic agnolotti with the same cream sauce and fresh basil was bellissima e deliziosa. 
A fan of focaccia? I was flummoxed by the array of choices: olive, tomato mozzarella, honey, pesto, and cheese. In addition to sauces, they also have a tight array of other items you might need for throwing together the most delicious little pasta dinner. Fresh herbs, a few seasonal veggies, various olive oils, and to my delight—the same Momofuku chili crunch and seasonings that I've been buying online. Also available: the Marion Milling pasta flour, in case you want to try whipping up some yourself with that pasta maker at the back of your kitchen cabinets. But why, when they do it so well??
Despite the new shop, they still offer delivery. I've already preordered next week's rotating pasta: sweet corn and mascarpone ravioli. I also threw in the mushroom ricotta cappelletti as well. Why not? Not near the Westside and don't want to bother with delivery? Zero Zero is also available at both the Brookside and Leawood farmers markets. 
The pandemic (still not entirely wound down) has certainly been a ride with many twists and turns, and looking back on it can be illuminating. They say hindsight is twenty-twenty. But it can also be Zero-Zero.
HOT GOSSIP:
What French chef is single and on the market?
Garden of Delights
Born of the pandemic that pressed the artist community to dig even deeper into their creative cavities for ways to connect with buyers—Art Garden KC sprung to life. Art Garden is a weekly art festival for shopping handcrafted local works from KC makers. Located in the lush City Market Park on the western side of the City Market proper, it is ever-bustling with weekend activity. The vendors' variety is extensive: handmade jewelry, décor, ceramics, clothing, stationary, candles, tea, beauty products, cut flowers, art (of course!), and lots more.
As I was enjoying a live music performance, I happened upon my friend Evie Craig, executive director of The Arts Asylum. Serendipitously, she introduced me to Bethany Alzanadi, co-founder of this terrific event. What began as a one-time gathering quickly grew into a weekly occurrence in the historic northeast neighborhood of Pendleton Heights. The outdoor space there could only accommodate 50 of the quickly accumulated 300 registered vendors. Thus, the move two months ago to City Market, where there's space for nearly 100 vendors. The move has been a massive success, with far larger crowds and a vendor registry that's swelled to more than 600 artists/makers vying for a spot each week—on an equitable first-come, first-served basis.
On the note of equity, I found it refreshing that thoughtful attention has been placed on keeping the entry barriers low. Registration is free, and garden space fees are just $10. (Compare that to the hundreds of dollars charged by similar local concepts—makers, take note!) Furthermore, artists and makers keep 100 percent of their sales. Word is spreading, and Art Garden is quickly becoming the marketplace of choice among this community. It's not hard to see why.
Also not hard was noticing and appreciating the diversity among, not only the wares, but the makers themselves. From entrepreneurial children to 2nd-career retirees, I met sellers who ran the gamut from budding artists to those with advanced degrees from pedigreed art schools. No surprise that this has attracted a stream of patrons with commensurate diversity.
You can visit the Art Garden for yourself every Sunday—March through October, 11 a.m. until 4 p.m. Why not grab a brunch/lunch bite and your fresh produce for the week at City Market and then pop over? Oh, and word on the street is that the Art Garden troupe may be pairing up with Troost Market Collective for their annual Troostapalooza event on October 8. So, mark your calendar for a double-trouble good time!
OVERHEARD
"See there—a scratch on my car. Now, I'm not going to do a thing about it. But if I get another one—I'm getting a new car."
Westport Wednesdays
It may sound funny, but there's one thing I've been oddly aching to do for roughly two years, and that is to play "Meat Bingo" at Kelly's Westport Inn. This all started just prior to the pandemic's shuttering of bars and restaurants—then disappeared for good before I had the chance to play. To my utter delight, it has returned. What is meat bingo, you might ask? Well, it's bingo—with prizes—that happen to be meat. Not just any meat, but fresh, local meat from Broadway Butcher Shop. The game is exclusive to Westport Wednesdays, which I had also been wanting to check out. 
We arrived early so I could order some food to keep me going during the game. Fortunately, the new Guy's Deli (in the former Joe's Pizza space) has a walk-up counter inside Kelly's. I went with the Wise GUY'S Italian Sub (top seller) and the PB&J Crunch (because how could you not), sharing half with my friend in tow. Both were classically delicious, with the PB&J being the obvious standout—the perfect childhood throwback entrée for a game of bingo. Oh, and that Joe's Pizza, which I have sooo badly missed? Well, they have the recipe and promised that it's just the same, if not a bit better. Adding to my list.
After several rounds of bingo and just as many losses (sad face), I tossed in the towel, and we mapped our next move: Harry's Bar & Tables, just across the street. The weather was perfect on this late summer evening, so we sat outside for a cocktail. They had a Hawaiian theme going on, so I ordered up the piña colada. Very good, but would have been better under a palm tree. 
Next up, we slipped into the still-new Tin Roof. We found a picnic table out front and started in on what I do best—sampling. We got a few varieties of tacos, one of the multiple quesadilla options, some mac and cheese, and—what they're famous for—hot chicken (tenders, not wings—I don't do bones). We nibbled away, humming to the country tunes in the background.
Last but not least—dessert. Bopping back across the street to another new place I hadn't yet tried: Sweet Stuff, the companion to next-door Chick-in Waffle. Rather than chicken on your waffle—you guessed it—it's sweet stuff. I nabbed the Fruity Pebble—strawberry ice cream, Fruity Pebbles cereal, whipped cream, and strawberries, all atop their unique bubble-shaped hot and crispy waffle. Tooty-fruity.
Intuitively, you can get in on Westport Wednesdays every week. The Westport website holds all the keys to every participating business (more than 25) and all of their enticing Wednesday-only specials. Oh—and don't sleep on the annual Art Westport fair—quickly approaching, September 9-11.
HOT GOSSIP:
What two successful restaurant owners did the splits and are going separate ways?