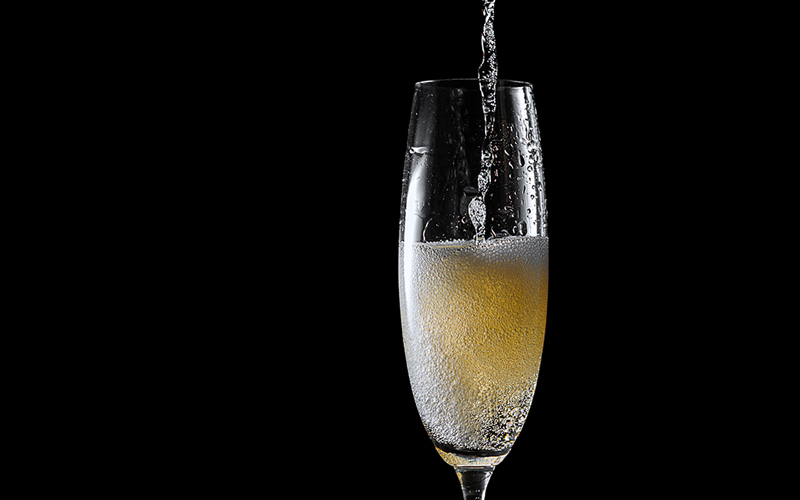 Follow the winding staircase located inside the front door of the Ambassador Hotel in downtown Kansas City as it curls down to the lower level, and you'll soon arrive at the front door of Lonnie's Reno Club, one of the top "dinner and a jazz show" experiences in town. The director of food and beverage, Eric Willey, will greet you at the door and as he checks you in, offer you a deliciously old-school Champagne cocktail before escorting you inside the intimate room where there isn't a bad seat in the house.
After you have settled in, the lights go out and the band revs up to introduce the star of the show, Kansas City's own music man, Lonnie McFadden. He takes the stage dressed in a grin and a handsome suit and joyfully shouts out to the audience words of welcome and thanks for coming, his trumpet in one hand and tap shoes on his feet. His energy is electric and contagious as the whole room erupts into a round of applause ready for the show to begin. 
Raised near Kansas City's historic 18th and Vine district, Lonnie McFadden grew up hearing his father, Jimmy McFadden, talk about his career as a professional tap dancer working under the stage name "Pops," while touring with the likes of jazz legends Charlie Parker, Louis Armstrong, and Count Basie, who were playing with orchestras in the 1930s and 40s.
Today at 66, Lonnie McFadden has toured the world entertaining people with his trumpet playing, tap-dancing, and singing both solo and with members of his talented family, including his brother Ronnie, whom he has recently started performing with again at Lonnie's Reno Club. 
This month, McFadden has asked his talented family to join him on stage for a special holiday show called "McFadden Family: Home for the Holidays," where you can expect to see a high-energy, Las Vegas-style performance from McFadden and his brother, who are both Jazz Walk of Fame inductees. On Sunday, December 18, there will be a special McFadden Brothers' performance that will include Lonnie's talented daughters, Chloe and Gina, from 5 p.m. until 8 p.m. It will be the first time all four family members will take stage together. Coming off the heels of their successful McFadden Brothers show this fall, this holiday show will feature everyone's favorite jazz, R&B, and holiday favorites. Reservations are a must to secure your spot at these performances that sell out each weekend. 
There is a list of cocktails and wine you can order additionally to go with your dinner, which includes an appetizer, main course, and dessert in the ticket price, but their number-one seller is their Champagne cocktail, the same one that greets you at the front door. 
 "When developing Lonnie's Reno Club, we really wanted to evoke the 1930s Kansas City jazz club scene and take guests back in time," says Willey. "Greeting guests with the Champagne cocktail seemed not only suitable with bubbles, but also time-period appropriate."
Here's the recipe for you to toast with friends and family in your home this holiday season. Cheers!
Champagne Cocktail
1 flute of Champagne

 

1 sugar cube

 

2-3 dashes Angostura bitters
Lemon twist
Place sugar cube in a champagne flute, lash it with 2 or 3 dashes of bitters, and fill the glass with Champagne.
Squeeze a lemon twist on top, then use as garnish.