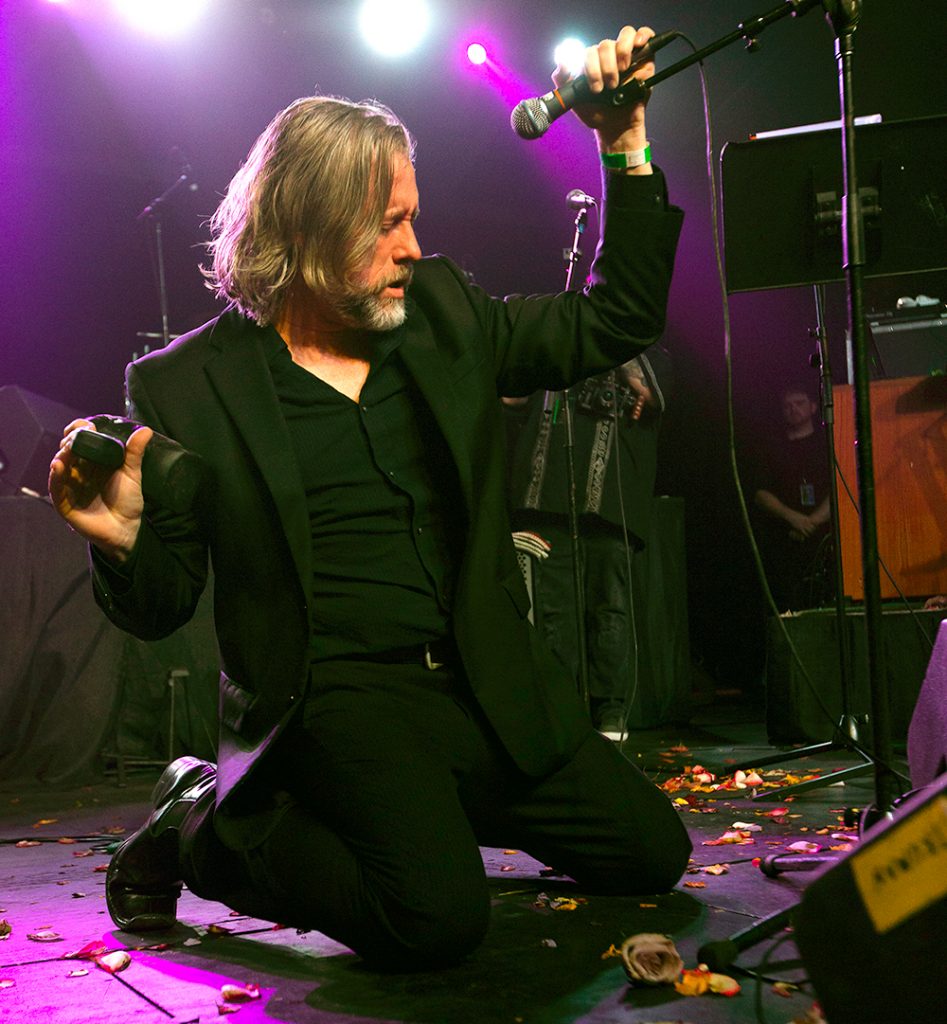 Few people in Kansas City's music world have been hit harder by the COVID pandemic than Steve Tulipana, who co-owns RecordBar—a restaurant and one of our city's busiest music venues—and is a member of at least three active rock bands.
In September, RecordBar will celebrate its 15th anniversary, a celebration that will include a live show (details below) and Kickstarter that will offer donors a trove of gifts and prizes. In the meantime, Tulipana is also one of the organizers behind Lemonade Park, an outdoor music space in the West Bottoms that is keeping a live-music vibe going while practicing strict safety protocols.
He recently answered questions about his deep and vast roots in our music community, which go back to his days at Liberty High School, his most heralded band, Season to Risk, and his staunch optimism for live music beyond the pandemic.
What was your childhood like?
I moved a lot from birth until my teenage years. We landed in Liberty where I entered seventh grade. I had primarily grown up in suburban environments until Liberty. We lived on the outskirts on some land towards Excelsior Springs. My father wanted to teach my three younger brothers and me some lessons similar to what he had known growing up in rural Bull Shoals, but still have proximity to the city. I can tell stories for days about how much I disliked it but in retrospect so glad that I experienced it. Most of them have to do with manual labor and birthing cows.
What was its music community like back then?
Liberty had a very advanced music program that included a state-wide lauded symphonic band. I started out as a trumpet player, but the competition was fierce, so I switched to tuba. I was not very good, but there were only a few of us so we were included in all the band trips and events. 
This is where I met many of my still-to-this-day best friends. Chris Gile in particular was a huge influence on me. He and Eric Anson, Clayton Brown, Dylan Hoffman, and Mark Decker were a year ahead of me, but they had started a band called Spaztic Motive that set my imagination on fire. Spaztic would go play "Anarchy Benefits" in Columbia and then make friends with bands in St. Louis and go play there. Totally punk rock/DIY spirit. 
We discovered The Foolkiller at 39th and Main in Kansas City, and we'd hitch rides from Mark's dad, who worked in the city at night, to go see the likes of Black Flag or the Meat Puppets. Eventually, Dan Jones, whom I now play with in the Squids, Mark Hoffman, and Mindy Mattingly and I started our own band called Corn Dog Jamboree. We were a rudimentary slap-dash of Minutemen, Ramones, and maybe some Velvet Underground. We didn't get to do road shows like Spaztic Motive, but we did play a Kearney High School field party once and if I remember correctly someone threw a beer can at us.
A few years later when we'd all departed to college, I teamed up with the Spaztic Motive crew and we changed our name to Nine Lives. We kept pretty busy. We even opened for Fugazi on their first tour when they came through St. Louis. Years later when Season to Risk opened for them, Ian McKaye remembered Nine Lives. He even remembered the green and white striped pants I was wearing. Probably all he remembered to be honest.
I appreciate how you honor your father now and then on social media, whether on his birthday or other occasions. What was he like and how did he most influence you?
As stated above, my dad was into teaching his boys hard work and "stick-to-itiveness." He was a bit of a disciplinarian which I of course loathed, but he had a soft side too, which came out more and more as we got older. He didn't really care for the fact that I was pursuing music, but he came around a bit towards the end when he saw how much we had accomplished. He still advised me that I needed to have a back-up plan. He had played guitar when he was young but he never had one around the house except for a week that he'd borrowed one from a co-worker back in the mid-'70s. I strummed it for a week and then decided it would be a frivolous purchase and gave it back. Years later when Dan Jones and I started thrashing around in the barn on our beater guitars he came out and showed us how to play Wipeout.
Who were your earliest music influences and inspirations?
There were always records in our house. My mother grew up in the inner city of Pittsburgh and used to attend these dances put on by Mad Mike Metrovech of WZUM. The station released compilation albums of his favorite tunes. My mom even appeared in one of the snapshots on the cover. We listened to those albums non-stop. They featured tracks by The Sonics and a bunch of obscure acts that only put out seven inches. Gizmo by Jimmy Heap is still one of my all-time favorites.
She also had a great seven-inch collection that we pretty much destroyed. I still have them in all their static-y glory. I was also a massive Queen fan, and I have a funny story about a grade-school talent show that involves a nun, the seven inch of We Are the Champions, some eighth-grade girls and lip-synching. I was in second grade, my brother in first. "You're the coolest little kids we know," we were told. Probably the impetus for all that came afterward.
What was the first album you owned?
Bought with my own money? Probably KISS's Destroyer.
Finish this sentence by naming a band/artist or two: "People who know me may be surprised to find out I'm a fan of …"
I think most people who know me know that I have a large palate and am open to any style of music. If the song has something unique and something that evokes emotion, you can sign me up. From opera to pop to country music, punk or metal, I can pull out a record from most any genre from my collection and listen deeply. That said, you can keep zydeco. Weirdly, I can listen to polka and norteña, but something about zydeco gets under my skin.
If I were to make a list of the ten best bands to come out of Kansas City, Season to Risk would certainly be on that list, for a variety of reasons. If you can, distill your perspective and your relationship with the band into a paragraph or few. What are you proudest of? What, if anything, frustrated you most about the experience?
Oh, man, this is tough. First of all, thank you. Duane Trower and Paul Malinowski, two prodigious producer/engineers and musicians, were in the original line-up. We're all still great friends to this day and do many projects together including working at RecordBar, the occasional Season to Risk show/tour, and they are my go-to recording engineers for any of my projects.
We spent the better part of seven years in a van nonstop and then at least a month or more in the later years when we were releasing independent albums. Inside that van you either form lasting inexplicable bonds or foment unforgivable schisms. Luckily for the most part the latter was how it worked out for me. 
Our musical mission was to keep evolving and pushing boundaries as we learned more and more about our instruments, our limits and our psyches. That led to some line-up changes, but we kept on, trying something different every few years. I'm most proud of that. I think there is a cohesive story line from one record to the next, but they all sound completely different. 
I'm glad for the opportunities that being on a major label afforded us early on, but the fact that we kept at it and evolved when the money dried up is satisfying. Above and beyond all of that, I'm most proud that I have lasting relationships, not just with the band members but also with the members of bands we toured with or met on the road, the people who let us sleep on their floors or eat at their restaurants. That communal spirit that came out of the DIY ethos will stick with me forever.
Season to Risk just re-released its 1997 album Men Are Monkeys. Robots Win. (which Facebook keeps tagging as hate speech). It's remastered and now on vinyl for the first time and is available at seasontorisk.bandcamp.com/music.
S2R shared bills with other amazing bands. Which shows stand out?
Fugazi in Norman, Okla. Any time we got to play with No Means No from Victoria, British Columbia. Rob Wright's bass playing has been a big influence on me, for sure. That band was just monstrous. 
Touring with Molly McGuire and ending the set with one of Jason Blackmore's and my noise-freak-outs where I played drums or guitar depending on the night. Touring with Corrosion of Conformity (RIP Reed Mullin) and Monster Magnet showed us the excesses of rock and roll life that you only read about. Not always pretty, but generally pretty fun. Those were some of our biggest shows. Unsane, 7 Year Bitch, Babes in Toyland, Pain Teens, Jesus Lizard, Glazed Baby and on and on. 
Name the bands you are in now and give us a brief description of each.
I try to keep busy. Dan Jones & The Squids: I play bass with one of my longest best pals. It's much more formed and complex and shows off Dan's distinctive songwriting and voice, but it really is in some ways a full circle completion of the Corndog Jamboree vision. Recommended if you like: Minutemen, Meat Puppets, Replacements, Guided By Voices.
I am also playing bass in Slights. Matt Dunehoo, previously of Doris Henson, Baby Teardrops and others, was performing as a duo with Ben Parks (Of Tree) on drums. They asked if I would sit in on bass for a record-release show. I kept sitting in and asked Alex Alexander to join on lead guitar. Recommended if you like The Cure, Alice in Chains and Bob Seger. I'm serious. You have to like all three, though. 
Men of Men/Women of Women: This is one of my favorite projects. One is all men, the other all women. They allow me to express and explore my vocal range and share with these musicians my favorite obscure and not-so-obscure tunes from Tom Waits, Sonic Youth, Lou Reed, and Swans. Women of Women's list leans a bit more rock and blues; Men of Men lean on jazz and punk.
You and Shawn Sherrill opened RecordBar 15 years ago. It has become both a beloved, go-to place for live music and food, especially those Sunday brunches. It has survived a lot, including an unexpected move from the outskirts of Westport to downtown. Looking back, was that a blessing? Because it seems people love the place on Grand as much or more as the original room.
In ways it was a blessing. I miss the local community-vibe of the old spot, but our Sunday brunches have, to some degree, filled that void. I do think we needed a spike of new energy and we really needed to get out from underneath that building which was in major disrepair. The landlord there, unlike the one we currently have, never did us any favors. We replaced the HVAC unit and 90 percent of the waste plumbing at the Westport location. I don't even want to tell you how much that cost over the years
I think the new location has a life of its own that goes beyond "Shawn and Steve's place," which is where it needs to be if it plans on living beyond my ambitions. Which I hope it does.
The pandemic is obviously the biggest challenge. Are you optimistic you can make it through this historically dire situation?
I am an eternal optimist. But this, I'll be honest, has really challenged that part of my psyche. That said, we're always moving forward and trying new things. To celebrate our 15-year anniversary and raise funds to weather this COVID crash, we are launching a Kickstarter campaign at the beginning of September. Rewards on the campaign include items from our vast collection of posters and signed albums; limited-edition 15-Year Anniversary T-shirts, masks, and posters; a 2021 calendar featuring Todd Zimmer photos from the last 15 years; future tickets, "golden tickets," and more.
We have figured that we need to raise about $70,000 to pay down rent and bills that have been on hold and get us into next year when the tours come back (we hope). We are also planning a very, very limited-ticket Kickstarter kick-off party with Shiner performing. The date is September 5.
What are some shows that RecordBar hosted that you are proudest of?
Most of the ones that I've lost money on. [Laughs.] Flipper, Chrome, Black Flag, No Means No, to name a few. I'm so proud that we got to host Gary Numan and The Fall early on, thanks to Mammoth Live productions. Phoenix, The National, St. Vincent and Afghan Whigs from Jacki Becker and Up to Eleven. I mean, it is really endless. Billie Eilish just last year. I brought Lizzo to the old location when no one here knew of her. She blew my mind that night. I'm proud to see these artists on their way up. It is rewarding. 
In response to the virus, you have started a regular music event, Lemonade Park, which, like RecordBar, is a live-music and dining venue but outdoors, in the West Bottoms. Describe for our readers what an event at this site is like?
We have several tiers of seating that allow you to pick from and give you freedom in your comfort level of proximity to others. General admission allows you to bring your own chair and spread out in about 6,000 square feet. There are only 50 of those tickets. Then there are 36 tabled tickets that are assigned seating, but you have to pick a side of the table and allow for two others at the other end. You are still six feet from someone. And there is the VIP experience that gives you your own up-front table with up to five of your besties. You have a COVID-19 safety-trained server that will bring you your food and drinks.
How have recent events transpired?
So far, they've been amazing. People are respecting each other and wearing masks when moving about the park. By and large people remain seated except for at the bar and the bathroom with six-foot distancing in lines. It's only 100 people in 12,000 square feet so it has been really manageable. 
There is no cash at the door so we can contact trace easily if anyone comes down with anything. So far, no problems, other than the city took issue with our permitting and we've had to make some corrections and pay a lot more money. So that said, it is a labor of love. We are getting money into the hands of artists and some of the RecordBar staff that Voltaire has taken on for these events. So that is a good thing.
In a normal world, in which there is no pandemic and the music industry is healthy, what advice would you give to someone considering opening a live-music venue?
Don't expect to get rich. Do the work. Get dirty. Surround yourself with smart, honest, and optimistic people. Don't take things personally.
You have been part of The Band That Fell to Earth, the David Bowie tribute band, since its inception nearly five years ago. What have you learned from getting so deep into his catalog and into so many of his songs?
I've been a Bowie junkie since childhood. I think it is fairly apparent that I've embraced his ability to be a chameleon both in presentation and artistic pursuits. He constantly educated himself and wasn't afraid to experiment. Always push, re-invent, and don't be afraid of failing.
That band epitomizes one thing I admire about this music community: everyone's willingness to collaborate with one another. What do you love most about being such an integral part of Kansas City's music world?
You said it right there. I think in the past there was a time that [collaborating] didn't exist, or maybe it just didn't feel that way because I was young. But instead of getting butt-hurt about it, we built up our own scene and supported each other. (I'm talking about the early '90s.)
In turn, I know some people accused us of being gatekeepers, but because of that accusation we learned a bit and expanded our connections. I think my wide musical tastes helped open those gates and doors a bit in the '90s and into 2000s. 
But that is just an observation from my corner. Kansas City has so much talent in every genre. How can you not want to bring that to light and share it? What Bowie tune do you think Tech N9ne would want to do with us? I think an Ashes to Ashes collab would be amazing. 
---
Want more Timothy Finn?
Check out his weekly online-only content, including his Top 5 Not-to-Miss Concerts in the metro and his revered, rollicking, reasoned reviews and commentary.
Email Timothy Finn at tfinn@inkansascity.com