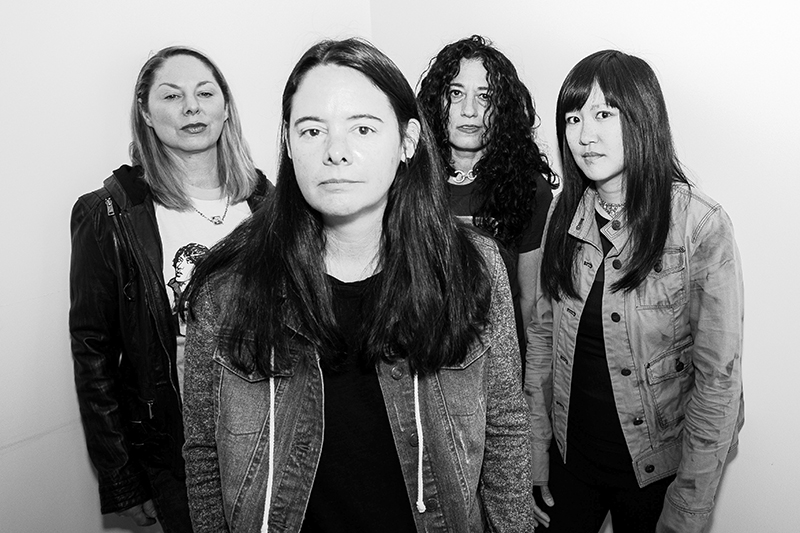 For Heidi Phillips, life in a small town 70 miles southeast of Kansas City was about as carefree as it gets. The middle of three children, all girls, she was raised in Chilhowee, Missouri, by attentive parents who encouraged their daughters to pursue their passions and interests, whatever they may be. And so they did.
Phillips initially discovered sports as her main interest. Then music became a priority, starting in junior high, when she started playing the drums and then moved on to guitar. By the time she enrolled in college in Warrensburg, she'd been in a couple of bands, including one that performed at a famous Westport bar long before Phillips was old enough to drink adult beverages legally.
While in college, Phillips would start the all-female band Frogpond, a relatively modest endeavor at first that steadily became something bigger than anticipated. Frogpond would get attention from some record labels and national media, including an article in the now-defunct Musician magazine and some high-stakes notices from members of two popular bands, R.E.M. and Everclear.
Frogpond tried to navigate the usual rough and unpredictable waters of the music industry that most bands in its situation faced. After releasing two well-received albums and going through a few changes in personnel, their music environment changed and so did the band's prospects. So in 2000, Phillips decided it was time to end the Frogpond story.
A couple of decades later, however, she's decided it's time to revive the band, resurrect the old songs, and write some new ones. Concurrent with that decision: the digital release of Count to Ten, the beloved and very scarce and difficult-to-find Frogpond debut released in 1996. Phillips has formed another version of Frogpond, and once again it is an all-female quartet geared up to re-create the energy and dynamics that Phillips had in mind when she started the band more than 25 years ago.
Phillips recently answered questions about her upbringing in rural Missouri, the music that shaped her life, the joys of creating and performing music, and the prospects of restarting her first big band.
What was your childhood like?
I was born in Clinton, Missouri, and raised in Chilhowee, population 238 at the time. My family environment was pretty typical: raised by my mom and dad, who are still happily married. I have two sisters—I'm the middle child. Went to school and played what sports were available—basketball and softball.
In the summers we'd go to the lake almost every weekend. My parents were scuba divers. OK, maybe this part isn't typical—they would enter spear-fishing competitions. They put on their gear and sit on the bottom of murky lakes and spear fish. They would win by weighing in with the most pounds of fish. And my sisters and I would just hang out on the boat all day.
My parents were always very supportive and encouraged us to find our passion in life and follow it. They taught me moral core values. At the time, especially early teens, I think I was bored a lot. But looking back, I feel like I'm happy to have had that type of experience and upbringing.
When did music enter your life? What are your earliest memories of music?
My dad is a huge Jimmy Buffet fan, so I pretty much grew up on him. Back then, I knew the words to every song. We also listened to Jim Croce, CCR, Don McLean. I remember them the most.
The first song I remember falling in love with was Queen's Another One Bites the Dust. I had this awesome little red record player that had disco lights on the front that would change colors when the record played. I loved that song.
I would go to my sister's room and listen to her records, too—Captain & Tennille's Love Will Keep Us Together and Mickey by Toni Basil, and others.
Who were your first favorite bands/artists? What drew you to them?
U2 and R.E.M. My friend gave me a [home-recorded] cassette tape of U2's Joshua Tree. It sounded pretty rough, but I could hear the songs well enough. I got introduced to R.E.M. because another friend bought it and didn't like it and said, "Here. This sounds like something you'd like." He was right. I think what drew me to both of those bands were the melodies and singers' voices. Both bands in their own ways had this great, infectious energy.
What was the first album you owned?
One of my first full-length albums was Duran Duran's Seven and the Ragged Tiger.
Growing up, what were your interests other than music?
When I finally found music, that was pretty much it, but also basketball and softball. When I was younger: playing in the woods, watching TV, playing video games—we had an Odyssey—hanging out with friends, bugging my sisters. You know, all the regular stuff.
When did you first consider becoming a musician and performing live?
I played saxophone in sixth grade. My sister played it, as well; she was in seventh grade. It worked out that we could both use the same instrument that year. But when I got to seventh grade, because we only had one saxophone and my sister was farther along, I switched to percussion.
I learned to read drum music and play snare drum, mainly. That led me to wanting to play the whole kit, so I began that when I was 13 or 14 years old. By the time I was 15, I had a "band" with my friend who played guitar and taught me how to play some chords on an acoustic guitar my mom bought me for $14 at a garage sale. I loved that guitar. It was stolen out of our bus in Chicago in 1997.
What about songwriting?
I started writing songs when I was 15. The Frogpond song Sleep is one of those. It's a bit different on the recording, but the basics of it were written then.
I kept writing in my bedroom until I started Frogpond when I was 20, that would have been 1993. Frogpond was the first band where I sang, played guitar, and wrote the songs. At the time I was really inspired by girl-led bands like Throwing Muses, Belly and the Breeders and thought, "Wow. How much fun would that be?"
Tell us about projects that preceded Frogpond.
My first real band was Keely Zoo, based in Warrensburg. I was 16 years old, and my guitar-player friend Scott O'Hara auditioned and became part of that band. They needed a drummer, so I tried out, and they let me in. It was a pretty awesome experience. Scott wrote original songs and we mostly played originals. We did do a cover of Bauhaus's Bela Lugosi's Dead.
We played the Hurricane [now the Riot Room] once. They let me play, but I had to leave right after because of my age. We also played The Shadow [in Westport]. After Keely Zoo, I played drums in a band called Winter Harvest, which had that alt-rock sound. Both bands were great experiences and great fun.
Talk about the start of Frogpond and how it evolved into the band that recorded Count to Ten.
Frogpond started in 1993 in Warrensburg, where I went to college. Those female-led bands were my inspiration for starting an all-girls band. The original members were two friends and me: Gigi Holmes and Julie Hicks (now Lober).
I had never fronted my own band, so I was very apprehensive about being the lead singer. Ultimately, my desire won out over my fear. I played guitar and sang; Gigi played bass; Julie played drums. Neither of them had ever played instruments before, and because I had drum and guitar experience, I showed them what I knew to get started.
It was the first time I had ever played electric guitar. I bought my first electric from a friend, a Fender Squier Strat that my friend had put Humbucker pickups in. I still have it. I began writing, and before we knew it, we had a handful of songs and started playing—just shows in and around Warrensburg.
The lineup changed from there, and we became a four-piece: Julie and Gigi left for different reasons, and I remained. It became me, Megan Hamilton on drums, Tawni Freeland on guitar, and Annie Steinbrunn on bass.
And shortly after that, you got your first break: The band got noticed.
We recorded a demo at Red House Studio in Lawrence. Dawn Debias, a rep from Columbia Records, often checked in with the studio to see what new bands had been recording and if anything might pique her interest. She heard us and wanted to meet us.
I remember getting a phone call on the pay phone outside my dorm room. Dawn was calling to see if we could meet with her. We met at Country Kitchen in Warrensburg. We were so nervous, I think all four of us shared one side of French fries. She was super nice and is still one of my best friends.
Anyway, things just kind of rolled from there. We got accepted into SXSW, played a showcase show at The Electric Lounge, and were courted by a few other labels. Eventually we signed a Sony contract with Relativity Records. Pretty much as soon as we signed, the label decided to become a rap label. Most of the alternative bands on the label were dropped, but a few of us got moved over to Columbia. Our Lady Peace was one and a couple of others along with us.
We weren't really happy with the situation. The reason we signed with Relativity was to build a grassroots following that would allow us to grow along with our fan base. Columbia just seemed too big and fast for us.
Meanwhile we had more member changes: Justine Volpe replaced Annie Steinbrunn, and Kristie Stremel took Tawni Freeland's place.
You had to make a significant choice when it came to selecting a producer because two famous people were interested.
We had played a show at the Hurricane when R.E.M. was in town. One of their crew members ended up at our sound check and told Mike Mills about us. He came to the show and liked us and asked us if we wanted to come to (the R.E.M.) show at Sandstone the next night. Of course we said yes. We ended up playing their end-of-tour wrap party in Atlanta.
Also, we met Art Alexakis from Everclear. Long story short, it came down to either Mike Mills or Art producing Count To Ten, which we'd negotiated to come out on Tristar Records. In the end we went with Art. He had the idea to go to Madison, Wisconsin, and record at Smart Studio, where a lot of cool bands recorded. Nirvana's Nevermind was recorded there.
What do you remember about that experience?
I think the first or second day we were there, it started to rain like crazy and ended up flooding the main room of the studio. So we ended up recording in the upstairs room, which was smaller, but it worked. Everything was kind of a whirlwind.
The process of recording was very quick. The main thing I remember is because of the flooding, our tour manager, John, was helping save reel-to-reels of bands from the flooded basement. It all happened really fast.
Where did that sound come from—brash, dynamic, groovy, hard-edged, poppy?
From bands I was listening to at the time. And from my inexperience at playing guitar. That's what kept the songs simple and more focused on melody. I was just having fun and enjoying the act of singing and playing. The dynamics came from me really liking that feeling of going from quiet to loud, like The Breeders' Cannonball and Nirvana's Smells Like Teen Spirit. I really connected to that format. It was simple and something that made sense to me, as opposed to more complex musical tools, like key changes and layering.
Have you developed a method to songwriting?
Songwriting has always been a mystery to me. My process is pretty simple and has remained pretty much the same. If I feel like writing, I'll pick up the guitar and start playing. If something catches my ear, I'll start to think of a concept that matches my mood. I write the lyrics and melody at the same time. If nothing comes to me, I put the guitar down. I've learned that if it's not coming easily, don't force it, because I'll just end up with something that feels and sounds forced.
Frogpond went through more personnel changes, moved up to Columbia Records, put out another very good record and then called it a day. What were you feeling when it was all over?
I was disappointed, to say the least. It was a long and difficult road, and we did the best we could. The decision to end it was one that was made for reasons other than the actual music. We just felt like we were beating our heads against a wall and getting nowhere. Financially we were getting to a point where it was becoming too much of a risk to continue. As the leader, I felt like I had a responsibility to the other members not to put their futures in any further jeopardy, so I decided it was time.
You pursued other music projects after Frogpond. How was your approach to those different? You and Danny Krause worked so well as a pair of singers/songwriters. Any plans for more of that?
In Abileen, the band I started after Frogpond, I approached writing differently. While in Frogpond I would receive quite a bit of feedback from people regarding my songwriting. In general people would comment on the simplicity of it, or I would be critiqued for not having a bridge or being kind of a lazy lyricist, I suppose, by sometimes repeating the first verse in the third. With Abileen, I pushed myself to be a more complex songwriter, I still tried to write instinctively, but to think more critically about the songs.
My most recent project with Danny was more acoustic-driven, and I agree, Danny and I work well together. I think our writing styles and voices complement each other. We don't have current plans to collaborate, but I'm open to it. Danny's a great songwriter.
Count to Ten celebrated its 25th anniversary this year, and it also became available digitally for the first time. Describe what that was like, knowing it could be heard again by anyone anywhere.
It felt great. The even cooler part about it is the timing. I've had people come up to me over the years and ask how they can listen to it, and I would tell them, "Only if you have a CD because it's not available digitally." I'd been in contact with Sony about some other things and asked about a digital release. They were very kind to look into it and make it happen. It just happened to coincide with the reformation of Frogpond and was a great way to announce that and the upcoming album. It just feels right.
What was it like hearing those songs again? I felt like they defy the passage of time, like they sound contemporary or timeless—not of a specific era or moment or trend.
Thank you! It's been fun to hear them recently, though I'd listened to them now and again throughout the years. For me, they are always with me because I wrote them. It would only take me a moment to remember how to play them, and I remember all the lyrics already. But like I said, they're always with me.
You have re-formed the band with Justine and two new members who are well-known in this music community, Michelle Bacon and Kristin Thompson Conkright. Frogpond is an all-female quartet again. Was that a sole intent when you decided to restart the band?
Yes it was. It didn't start that way but was a last-minute realization. Michelle had invited me to sing a song with The Band That Fell To Earth [a David Bowie tribute band] right before Covid hit. I sang the song The Man Who Sold The World. They have a lot of female members, and the feeling I had when I got on stage to sing that night prompted the decision. It just felt right, like that's the type of energy we wanted.
Compare what that is like now compared to 25 years ago. How much has gender politics changed in the music world since then?
We've only just begun and haven't even played a show yet, so I'm not sure if I can compare now to 25 ago years yet. But I do know that there seem to be a lot more female musicians today, and I think it's still as empowering as it was 25 years ago. I think gender politics is an ever-changing landscape.
What can you tell us about the new album and songs?
It's called TimeThief. I feel like the songs are a good mix between the first and second Frogpond album (Safe Ride Home). I went back to my basics, didn't overthink and went with my gut. So I think whatever songwriting skills I've picked up over the years were implemented in a more natural way.
A release date in mind? Live shows?
Our album-release show is set for Novemer 27 at RecordBar. We have a couple of other under-the-radar shows planned just for practice leading up to that.
Talk about Kansas City as a music culture/community. What has been your experience as, now, one of its long-time contributors?
I love the Kansas City music scene. It's always been so vibrant, even when the trends change it keeps the energy. I think it's even better now with organizations like the Midwest Music Foundation. It feels like a community of people that have each other's backs. I've always had that feeling about it. I have great respect for the community and feel honored to be a part of it still.
---
Want more Timothy Finn?
Check out his weekly online-only content, including his Top 5 Not-to-Miss Concerts in the metro and his revered, rollicking, reasoned reviews and commentary.
Email Timothy Finn at tfinn@inkansascity.com