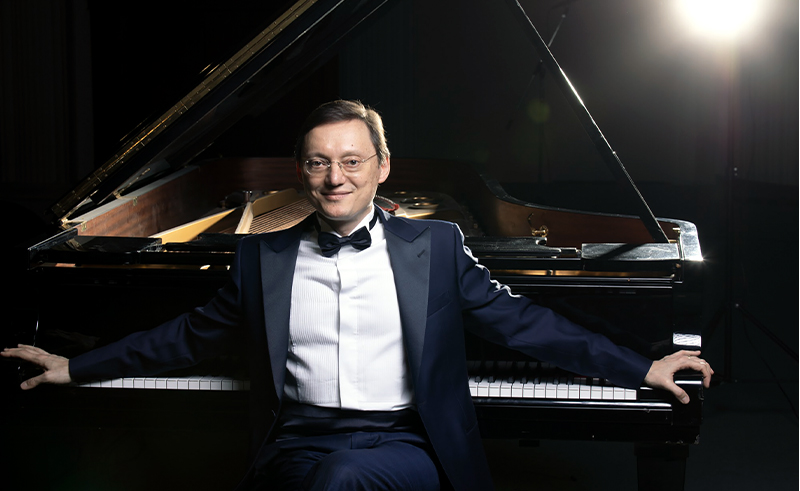 It's a long and winding road from Tashkent, Uzbekistan, to Parkville, Missouri. But it is the path that Stanislav Ioudenitch took from his birthplace to where he now belongs as artistic director at Park University International Center for Music (Park ICM). A renowned pianist and master, he won the coveted Van Cliburn Gold Medal Award in 2001.
Along the way, Ioudenitch polished his technique, performed at Carnegie Hall and many places around the world, and married and raised his children. In 2003, he had an offer to found Park ICM, which employs a different education model—the European tradition of a protégé working directly with a master.
At a young age, Ioudenitch learned to play the piano from his grandparents and parents. Now he has his own musical family. His wife, Tatiana, a pianist, owns and runs Young Artists Music Academy in Overland Park. Their daughter, Maria, a violinist, recently won the 2021 Joachim Competition in Hanover, Germany, playing a prized Stradivarius.
The Third Annual Stanislav and Friends concert, which benefits Park University International Center for Music, will be held on March 19 at the Kauffman Center.
Turning protégés into masters—why do you prefer this more intense style of training?
When the president of Park University said that she wanted a "world-class program," the first thing I said was, "Yes! I would like to do that! The most important thing is that we find great talent and give to that talent anything we can." And maybe for those who are not musicians, it would be easier to understand what it takes to train a world-class athlete. To send somebody to the Olympics, for example. You have to give so much to that person since childhood. So obviously, a one-hour class one time per week to be a world-class athlete in a highly competitive atmosphere is not enough by far. So, we implemented this system. It's how I grew up. My teachers invested in me a lot. A lot of their time. A lot of mentoring and work, an endless number of meetings and rehearsals. I guess that's why I just wanted to give back, and this is the only way I could give back. And the system works.
What do you miss about Tashkent? A certain food? A smell in the air? A favorite street? Friends and family?
Exactly! All of these things I miss about Tashkent, where I lived until I was 19. What I missed, I missed a lot until I went back after many, many years. It was always terrible just thinking about how I could not go back for so long. So, when it happened, I kind of calmed down. We brought our friends there, even some people from Kansas City came to visit with us. But most important was to be able to go with my wife, whom I met there in that special music school, Uspensky Music School (for Gifted Children). Just to go and walk. And just go and remember. It was interesting to see how everything had changed. But we found places which were untouched, intact. Smells the same. You have this association immediately, the smell of the trees, of the dust. Because it's a very dusty place. The smell of cooking food outside on the streets. Now immediately everything comes back to you. All the memories are coming back like magic time machines.
Do you have favorite piano pieces to play for personal pleasure? For audiences?
That's a tricky question. It's like asking what is your favorite book. The taste for music is like our taste for books. It changes over time. Same with music. My musical taste changes. For the public, I like to build programs for my students that they are going to play for someone else—to share. But then you must consider the student. Understanding his or her style of performing is very important. Programming is very tricky in classical music. But always, for me or my students, we have to find ourselves in that music and try our best to present all the composer's ideas in the purest way possible.
How has Kansas City helped you and your family find a place where you belong, where you can live and work and thrive?
Before coming to America, I spent three plus years in Italy in one of the most beautiful places called Lake Como. And coming to the United States, our first year was in Cleveland. I remember it was tough. There's also a lake there but that was not the place we wanted to be. Through the Van Cliburn Foundation and Jerome Lowenthal, who was in New York at Julliard, they found Robert Weirich, who was beginning to work at the University of Missouri and who was starting a new [piano] studio. And so we met and I went to see Kansas City. I was very anxious of how I'd feel because we already had the family, my little daughter. Basically, we had to start from scratch. I wanted a place where I could invest myself. Do a lot of things. Not just for survival. But maybe build something. And when I came here, I totally realized that this could be the place. There's room to grow. Obviously, though a great mecca for artists, New York City is not on that list. And I came here, thanks to the Plaza! It looked like to me a beautiful little European place. So, I called my wife and said, "It's good. We can come here. I feel the good energy here. I can feel it. I think we are going to settle here. Just enough space for us. We can grow our daughter here." And it was the right choice. I wouldn't change it.