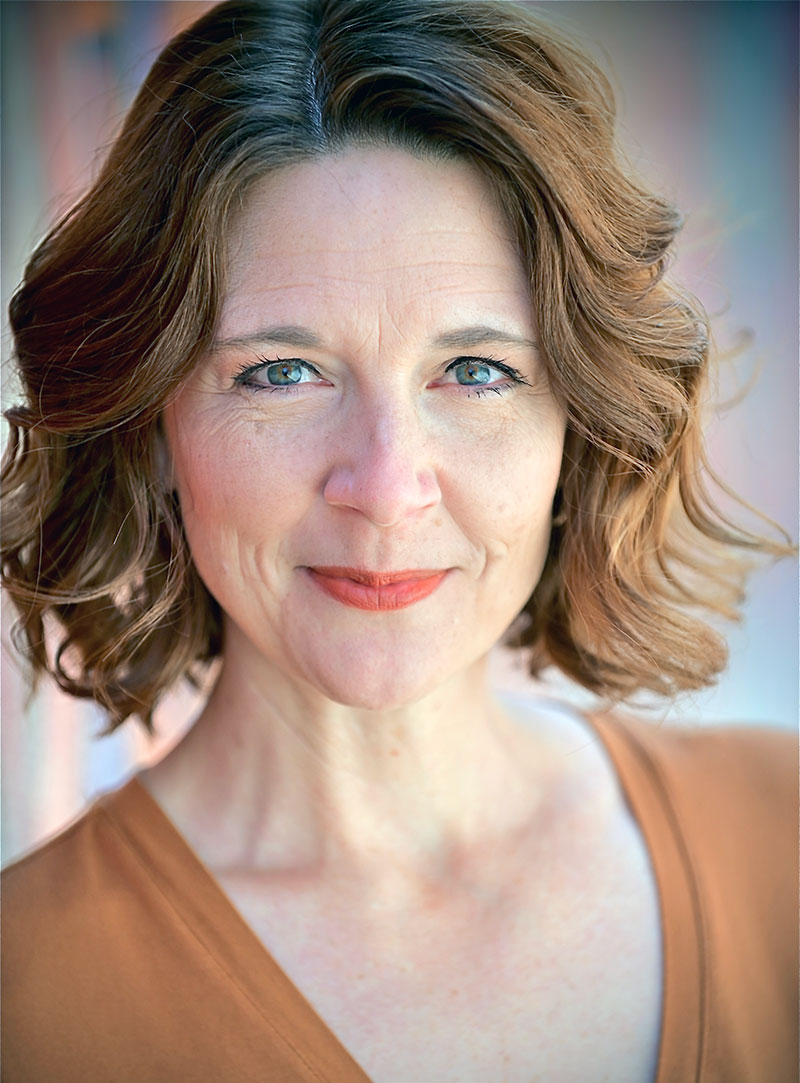 Presented by Equity Bank
Everything's coming up ballads and up-tempo numbers for Krista Eyler. The ringtone on her phone plays the overture to Jesus Christ Superstar. Her Sparkletones musical, written with Barb Nichols, just debuted at the Johnson County Arts and Heritage Center. In 2019, Overture the Musical, also with Barb Nichols, told the tale of how a grassroots effort saved the Kansas City Philharmonic during its 1953-54 season. It won several awards during its run in New York. Eyler is also the resident "Funky Mama" of Funky Mama Music, the kid-friendly rock band that played at the White House Easter Egg Roll in 2007.
Vocalist, musician, composer, and performer, Eyler loves productions that "bring forth the bittersweet, the goosebumps, the tears, the heartbreak, and the glory of performing arts," she says. "I believe a resolved chord, a sustained tremolo, a bass-hand can deliver a soul ever closer to understanding a story or a song."
When you were growing up in the metro area, did you watch a lot of musicals? What was it that piqued your interest in this genre?
In my childhood home, my brother and I basically memorized the entire libretto of Jesus Christ Superstar. I was mildly obsessed with Julie Andrews, Judy Garland, and the entire Rodgers and Hammerstein catalog. My teenage years were spent sobbing over Les Miserables, Miss Saigon, and A Chorus Line. I watched many musicals due to the fact my mother and father are gifted musicians who love movie musicals. There was always music of some sort going through my home. My mother is a classically trained choral vocalist, my father is a classically trained pianist, and my brother is a pianist, though all pursued careers outside of music. I fell in love with musicals around the time I started singing at the age of 4. Musicals have just always been there for me.
What is the secret to a musical that has people singing when they leave, in a much better mood?
Sondheim has a comical anecdote about a producer telling him a particular song wasn't "hummable," and how much that irritated him because a composer has no control over the particular hummability of a song. The audience is the unknown variable. A composer doesn't know how deep or how shallow his/her song might swim into an audience member's mind for hours, days, months after hearing it, or how it might affect mood. Without meaning to, I have been told I tend to write earworms. I like great rhythms, soulful chords, a well-placed key change, and a good or unexpected hook. If an audience member is affected in any emotional way by my music, I feel satisfied.
From a theme of prejudice in 1950s South Pacific to inclusive casting in today's Hamilton, how are musicals able to tackle issues of the day while still being entertaining?
 When writing historical fiction, you have to honor certain facts and "massage" the truth to serve whatever storyline you've chosen to complete. With Overture, we focused on the stories of the people keeping the KC Philharmonic alive and imagined what their lives might have been like circa 1953. Within that context, a composer or writer has a million choices from which to craft stories because you are writing for one person, or one character. You get to dig into their imaginary lives.
How has the Kansas City area nurtured your creative spirit?
Kansas City has been so good to me. I've lived in the metro area my entire life and have had many opportunities to participate in or make art, and, hopefully, get better and wiser with each attempt. Whether acting, singing, playing, or teaching, I am inspired by the bountiful talents of people around me, most importantly, by my cowriter and business partner, Barbara Nichols. Barb and I want to add to the beauty of art in the Midwest, specifically in musical theater, and are ridiculously proud to be a part of the Kansas City arts scene. (Go on, just ask us.)