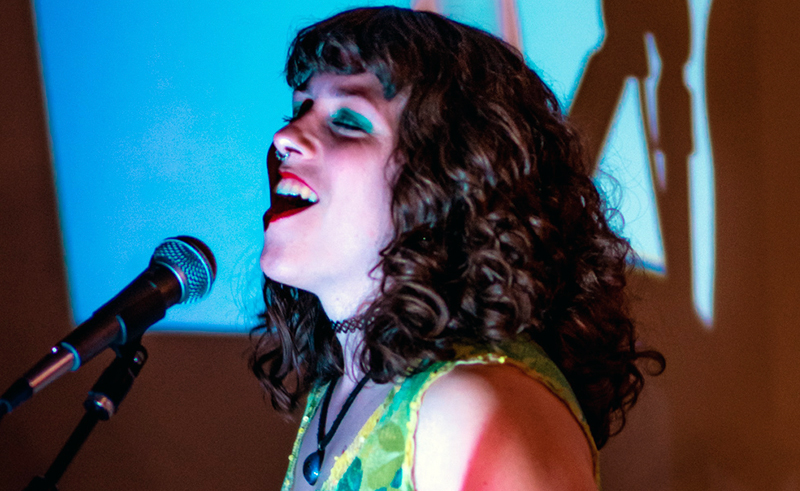 Music became important to Mikala Petillo early in life, a way to endure the sorrows, disappointments, and losses of her childhood. Born into a family of five children in Kansas City, Kansas, where she attended Christ the King School and joined the school's choir. Then her life started changing profoundly: Her grandmother died, her parents got divorced, her family moved to Parkville (she's a Park Hill South grad), and music became an earnest pursuit.
Her first music inspiration? The Beatles and Lennon-McCarthy, thanks to a now-favorite film she saw in middle school, Across the Universe. From there, she started learning guitar—the start of her music odyssey as a singer-songwriter and multi-instrumentalist.
These days, Petillo performs live as a solo artist, Miki P, and as the leader of a trio, Miki P and the Swallowtails, comprised of Petillo on guitar, Rachel Lovelace on bassoon, and Adee Dancy on cello. She recently answered questions from IN Kansas City about her upbringing, her songwriting processes, her band, and her late mother, who continues to be a source of inspiration.
What was your childhood like? What events shaped you early on?
My childhood was somewhat turbulent, but overall, I think I made it out with a strong creative drive. One of my fondest memories is my brother being born in 2004. Watching my mom being pregnant with grace and giving birth to my little brother was truly a once-in-a-lifetime experience.
My [grandmother] passed away when I was about 8; that was my first experience with death. It absolutely crushed me. The following year my parents got divorced. That changed a lot for me in how I just generally saw the world and processed relationships.
My dad was in and out of my life for most of my childhood. My mom was really a rock for me and my siblings, and my stepdad really showed me what working hard can afford you in life. I learned so much about life and loss very young, and it made me wise and taught me how to let go.
When did music significantly enter the picture for you?
I always had a strong imagination growing up. I loved painting and drawing; I wanted to be an artist.
I watched the movie Across the Universe in sixth grade with my best friend, Sarah, and it changed my life. I became hooked and fell in love with music, more specifically the Beatles and the late-'60s early-'70s psychedelic sounds. I thought it was so cool to be able to play my favorite songs while learning guitar and then try to write my own. I was obsessed with the idea of creating an album from very early into learning music.
The game Rock Band was also huge for me, it taught me how to play drums. I'd play with a real electronic set, with all the pedals and cymbals, playing bands like Rush and Metallica on expert and get 100 percent. I always learned really fast when it came to instruments.
What was the first record you bought?
The first record I ever bought was Rush's self-titled debut album. I really loved them. I bought it at the flea market at the Boulevard Drive-In Theater.
What songwriters most inspired you to start writing songs?
Definitely Lennon-McCartney had a big influence in the beginning. I remember being fascinated with Pink Floyd, too, and their huge concept albums. The album Tommy by the Who was also another album that gripped me. I had a wide range of inspiration, though. I would listen to a John Williams soundtrack, then a Broadway show, and then old rock albums. I consumed all of it.
Were you active in your schools' music programs? Did you ever take lessons of any kind?
Growing up I sang in the church choir at Christ the King, and in middle school I started learning guitar from the church's music director, Carol Finney. I'm so immensely grateful for that happening. I was a terrible student, so finding music, and more specifically guitar, showed me I am an avid and capable learner. Other than those initial guitar lessons, I'm a completely self-taught instrumentalist.
In middle school and high school, I was in choir and a part of all the musicals and plays. I loved singing and performing on stage, it ignited this fire in me that hasn't ever gone out.
What do you remember about your first big live performance? Where was it and how old were you?
My first big live performance I believe was at the Harley Davidson stage. I was probably 14. I remember it being really cold, and we were all wearing our coats and gloves because it was outside. I was definitely excited to be playing on a big stage. There were probably 20 people there. It was just fun to perform at that point.
Your mother died in the past couple of years, and occasionally you pay tribute to her on social media. How did she influence and inspire you, as a person and a musician?
It was three years this March since she passed. She influenced me in the ways she approached life and treated the people in her life, when she was well. She was so open and loving towards everyone. She was the person people entrusted their secrets with. I can be a lot colder than her, so I try to remember how she would walk through a situation with warmth and love if I'm struggling to do so.
She always, always encouraged my music. I remember telling her when I decided not to pursue a college education, that I just wanted to do music, how happy she was for me. She was really proud of me, and I remember that fondly and miss it when I have new music to share now.
Talk about the evolution of the Swallowtails: What was the concept going in and how has it evolved?
The concept going in with the Swallowtails was to create a band around my music, I didn't feel comfortable being alone when I was branching out into a solo artist in 2018. At first I was just going to keep the band name Miki P and center it around me, but once Rachel and Adee joined, I realized it was becoming bigger than that. I liked the name Miki P and the Swallowtails because we evolved like the butterfly.
My solo music now is very complex and produced, so it's taking on a life of its own. I want to keep the Swallowtails a band that can deliver and crush a live setting with just the three of us playing our instruments unplugged, raw.
You play several instruments. Do you have a favorite?
I go through seasons with certain instruments, and I try to let them call to me rather than force a connection. This season I've really gravitated towards playing piano; songs have been coming very easily when I sit to write. Drums are probably the most "free" feeling for me, I never have to think when I play,  it sort of just happens. I love guitar if I'm in an emotional mood or want to write a rock song.
How would you describe your music to those who haven't heard it yet?
My music is bedroom pop/rock with hints of folk and Americana.
Yours is the only band I know that incorporates a bassoon. How did that get started? And how do the songwriting and arrangements have to adapt to its sound?
It initially started by making friends with Rachel. We met at a jazz jam-type thing, and I thought she was really cool. I was playing a Sofar Sounds show, and I asked her if she wanted to join me and we could play as a duo. That show turned out to be the founding of the Swallowtails.
The songwriting process I have isn't affected by the bassoon or cello because I'm always writing and just following inspiration instead of writing to their instruments. Once I'm done with a song, we three will get together and collaborate on their melodies. Adee and Rachel got classical degrees together, so it's really fun to watch them create parts together. They're really geniuses.
What determines if a song is for the band or for you as a solo artist?
Lately I've been able to tell very quickly after writing a song where it's going to go. If I hear a lot of complex parts in the arrangement, or if it's more of a pop song with basic lyrics/chords, I save it for myself. If it's a song that I'd be able to play with just my acoustic guitar and me singing, it's for the band. The Swallowtails usually get my strongest lyrical songs.
Which songwriters would you most like to collaborate with, living or dead?
I'd love to collaborate with Phoebe Bridgers or Doja Cat. I just really love their production styles, and I'm kind of in awe of their talents.
What do you like most about being part of the Kansas City music community?
I like the family aspect of being a part of the Kansas City music community. It feels like we all have each other's backs, and we all want to work together and collaborate—explore things that have never been done before. Even though I'm a freelancer, I feel like I have colleagues and friends all over the city doing really cool stuff with their lives. It's inspiring.