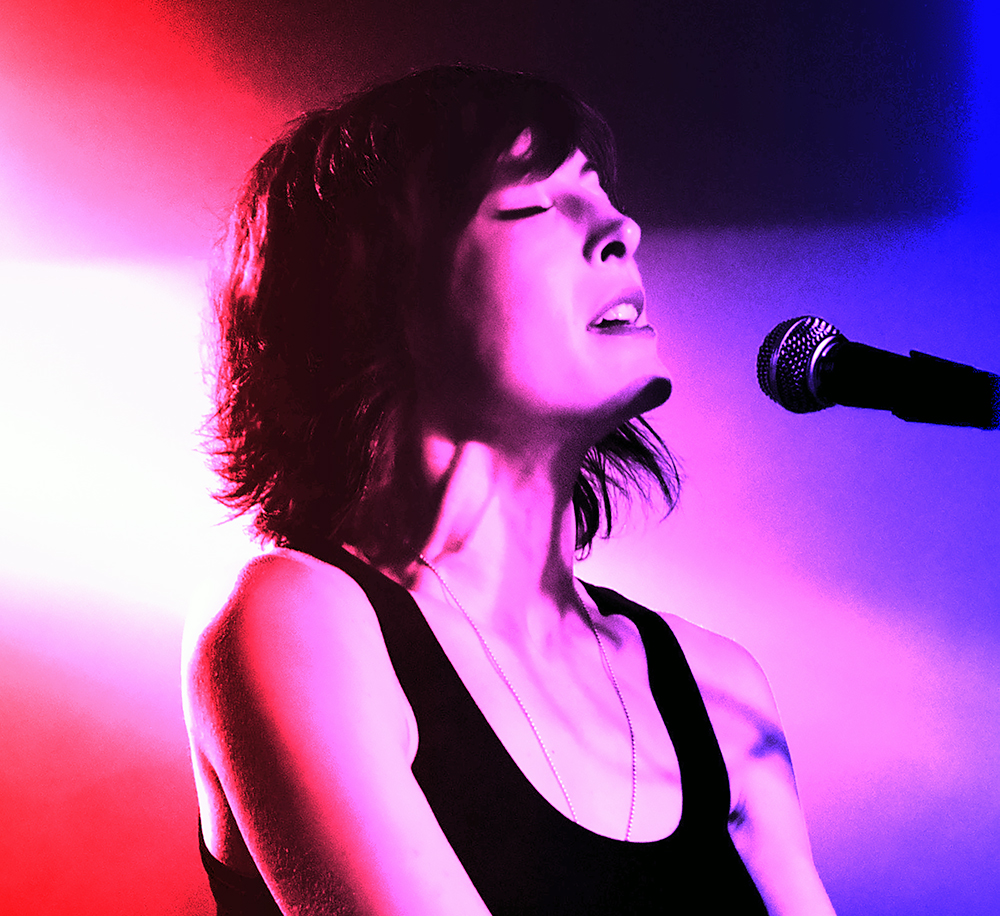 Julia Othmer relocated to Los Angeles many years ago, but her hometown still occupies a large, warm place in her heart. A native of Kansas City and graduate of Park Hill High School, Othmer emerged in our music community in the early 2000s, performing around the city and releasing a demo that included what would become the award-winning song Mission Control. Her first big splash outside of Kansas City came in 2006, when she released her first proper full-length, Oasis Motel, which attracted a gust of attention and a wave of glowing reviews around the country.
The follow-up took a while but was well worth the wait: Sound, officially released in 2019 and produced by her husband, James Lundie, is Othmer at her best: a passionate singer and skilled songwriter rendering dynamic music swathed in atmospheres and textures and riven with melodies and grooves. All the while, Othmer toured extensively in North America and overseas, building a large and loyal fanbase along the way.
She'll be performing in a Spanish-language radio play airing on KKFI on October 29. It's based on the lives of two painters, Leonora Carrington and Remedios Varo. The play was written and directed by Karen Lisondra.
Othmer recently answered questions from IN Kansas City about her upbringing, her many influences, her love of theater, opera, and the visual arts, and her experience performing at Lilith Fair.
How did growing up in Kansas City shape you, as a music artist and as a person?
It was a mixed experience for me. I was rather bullied as a kid and didn't understand why I so often felt on the outside of things. I didn't seem to easily fit in. In some ways it was a gift because it pushed me to explore places far away from home.
That being said, what Kansas City had to offer felt accessible. There were groovy coffeehouses and thrift shops, lots of used bookstores, nice libraries: You could wander around the Nelson. If you had an interest, you could get to art galleries, the theater, the opera, the symphony.
In some ways, Kansas City has probably influenced me more now than when I last lived there full-time. The more the city has invested in and embraced the arts, the more it has flourished. Seeing the city transform and develop is inspiring. Kansas City radiates community. In particular, the sense of heart that Kansas City cultivates in itself for itself is magnificent. Kansas City pride makes me proud.
What are your earliest music memories? How did your family influence your music odyssey?
My earliest memory was hearing music and wanting to resound with it, to be entirely consumed in the sonic experience, to become it.
I remember music in our house as being compartmentalized. If my dad was home, there was no music on or playing of the piano, usually because my parents were writing their books. Before my older brothers went off to college, I had the audible thrill of hearing their record collections blaring behind closed doors or in the basement. And my mom loves opera; we would watch the Met on KCPT whenever it aired.
We had a piano in the house, my grandfather's piano. The piano was more than an instrument. It was a link to people I would not ever know; my grandfathers died before I was born and it connected me to a world that seemed so far away. It gave me a deeply desired sense of my own history and identity.
My mother's family was stuck behind the wall in East Germany, and most of my father's family had been dispersed after WWII so the piano had this totemic quality. I have a kind of reverence for pianos because of the histories they can hold.
My mom was my single biggest influence. When I begged for piano lessons, she figured out how to make that happen. In sixth grade, I started studying classical piano seriously with a phenomenal—and terrifying—teacher, Mrs. Hanschu. My mom drove me to lessons and competitions and rehearsals. She urged me to practice. Even when we moved up north, she would drive me to Overland Park so I could keep my piano studies going. Her dedication was incredible. She also pushed me forward when I faltered.
My parents were fierce advocates of the importance of education. I was lucky that their idea of a well-rounded education included studying classical music. Becoming a full-time musician was a different story. When I came to that decision much later on, my parents had a hard time with that. But once they became fans, they were my biggest fans.
What was your music education like growing up?
Years of classical piano training and competitions. Mrs. Hanschu loomed large in my world—she demanded more than anyone else did. My senior year, I got rather burned out on Rachmaninov's Piano Concerto No. 2. I loved the music, but I also wanted to be in school plays and go snowboarding and something had to give.
I played flute in the high school marching band. Oh, yes.
I listened to all kinds of music, but when it came to playing music, I was focused on classical. Then one night, a group of friends were hanging out and I was playing around on the piano. Brendan Moreland asked me: "What would it be like if you played the music in your head?" I wrote my first song shortly after that.
The first album you owned?
On vinyl: a Smurfs record in German. I wonder if I still have it.
You also played soccer through high school. How did sports shape you as a person? Are you still a soccer fan?
I really love being a part of a solid team, where people rely on and support one another. Every concert, every performance, is about every single person in the room. Definitely a team event.
I love watching World Cup soccer. I was in Berlin for a few days when Germany was the host. The whole city had the most celebratory, festive quality. People were there from all over the world, sharing their love of the game, fully celebrating their different cultures. It was the most incredible feeling.
That shared, cathartic experience is vital. Music can create that same kind of atmosphere and generate intimacy and camaraderie among strangers. I love that.
As much as soccer has been a part of my life, snowboarding was a bigger influence. In high school, I would go out to Snow Creek and Colorado whenever I could. A group of us from all over the city rode together and became really close. We did all kinds of ridiculously stupid things. It was wonderful. Those friendships were a critical part of my world for many years.
You are a triple-threat as a music artist: a gifted musician, songwriter, and singer/performer. Which comes most naturally to you? Which takes more effort?
Thank you. Hopefully it looks like it comes naturally. If so, then I've done the work.
With writing, I tend to go in phases with it, including long times of listening to silence and percolating. It doesn't often come easy, but usually if I stick with it long enough, something interesting evolves.
Once it's time to perform, the song is written (usually), the parts have been worked out (generally), and there is no need to think (hopefully). If I stop thinking and I am just being in the song, then the hard work has made it feel easy.
You are a dynamic live performer. Talk about how your stage show/presence has evolved.
I have become a much better listener to the quieter parts of the audience. I am also learning self-confidence, which is a game-changer for me. The more self-confidence I have, the more I trust myself. I find that freeing as a performer.
List some of your proudest or most memorable music experiences.
Lakemary Center, down south past Olathe, provides services to people with intellectual and developmental disabilities. I was introduced to Lakemary through my friend Bob Arbuckle, who is an ardent fan of live music, and he asked me if I would perform there for his 'guys.' It was a life-changing concert for me.
Many of my friends at Lakemary are not highly verbal or traditionally communicative, but because music can be such an incredible bridge, we found a way to have a powerful and pure connection. We make up songs, we dance, we laugh; I am so grateful to my beautiful friends in the Lakemary community. In normal times, I am there at least twice a year to celebrate Valentine's Day and my birthday.
You've lived in Los Angeles for some time. What do you miss most about Kansas City?
Right now, more than anything, my mom. I miss playing for all the amazing people who make playing a concert in Kansas City so phenomenal: the music lovers and supporters. Also: A thrilling thunderstorm. The smell of winter.
In 2010 you were on the Lilith Fair lineup with Sarah McLachlan, Emmylou Harris, Heart, and Metric. What do you remember about that day? Do you think women still need that kind of platform to bring attention to their music?
That day was really pivotal; so much of my world was coming into fruition and simultaneously falling apart. That's probably its own story.
I remember the kindness and warmth of Sarah McLachlan. Her generosity was so very natural and sincere. At the end of the night, she invited all of the performers on stage to sing with her.
While waiting in the darkness at the side of the stage, Emmylou Harris is standing there radiantly, caught beautifully in a ray of light. She was deeply absorbed in Sarah's performance.
I am in awe of both women as artists and to see the beauty of their dynamic—their mutual respect and care for one another, as people, as musicians—that affected me deeply.
And Sarah showed the world a new possibility: a viability in female-fronted music that had been understated and/or ignored. I would love to see more of it.
---
Want more Timothy Finn?
Check out his weekly online-only content, including his Top 5 Not-to-Miss Concerts in the metro and his revered, rollicking, reasoned reviews and commentary.
Email Timothy Finn at tfinn@inkansascity.com