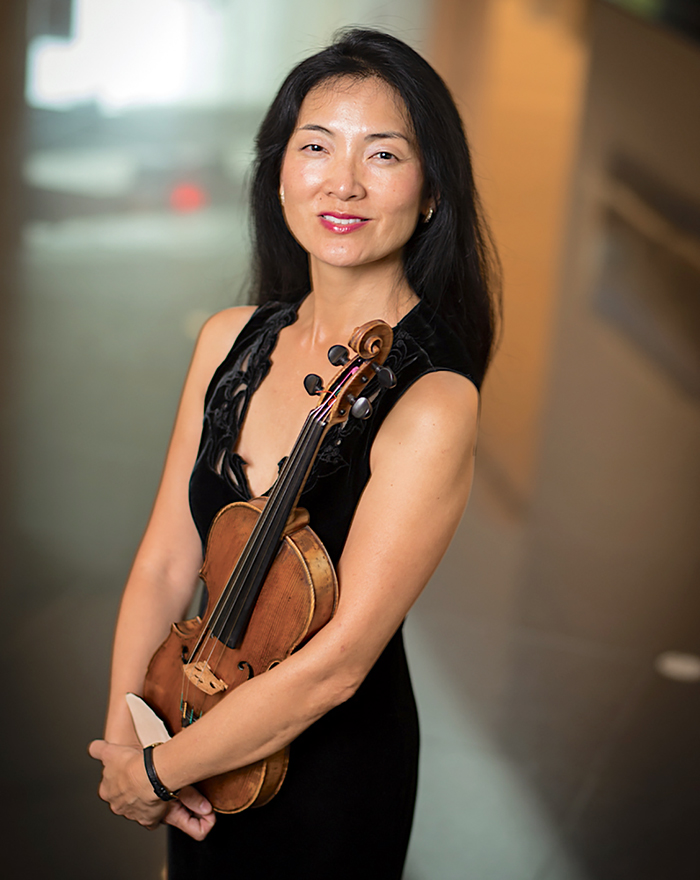 Acclaimed by renowned music director Michael Tilson Thomas as "among the finest chamber musicians in America today," violinist Elizabeth Suh Lane has forged a creative path that has crossed oceans and continents and timelines.
In the late 1950s, her parents left a small village in South Korea. Eventually, the family ended up in Baldwin City where Lane's father took a full professorship at Baker University. Lane, the youngest of six children, learned to sit straight and practice the violin for hours. This talent and hard work earned her scholarships at both UMKC and Yale.
After Yale, she took a chance and moved to Europe, where she studied in Switzerland with violin master Max Rostal and landed a place with the London Symphony Orchestra.
Today, she's back in Kansas City, working on Bach Aria Soloist collaborative concerts. The upcoming Holiday Concert, on December 11 at 7:30 p.m. at St. Paul's Episcopal Church, features the glorious work of Handel, Mozart, and Bach as well as traditional holiday carols. The Bach Aria Soloists and Wylliams Henry Contemporary Dance join forces on February 22. Trumpeter Rodney Marsalis joins the Soloists on April 30.
Some people joke that they were child prodigies, but you actually were. You read by age 2, started playing the violin at 4. What drew you to the violin?
A family friend's daughter played the violin in a recital to which my parents took me. I was instantly attracted to it, so I asked if I could play. My parents always appreciated music; almost all my siblings took instrument lessons at one time or another. As I was not yet in school, my parents saw it as a good diversion for me, so they got me a fiddle and a fine Suzuki teacher, Eleanor Allen, and my lifelong affair with music began.
With that small piece of wood, 23 inches long, the incredible range of sounds, beauty, and different styles of music and ways of playing are endless!
Of all the classical composers that could have influenced you, it was tastemaker/composer extraordinaire Johann Sebastian Bach, known for his precision, intricate harmonies, and baroque style. Why Bach?
I have always felt a deep spiritual engagement with Bach, learning the Sonatas and Partitas, his divine chamber music with continuo—some of the violin sonatas with klavier are as moving as it gets! The cantata repertoire, the Brandenburg Concertos, the Goldberg Variations, and Passions—they are as vast and profound as anything in the musical canon. All on the highest plane of art, of humanity, and spirituality. 
Yes, his brilliance with polyphony, virtuosity, Baroque mastery is renowned but well beyond the technique, there is a reason why many have equated Bach and his music to God and the voice of God—he dedicated much of his life to soli Deo gloria—all for the glory of God and how perfectly suited his voice was to depicting sermons in music as he did brilliantly for the majority of his career. Put simply, in grief or when feeling really low, his music raises me up more than any other.
You founded Bach Aria Soloists at the end of 1999, inspired by a New York chamber ensemble of the same name. How did this come about?
I had performed full time with the London Symphony Orchestra and the Chamber Orchestra of Europe. I traveled the world. My husband and I got married, so the next thing was to settle down and start a family. As my daughter was just an infant when we left London, I wanted to continue performing somehow, juggling a career as a musician with motherhood. But I also discerned that I needed to try a different path than I had forged in Europe. I didn't really know if I could manage to raise my daughter and this new child—the Bach Aria Soloists—simultaneously, successfully, but I felt that Kansas City was the perfect place to try. 
As I am an enormous Bach lover, I desired an ensemble where Bach was at the heart of a very wide spectrum of music performed by a versatile, talented group of dedicated, extraordinary musicians. The original Bach Aria Group had disbanded a few decades before I began forming our ensemble, but as I had worked with them, I phoned up the former violinist Danny Phillips and asked for his blessing to form the Bach Aria Soloists anew with a new mission and vision, and he enthusiastically endorsed us!
How does the Kansas City area nurture your creativity and your life?
Kansas City is a very welcoming, friendly, manageable, arts-filled universe—burgeoning in the last two decades with all genres of the arts—which I have witnessed with delight since relocating here. With the support of my husband, I have been able to raise an incredible family while bringing my vision of BAS to fruition here in Kansas City—the beautiful soloists of BAS have all made their careers here, the Board of Directors and the extraordinary family foundations, plus Kansas City community of BAS patrons have all supported BAS and myself these past two decades, for which I am ever grateful.