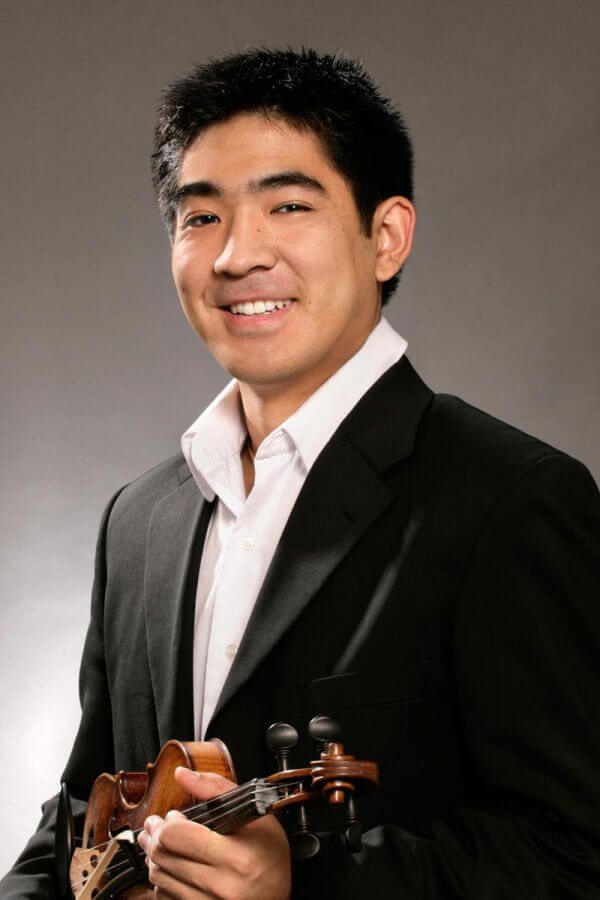 The Kansas City Symphony will have a new concertmaster come September 2022 when Jun Iwasaki joins the orchestra.
"Not only am I the first violinist, but as far as the working role goes the most important thing I do is act as the liaison between whoever's on the podium conducting and the musicians," says Iwasaki. "In sports terms, the conductor is the head coach directing the team from the sidelines, and my role as concertmaster is the closest thing to a quarterback—kind of a team captain taking what the coach or conductor is asking and relaying it to the musicians on stage."
Iwasaki officially joins the KC Symphony in September but you can get a peek at the new concertmaster during the symphony's classical series season finale, Ode to Joy: Beethoven's Ninth, from June 24-26.
IN Kansas City interviewed Iwasaki about his career and path to Kansas City.
You've been concertmaster of the Nashville Symphony since the 2011/2012 season, and before that you were concertmaster for the Oregon Symphony. What stood out about Kansas City Symphony that's bringing you here?
I think what really dawned on me when I was auditioning and got to perform with the orchestra was just how the organization views their role in the city as the cultural and arts kind of focus—whether it be through the concerts or through education or doing those outdoor concerts they started doing during the pandemic to be able to reach their audience—regardless of what's going on in the world. I think it's so important for all arts organizations to find how they can reach their audience in the best way possible. Another major positive thing is that the Kansas City Symphony has the beautiful Kauffman Center for the Performing Arts, and I feel lucky to go from one great hall to another. It was a combination of the organization as a whole—the people, the performers, the music-loving audience, who I look forward to meeting more of. I only spent a week in Kansas City, but from what I saw it's going to be a wonderful place to bring my family and raise my kids in the area—and I know everyone in Nashville is going to hate it when I say this, but the Kansas City barbecue is very good.
What barbecue spots have you tried so far?
What's the name of the place that was down by the railroad area?
That was probably Jack Stack.
Yes! I went there, and then I was taken to Q39—that one was amazing. Being a Texan and living in Tennessee for 11 years, I was, "OK, let's see what it's like." That's another thing I'm looking forward to is checking out all the food scenes in Kansas City.
You've had over a decade of experience in the role of concertmaster. What have been the biggest challenges you've experienced in that role and how did you overcome them?
I started my career as a professional concertmaster in Oregon, and the challenge was to convince people I was ready for it because it was my first job, and I didn't have as much experience. I think even though I was young I was able to prove that if you have the facility around the instrument and the knowledge of the music, you can combine those to really be an effective leader. Whether there's experience or not, if you have that innate kind of leadership ability and personality, it shows immediately onstage and offstage as well. And now I have the experience too.
You've been playing violin since you were five years old. What drew you to the violin?
Both of my parents are professional classical musicians. My mother is a pianist, and my father is a cellist. So, I grew up listening to my parents, not only practice, but rehearse together, perform together. I would travel all over the world to watch my father perform concerts. Without them having to push me, I just thought it was a normal thing so I started at a young age, and I just kind of kept doing it. They never really pushed me or forced me. I think they encouraged me— sometimes made me feel guilty if I didn't practice—but they never locked me in my room for hours to just practice. I could be a normal kid. So, I think that was a nice life balance. I never felt that it was forced upon me, and I enjoyed it. I didn't really decide on becoming a professional musician until probably high school, and that was due to one year—my sophomore or junior year—that I won three or four concerto competitions, and I think the biggest thing that really drew me to it was hearing the audience's reaction after I played something.
Do you have any favorite pieces or composers that get the biggest reactions from audiences?
Picking a favorite composer or piece is like picking your favorite child. It's impossible. As far as audience reaction I think there's a range. If we're playing something with very emotional, almost sad content, those pieces evoke kind of sad memories. So, if there is someone that comes up to me and says, "There were tears in my eyes," or, "It made me remember a loved one"— something like that is touching, and obviously when you play something super exciting and the audience just can't wait to jump out of their seats, that's always a great reaction too. Some of my favorites though are seeing younger kids, seeing the awe in their eyes and the gasps and the laughter, because to me it is so important because as many people are talking about, we are losing our classical audience. If we can somehow create that awe again for the younger audience and make them realize that there's something that we can offer, I think that's what's important.
This interview has been lightly edited for length and clarity.