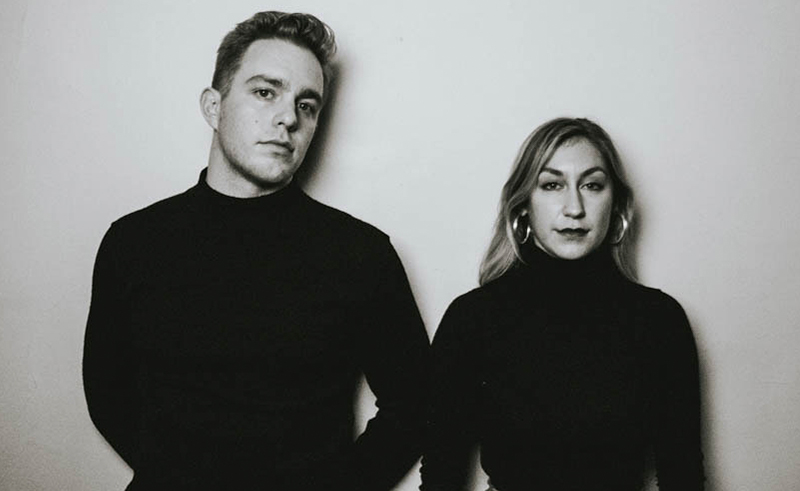 When filmmakers from across the globe converge in the metro for the Kansas City FilmFest International, the week comes with sparks of nostalgia and anticipation for Kelsey Ann Wacker and Nathan Simpson—an engaged couple who spent the first few months of the pandemic living in Simpson's hometown of Kansas City and writing scripts.
On April 25, the first day of the film festival, The Den, a short film written, produced, and acted in by Wacker and Simpson, will premiere in the international festival.
The Den is a psychological thriller inspired by true events that almost became a reality for Wacker after she was invited to join Profiles Theatre in Chicago. The film follows Myna O'Neill (played by Wacker), an ambitious New York stage actress who falls into a manipulative and toxic relationship with her idol, Jamie Bock (played by Geoff Stults), at an Off-Broadway theater.
If it weren't for a friend's warning about sketchy dynamics behind the scenes at the Chicago theater known for kickstarting acting careers, Wacker would have been caught up in a similar situation. 
Instead of joining Profiles Theatre, Wacker and Simpson moved their acting careers to New York City. A few months later, the Chicago Reader published a 25-page exposé detailing decades of abuse that blurred the lines between violence depicted on stage and reality at the Chicago theater.
According to the expose, "The reason Killer Joe (a 2010 Profiles Theatre production) felt so vicious and so real was because it was. All of it: the choking, the bruises, the deep throating of a chicken leg, the body slam into the refrigerator … 'It was real,' says Darcy McGill, the costume designer, 'because there was a psychopath onstage,''" 
"We moved to New York and then five months later we get a text asking if we saw this article, and it loaded our brains because we knew all these people," says Simpson.
"The show I was supposed to be in actually had to cut its run short because of the exposé, which would have been a terribly traumatic time to be working in theater," adds Wacker. "So, we were sitting there trying to pull our heads back together and asking what we could do with that information. When you're a creative person, that's your only tool, so we started writing this film. It became this thing that was so empowering."
Before they knew it, Wacker and Simpson had written a script for a full-length feature film. The Den is a 16-minute short-film version of that larger story.
The couple is showing the film at festivals including the KC FilmFest International and the Sarasota Film Festival (located in Wacker's hometown) in hopes of generating interest in the bigger story so they can fund production of the full-length film.
"When we found out the truth about what was going on [at Profiles], our first impulse was how didn't we see it? Like we're smart, we're with it, how was this happening right in front of us? Why did we get fooled?" says Simpson. "The purpose of this movie is to put you straight in the experience of having these two strong opposing forces—your desire for excellence competing with this guy who has utter control over you. We wanted to show people why they don't see it when it's happening."
Part of the KC FilmFest International's series All About Power, The Den will be shown with other short films in the series at 8:25 p.m. at AMC Ward Parkway Theater with tickets priced at $10.
You'll want to remember Wacker and Simpson. After The Den, the two are looking at shooting their next film in Kansas City—with a storyline inspired by their time in Kansas City during the pandemic. 
"Kansas City has been so good to us," says Wacker. "It was so nurturing and relaxing for us coming from New York, and it was a creative incubator—we wrote like a thousand pages.
"Kansas City just has such a great creative community," adds Simpson. "The arts have absolutely exploded, and it's cool to get back to where I came from with my creative projects."