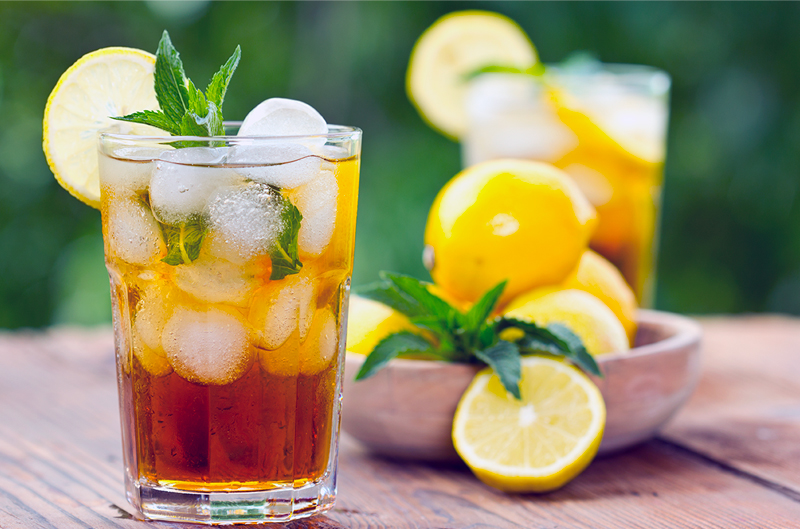 The weather is heating up, and the opportunity for iced drinks abounds. If you're eschewing soda and cold-brew coffee gives you the jitters, what's your best option? Let the humble tea plant be your savior.
With the option of either traditional white, green, or black teas, oolong, rooibos, or herbal tisanes, there are options for every palate. Camellia sinsis, the shrub that produces tea leaves, is a source of antioxidants that can fight off aging and boost your immune system. Green tea has been shown to suppress appetite. Plus, with other herbal additives, a glass of iced tea (sans sugar) can be a calorie-free way to sip your way to health.
Of course, you can grab an iced tea to go from most places, but we recommend finding one that speaks to your tastes and goals. Tea is simple to brew at home and can be batched for easy grab and go. Here are a few options for a tasty glass with a boost.
Dandelion Detox
Don't dive into your front yard just yet. This blend of oolong and Black Pu'er tea also includes dried dandelion greens, which are detoxifying. A hint of cinnamon and citrus makes this an herbal powerhouse. Dandelion detox tea, $6.80 for a one-ounce bag. Available at the Tea Market in Brookside.
Iced Mango Black Tea
North Kansas City's Hugo Tea keeps your iced endgame in mind with these tea bags meant for iced applications. The hand-picked certified organic black tea is blended with house-made mango oil and packaged in pitcher-sized portions. And it doesn't get easier to brew—simply drop a tea bag into a pitcher of cold water and allow it to steep overnight. Iced mango black tea, $5.49 for six tea bags. Available online  or in area grocery stores.
Passion Fruit Tea
For a tropical hit that's good both hot and cold, try black tea from Sri Lanka infused with ripe passion fruit. The tangy fruit lightens and brightens the flavor profile for a thirst-quenching brew. Passion fruit tea, $2.75 per ounce. Available at Dragonfly Tea Zone in the River Market, Westport, Independence, or Creekwood Commons.