Sponsored content:
Ever wondered what that giant beacon of a building is presiding over the I-435/Metcalf interchange? Well, you're not alone, says Sunlighten® co-owner Connie Zack with a laugh. "Most people aren't exactly sure what we do. They assume we're a gigantic day spa."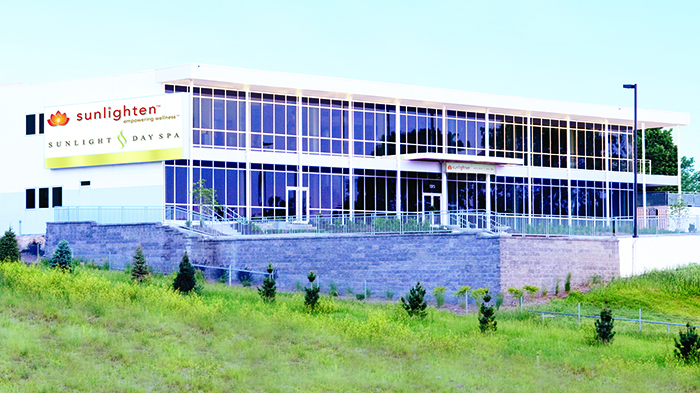 Rather, that mammoth structure is home to Sunlighten, a globally recognized line of home and commercial infrared saunas and light-spectrum therapies. Oh, and a gigantic day spa. From humble beginnings in 1999, this homegrown company has become a key player in its marketplace—and their headquarters is now firmly entrenched in the middle of Johnson County.
A Testament To Technology
The company's expansive and impressive therapeutic product line—which features nearly 30 of their own cutting-edge, patented technologies—was initially born out of necessity. "My brother had become really sick with heavy-metal toxicity and chronic fatigue syndrome. He discovered infrared heat helped many of his symptoms," says Connie. "When he bought a sauna, it changed his life. So we wanted to spread the word and tell his story and let everybody know what a difference it made in his life."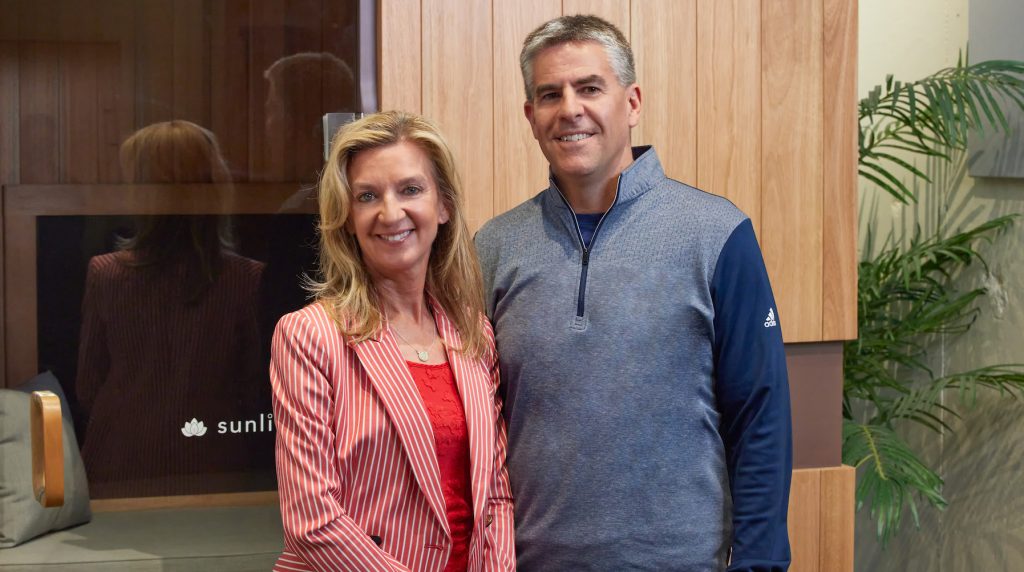 From there, Connie, and her husband and CEO, Aaron Zack, started looking into the viability of an infrared sauna company and all the data that went along with it. Now, infrared therapies are part of the mainstream, but in the early 2000s, that wasn't necessarily the case, says Aaron. "We had always wanted to make a difference, but when this infrared technology was in its infancy, no one knew what it was. People didn't even know if it was safe," he says. "We had so many things to overcome; it was a process. Many nights we were like, 'Can we make it another day?' It wasn't a rocket ship of revenue. It's been a long journey."
Ultimately, the company found its footing—and began producing their own premier brand of saunas. "We now control the process from start to finish," says Aaron. One of their first endeavors—the Sunlighten Solo®—was a near-instantaneous hit. The company discovered their well-received, proprietary SoloCarbon® heaters could translate to large, higher-end saunas as well, which became even more popular. Now the company sells their wares all over the world—"with distribution in 17 countries," says Connie.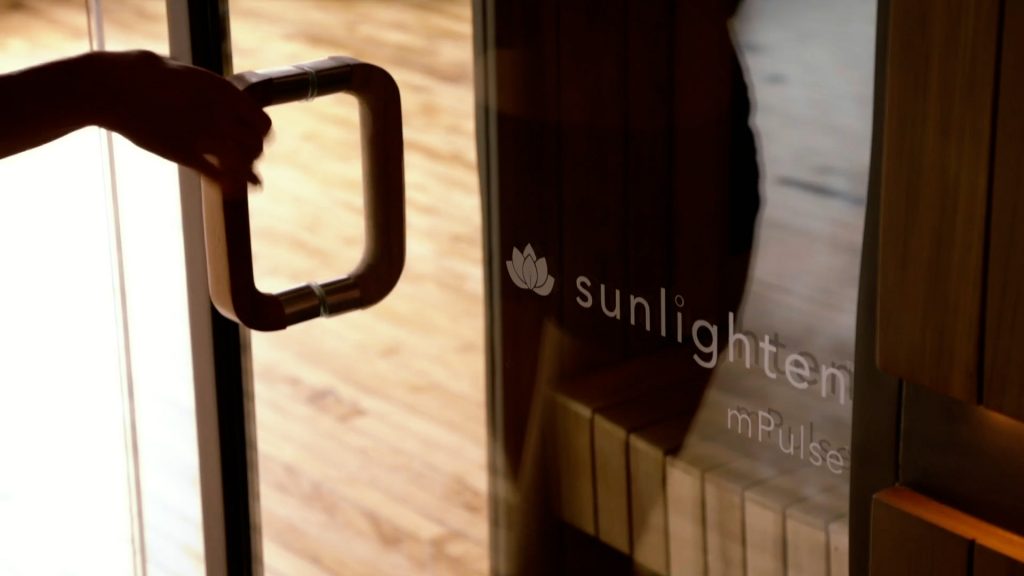 Customer-Focused Therapies
After appearances on both Oprah and Dr. Oz, Sunlighten found their profile raised considerably. The company continued to expound upon the benefits of lightwave therapies—everything from detoxification, lowering blood pressure and muscle recovery to improved circulation, weight loss, and skin purification. "It's a wavelength that comes from the sun without the harmful UV rays. Think of it as the healing parts of the sun," says Connie.
Given that Sunlighten's overarching goal is to bring light, hope, and happiness to people, the company has gone above and beyond to listen to customer feedback and input. "We've been very customer-focused—like, how do we create an overall better experience to our consumers and give them more tools that help them live fuller, better lives?" asks Connie. For the team at Sunlighten, the key was to create an ever-evolving product line. Take for instance their new lumiNIR—"an amazing handheld, wireless device that delivers near infrared light which can help create collagen and lessen wrinkles," says Connie. "You can't get this type of tool anywhere else."
Ever ambitious, the company also recently announced the addition of designer, custom-made saunas. "If you have a particular space in a home or build-out of a certain size, we can give you an incredible experience," says Aaron. Several Chiefs players—including Chris Jones, Travis Kelce, and Patrick Mahomes—are loyal clients of Sunlighten's stylish saunas, many which now feature interactive technologies. "Our customers asked for different experiences within their saunas," says Aaron. "An innovative control panel now allows you to enjoy Spotifty, watch Netflix, stream content, and the list goes on and on." Aaron hints that soon users will have the ability to use their smartphones to control their sauna experience. "There are so many cool features we can integrate in the home because we now have the capability," he adds.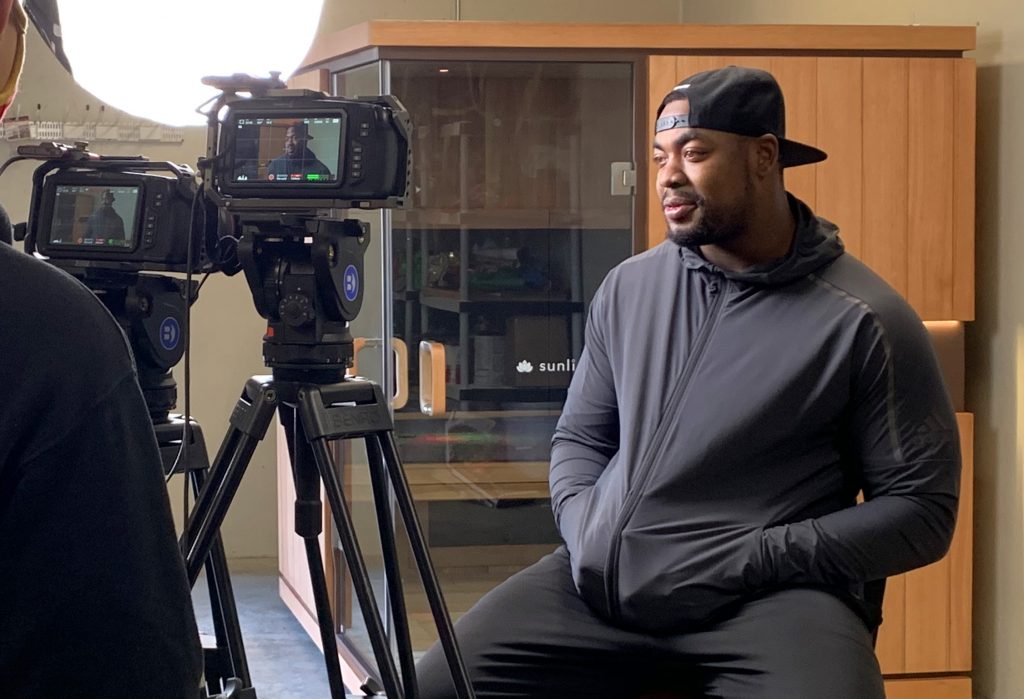 Nestled inside Sunlighten's HQ is their state-of-the-art award-winning day spa which opened in 2008, to rave reviews. Originally the spa "provided a place where our hometown could benefit from our technologies," says Connie. The spa also became a peer-to-peer beta testing ground for the company to find out what worked and what didn't. Customer feedback at the spa remains paramount to Sunlighten's success. Now their Sunlighten Purifying Treatments, skincare services, and body wraps are in high demand. "Given our amazing therapists and how much we care about our customers, it remains a great place for people to go together for a spa-cation," says Connie.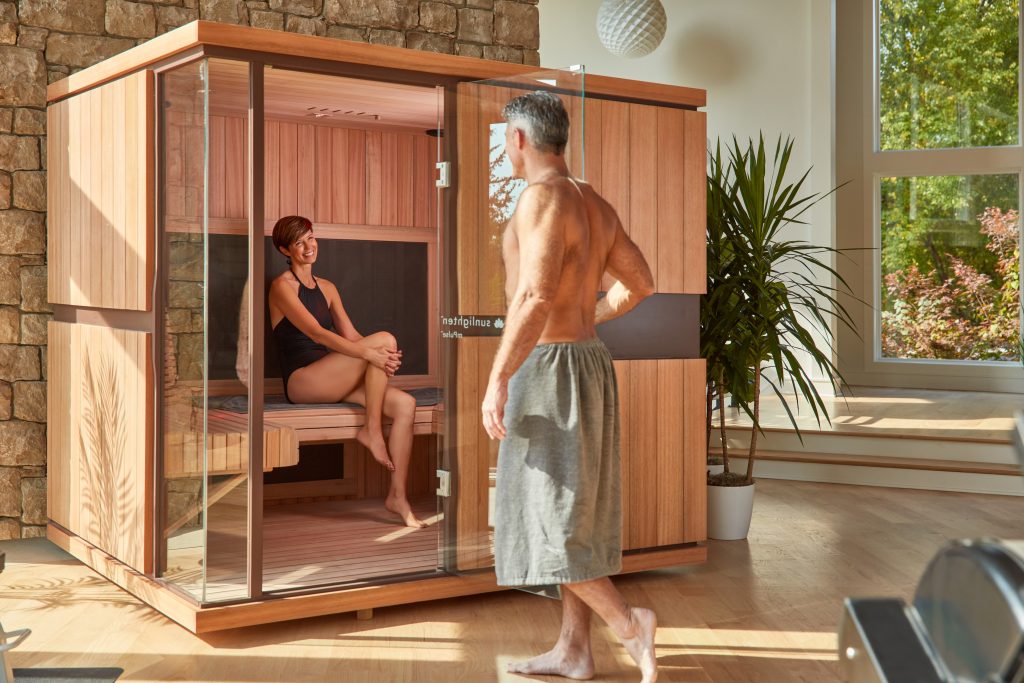 KC Proud
The Chamber recognized Sunlighten's contributions to KC early on and honored the company with the Small Business of the Year award. The Zacks and Sunlighten's 15-year commitment to KC's American Heart Association is a perfect partnering given the heart-healthy results of infrared sauna technology and mutual desire to create healthier hearts in our community. With active kids right now, they're keeping a family-focused profile and remain incredibly proud of how many people they've helped over the last two decades.
What started as a fledgling enterprise in the Zack's basement has now blossomed into a powerhouse enterprise with hundreds of employees worldwide. More than anything, the duo boasts there's nothing better than calling Kansas City home. "We're big on both coasts. We don't necessarily do a majority of our business here in KC," says Aaron. "But we want to make KC proud. Think of all the lives we've touched. So many people benefit from our technology on so many levels."