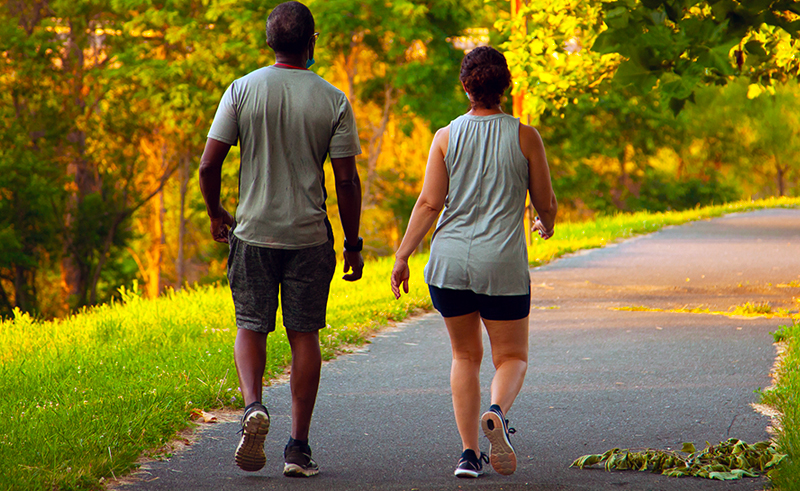 As the weather cools down, it's the perfect time to get out and about in Kansas City. Taking advantage of the crisp, fall weather, KC Parks has teamed up with Jackson County and Take A Hike KC to celebrate "Walktober" and encourage Kansas Citians to explore what local parks have to offer.
Walktober participants can meet at a different local trailhead each week of the month to receive commemorative Walktober buttons designed by local artist Liz Vargas.
You can also earn a free #Walktober patch at each event by posting a photo on social media of yourself at the park/trail and tagging KC Parks, Jackson County, and Take A Hike KC.
Here are your opportunities to participate:
Cave Spring Trail October 9, noon to 2 p.m.
Check in at Cave Spring Interpretive Center for a guided trail tour at William Klein Park. Expect to find changing exhibits, picnic areas, hiking trails, wildlife pond habitats, a butterfly garden, and a small cave at this location.
Brush Creek Trail October 16, noon to 2 p.m.
Check in at Martin Luther King Jr. Park for a guided tour. Along the way, you will visit Kauffman Legacy Park, which features the Anita B. Gorman Conservation Center, Kauffman Foundation Conference Center, and Ewing and Muriel Kauffman Memorial Garden. Plus, you'll walk through Theis Park Amphitheatre before heading to the Country Club Plaza and back to MLK Park.
Little Blue Trace Trail October 23, noon to 2 p.m.
Check in at the trailhead at 20140 E Jackson Drive in Independence. This hiking and bicycling trail starts at Blue Mills Road and heads 15.5 miles south to Phelps Road in Kansas City and extends to Longview Lake.
Leashed pups are welcome to join the hike, and there will also be live Plein Air Quick Paint contests at each event.