Stop by 1101 Mulberry Street on a weekday and you'll walk into a cavernous—and chicly decorated—space where you'll likely see a workout class synchronously gliding across the room with bungee cords attached to their waists.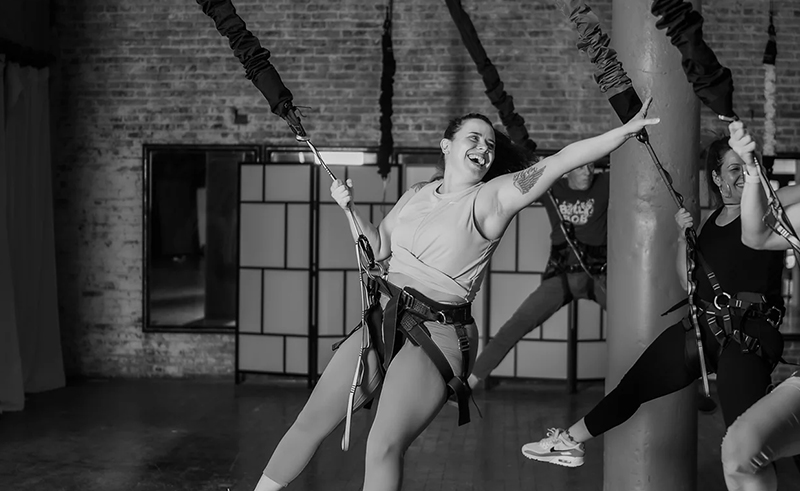 Stop by on an evening or weekend, and there's a chance you'll find something totally unexpected. One evening you might find a comedy show in the West Bottoms space. Another night you might see the space transformed into a film set. On a First Saturday, you'll likely come across a setup of local vendors. 
When Upside Bungee opened in the space last August, Marina Sharkey, co-owner of the fitness facility, quickly found the business growing beyond the bungee fitness classes she initially set out to teach with her business partner, Rachel McMeachin.
"It's all been unraveling fairly quickly," says Sharkey. "We got certified and got the equipment rigged up and the space together, and from there it was like, 'alright, we're in the West Bottoms and they do First Weekends, and we need to utilize this space in a way that's conductive to what this community has going.'"
From there Sharkey invited local vendors to use Upside Bungee's space for pop-up shops, and when she learned there had been plans for a West Bottoms vendor group that fell through, she decided to start one. 
Now, Sharkey's Shadow Box Community Conjuct, fosters a community of nearly 600 local vendors and small business owners that pop in and out of the bungee studio when there's not a fitness class going on.
"It all started with the vendors," Sharkey says. "They're really inspiring because they're all doing cool stuff. They all want a space to expand, and I have this space so I thought about how we could collaborate and make it work. It's all really evolved from there. When people approach us with an idea, we try to find a way to make it work."
It's been half a year since Upside Bungee opened, and Sharkey is working to make the studio a place for gathering, learning, and growing. In addition to inviting vendors and local makers into the space, Sharkey has also opened the space for private events using the name Upside Studios.
When Sharkey isn't teaching a bungee class, she's usually planning events that are born both from the vision of her vendor partners, but also from Sharkey's vision for the business.
"We love this space and want to use it in the best way possible," says Sharkey. "With bungee we're all about exercising in a fun way, but we also want to go beyond physical because your mind needs exercise just as much as your body."
Inspired by her own curiosity about the creativity she gets to witness from vendors, Sharkey started asking local makers if they'd be interested in teaching their craft in a class at Upside Bungee.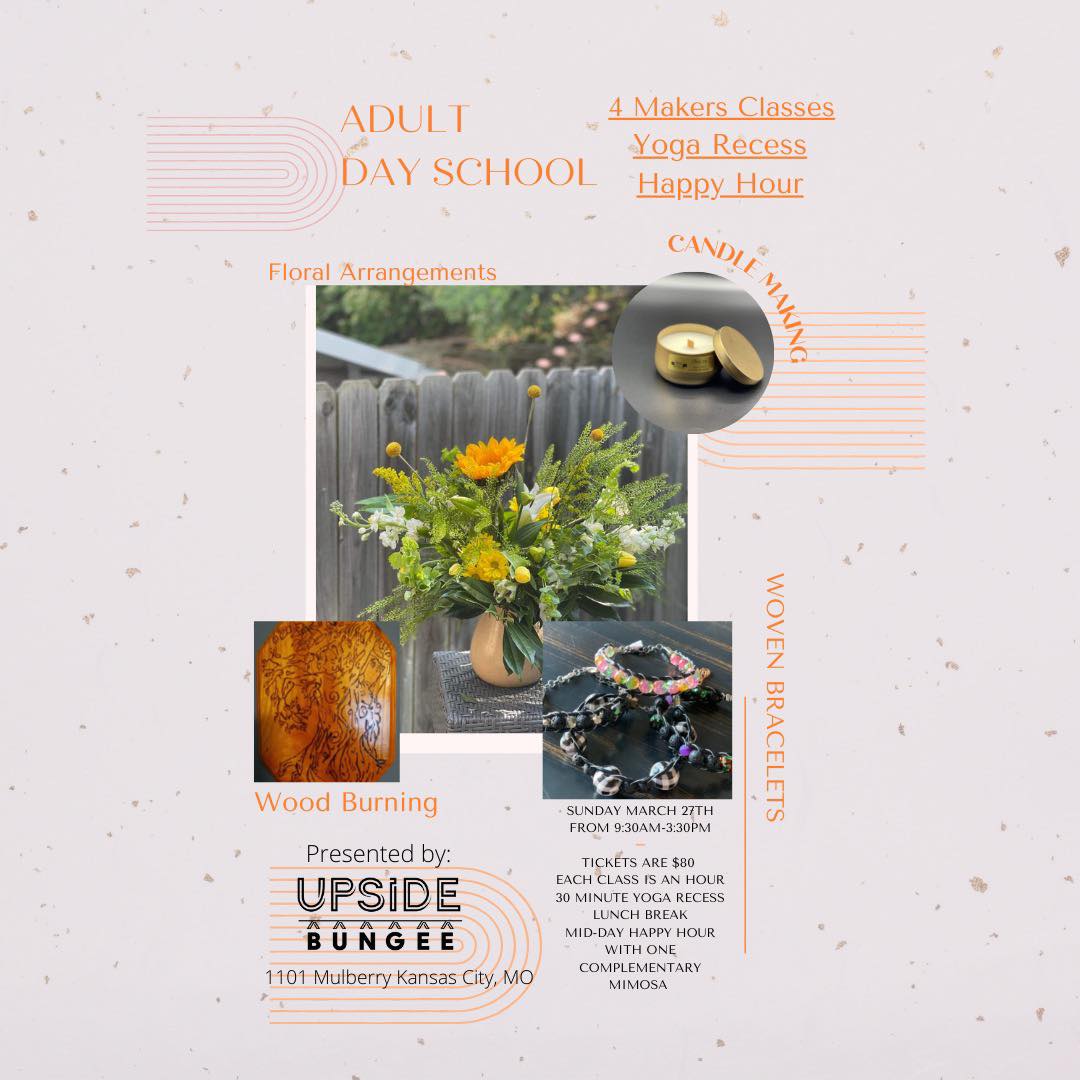 So, on March 27, Sharkey plans to turn Upside Bungee into an Adult Day School with classes on candle making, wood burning, jewelry design, and floral arranging, complete with a recess for yoga and happy hour.
This is the first event of its kind, and Sharkey hopes to make the adult day school a quarterly extravaganza.
"I want people to feel safe and comfortable here," says Sharkey. "I'm not interested in doing a traditional gym. I want a place where people can go to feel good about themselves, and that's what we do here."
To keep up with future events at Upside Bungee, visit the fitness spot's Facebook page.