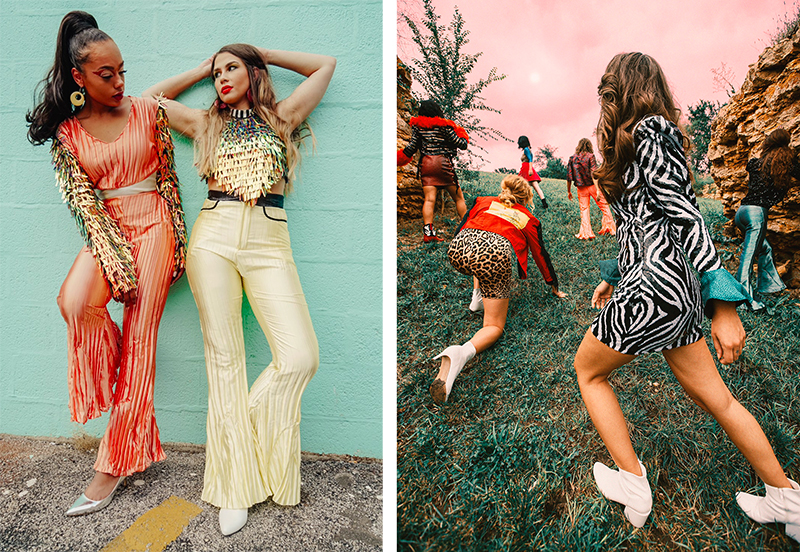 Like many little girls, Audrey Lockwood wanted to be a ballerina when she grew up. After growing up in the ballet studio, even the most ardent ballet fans sometimes find their focus wandering. Lockwood found an adjacent passion—fashion and entrepreneurship. Now her fashion line, Devil Doll, is strutting the runways, and Lockwood is creating and selling pieces that speak to the rebels among us. 
"I've loved fashion since I was a kid but never thought it would be a feasible career," Lockwood says. "But while I was in ballet, I started selling handmade headbands and realized I really like entrepreneurship and fashion too." 
After completing the fashion program at Stephens College in Columbia, Missouri, Lockwood returned home, where the 25-year-old is now the assistant technical designer and merchandiser for MTAR LLC. While her day job works on the supply side of fashion, Devil Doll allows her to flex her creative muscles. 
The line is bold—think sequins, graphic prints and checks, and a general bad-girl vibe that would look right at home on Cyndi Lauper or Lady Gaga. Lockwood says that she's particularly inspired by filmmakers like Quentin Tarantino and Wes Anderson. Tarantino's Kill Bill inspired her Black Mamba collection. She recently showed her Dolly Parton collection in September's Kansas City Fashion Week. 
In the fashion world, Lockwood loves Alessandro Michele's Gucci work, as well as Dior dating back to the 1950s. Gucci's surrealism and Dior's nostalgia both find their way into Lockwood's work. While Lockwood sells her Devil Doll line on her website, devildollbyaudrey.com, she says everything is custom and handmade. Will we see Devil Doll on racks in Kansas City soon? We can only hope.