Sponsored content:
The team at AesthetiCare threw its first outdoor extravaganza—a celebratory event to thank their loyal clientele—in 2001. It was such an unbridled success that the renowned med spa has continued to host the party each year. It's now a must-attend fall event filled with nibbles, cocktails, entertainment, and some fabulous deals.

This year to celebrate their 20th anniversary, Team AesthetiCare is pulling out all the stops next Thursday. Here are six reasons why you should attend the festivities: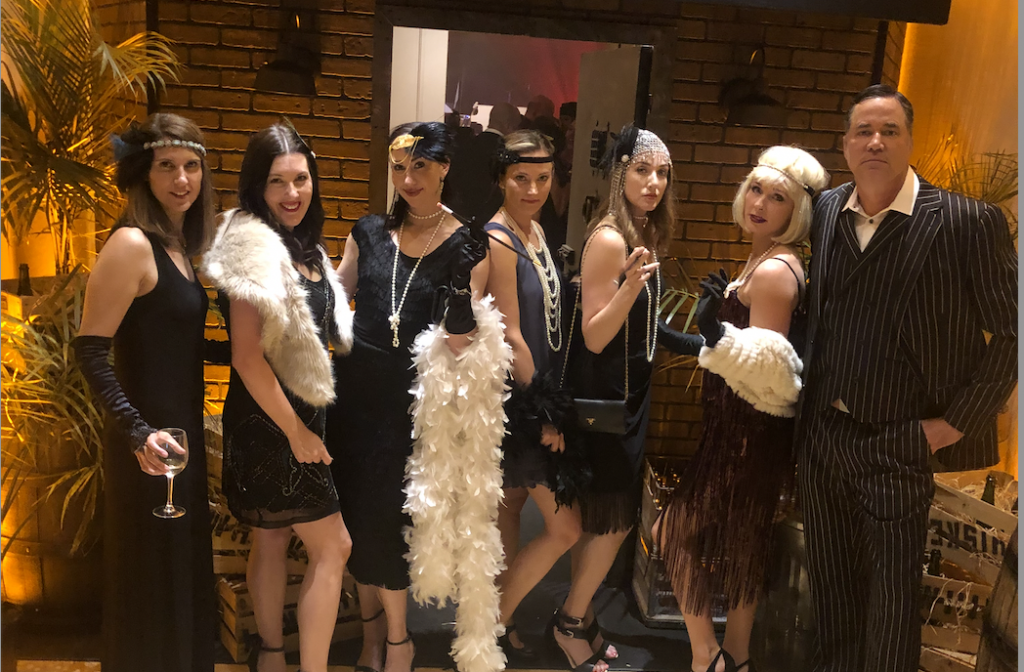 6) A Raucous, Roaring 20's Theme
"We're celebrating our 20th annual End of Summer Party in 1920s style with extra glitz, glam, and pizzaz with in-person and virtual options," says Karen Cobb, the director of marketing. "Join us September 23rd from 3 until 8 p.m. under the big tent in our Leawood parking lot. The night is packed with live music, 1920s ritzy fashions, bites and bevs, Quixotic dancers, a 360-photo booth, and some amazing local vendors."

5) Demos Galore!
If you're curious about what a microblading or CoolSculpting procedure looks like, AesthetiCare has you covered."We will have live demos throughout the night—and some you can even experience for yourself!" says Cobb. "We'll also have clients on hand at the party who have experienced either a Moxi or Halo laser treatment prior to the party. It's such a powerful visual because it clearly paints a picture of what 'social downtime' looks like." Guests are encouraged to ask questions. Adds Cobb, "A variety of patients will be on hand to answer questions about their experience. It's ideal, especially if you're contemplating a full-face laser. And speaking of …"
4) "… Laser Season Is Right Around the Corner!"
At AesthetiCare, they're known to work hard and play hard. The team's End of Summer Party is a fantastic way to show appreciation to their great clients and meet new ones. "Plus, the timing—the end of summer—works great because the weather is usually cooling down to kick off laser season," Cobb says. "Cooler months ahead means skin has less exposure to the sun. That's perfect for many of our skin rejuvenation laser treatments that require you to avoid tanning and sun exposure. So not only is it the perfect time to plan your yearly aesthetics goal; we're giving it to customers at a huge discount!"

3) A bonanza of savings
If you're a fan of planning ahead, Cobb suggests taking advantage of the evening's generous 20 percent discount on nearly every procedure or product. Staff will be on hand to help you determine potential costs, and more importantly, what you're saving. "A 20 percent savings is huge!" says Cobb. "Since it's by far our biggest sale of the year, many clients choose to add a flat dollar amount to use as they want throughout the year, as their credit never expires. Put your money towards what products or services are best for you. The sale credit doesn't change, even if you change your mind on switching a particular service."
She's not kidding either. Most everything is on sale—"including Botox and Dysport, dermal filler, medical-grade products, Halo laser, Emsella, chemical peels, Hydrafacials, laser hair removal, Emsculpt, microblading, BBL, and so much more!" Cobb says. (Heads-up, you can even buy credits for a friend.)
2) So many virtual and in-person options for savings
From Monday through Saturday of that week, guests can get the same great deals by stopping into AesthetiCare's Leawood or Liberty location. "You can also shop online at greatskinkc.com or give us call," says Cobb. "Confused as to what to spend your money on? We also have scheduled 'speak easy consultations' during business hours, where you can call our office and speak directly with a highly trained provider to quickly answer all of your questions. Plus, we'll offer consultation stations the evening of our party so you can speak one-on-one with someone."

1) Brace yourself! There's over $20,000 worth of giveaways!
Even better? There are three easy ways to win an epic prize:
1) Follow @Aestheticarekc on Instagram. "Each day we're giving away a prize package valued over $500," says Cobb.
2) Buy anything with AesthetiCare in-store or online throughout the week, and you're instantly entered to win a treatment prize of your choosing, altogether valued at more than $16,000!
3) Join AesthetiCare at their in-person event on September 23rd where they'll be giving away dozens of prizes throughout the evening.