For two decades, the team at AesthetiCare has not only been renowned around the metro for state-of-the-art skin and body rejuvenation services but also for throwing one of the hottest end-of-summer parties in town.
The med spa's outdoor extravaganza has become a must-attend fall event filled with nibbles, cocktails, entertainment, shopping, and fabulous deals. To celebrate their 21st anniversary, AesthetiCare is going all in this year with celebratory fare in Liberty next Wednesday, September 28, and in Leawood next Thursday, September 29, for the 21st Annual End of Summer Party. 
Here are seven reasons why you should attend the festivities at your local AesthetiCare location: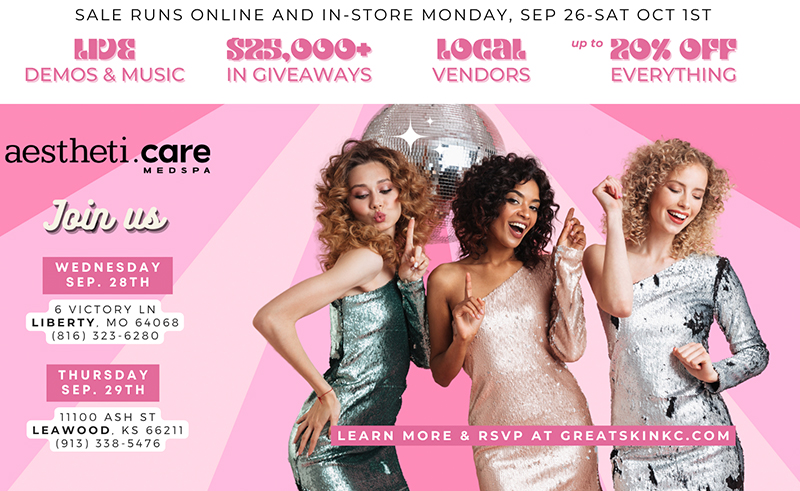 7) Time travel with a 70s disco theme
"Join us as we journey to an era where bell-bottom jeans are all the rage, the go-to CPR jam Stayin' Alive is the most popular song on the radio, and the King of Rock & Roll is still in the building," says Karen Cobb, the director of marketing. "Get your groove on with live music and DJing from Drew Six, whom we've now dubbed for the week 'Disco Drew,' food and drinks from Margarita's and Betty Rae's, and some amazing local vendors—all part of the party on both evenings."
6) Live demos on both nights
If you're curious about what a microblading or CoolSculpting procedure looks like, AesthetiCare has you covered. "We will have live demos throughout both nights—and some you can even experience for yourself," says Cobb. At the Leawood party, expect live demos of permanent makeup Lip Blushing, Liquid Face Lift using injectables, Age Jet advanced plasma skin therapy, CoolSculpting for removing unwanted fat, Emsculpt Neo, and the latest combination treatment shared by Kim Kardashian–BBL and Moxi Lasers. At the Liberty party, guests will see demos of Microblading, Liquid Face Lift, Microneedling with Radio Frequency, CoolSculpting, and Emsculpt.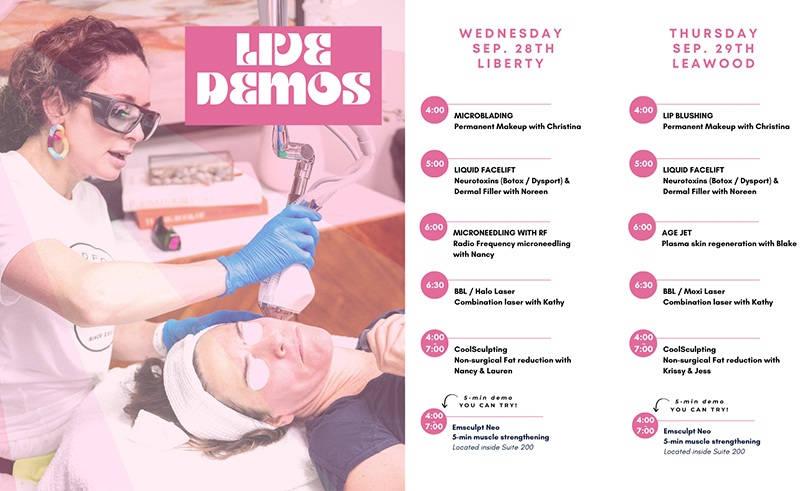 "We'll also have clients on hand at the parties who have experienced either a Moxi or Halo laser treatment prior to the party. It's such a powerful visual because it clearly paints a picture of what 'social downtime' looks like." Guests are encouraged to ask questions. Adds Cobb, "A variety of clients will be on hand to answer questions about their experience in addition to our staff of highly-trained providers. It's ideal, especially if you're contemplating a full-face laser. And speaking of…"
5) "It's almost laser season!"
AesthetiCare works hard and plays hard, and this party is a fantastic way to show appreciation for great clients and to meet new ones. "Plus, the timing—the end of summer—works great because the weather is usually cooling down to kick off laser season," Cobb says. "Cooler months ahead means the skin has less exposure to the sun. That's perfect for many of our skin rejuvenation laser treatments that require you to avoid tanning and sun exposure. So not only is it the perfect time to plan your yearly aesthetics goal; we're giving it to customers at a huge discount!"
4) The biggest sale of the year
If you're a fan of planning ahead, Cobb suggests taking advantage of the evening's generous 20 percent discount on nearly every procedure or product. Staff will be on hand to help you determine potential costs, and more importantly, what you're saving. "A 20 percent savings is huge!" says Cobb. "Since it's by far our biggest sale of the year, many clients choose to add a flat dollar amount to use as they want throughout the year, as their credit never expires. Put your money toward what products or services are best for you. The sale credit doesn't change, even if you change your mind on switching a particular service."
She's not kidding either. Most everything is on sale—"including Botox and Dysport, dermal filler, medical-grade products, Halo laser, Emsella, chemical peels, Hydrafacials, laser hair removal, Emsculpt, microblading, BBL, and so much more!" Cobb says. (Heads up, you can even buy credits for a friend.)
3) Party—and save—all week long
From Monday through Saturday of that week, guests can get the same great deals at AesthetiCare's Leawood or Liberty locations, over the phone, and online. "Confused as to what to spend your money on?" Cobb asks. "We're offering our online Party Prep Plan, where you fill out a simple online form to connect you with a highly trained provider via in-person or virtual consultation to quickly answer all your questions and get you prepared prior to sale week. Plus, we'll offer consultation stations the evening of our party as well so you can speak one-on-one with someone."
2) Shop until you drop
"The benefits you'll reap from attending our End of Summer party go beyond money-saving beauty tips, good food, and med spa deals—it's an entire experience," Cobb says. "You can enjoy a wide variety of shopping from clothes and jewelry to shoes and sunglasses—and it's all in one place. We're also offering a 'Disco Hair' station where you can get glitter strands put in your hair to really feel the disco vibe."
At the Leawood party, shop with Twill, Nuance Style House, The Preppy Desk, Alysa Rene Boutique, Disco Glitter Hair Stands by Salon BeyondKC, Juice Plus, Scout and Molly, Forever Linked, Master Your Metabolism, Blush Farms, Margarita's, Betty Rae's, Rose Brooks Center, It's Porch and Patio Co., and Design Wise. Meanwhile, in Liberty, shop with Love Letters, Twill, Margarita's, Community Linc, Modish Design Co., Master Your Metabolism, Disco Glitter Hair Stands by Salon BeyondKC, It's Porch and Patio Co., and Design Wise.
1) There is over $25,000 worth of giveaways
Even better? There are six easy ways at both events to gather Enter to Win tickets towards an epic prize:
1) Attending one or both in-person parties.
2) Watching a live demo spotlighting one of AesthetiCare's amazing cosmetic treatments.
3) Experiencing a live demo for yourself!
4) Donating to—the featured local charity—Rose Brooks at the Leawood party and Community Linc at the Liberty party.
5) Putting money down on your AC account (snag 20 percent savings and score an extra ticket!)
6) Use the photo booth at either event, post your photos, and tag @AesthetiCareKC on any social media platform to score an extra ticket.
BONUS PRIZES: Plus, follow @AesthetiCareKC on Instagram for a chance to win online, there will be daily giveaways all week long!