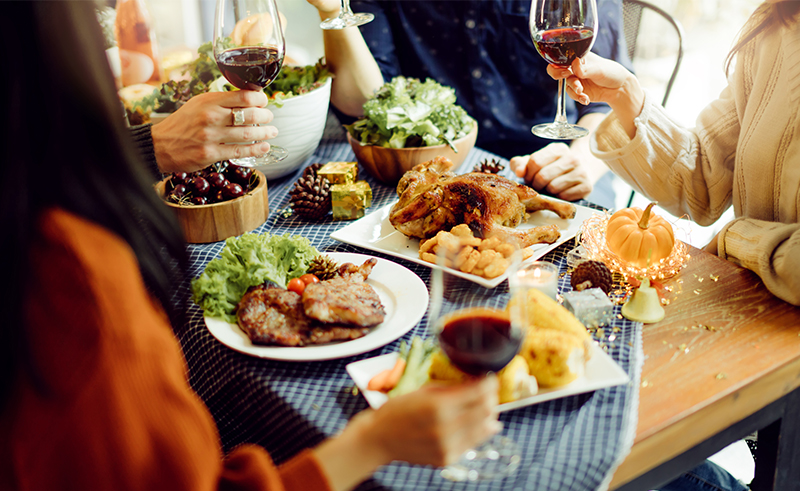 Let's face it, sometimes planning, cooking, and cleaning up a Thanksgiving dinner can be a bit overwhelming.
If you want to skip the hassle this Thanksgiving, Kansas City's finest chefs have already carefully planned the perfect, chef-driven Thanksgiving menus you can enjoy at restaurants around the metropolitan area.
Just sifting through the various menus had our mouths watering for a delectable holiday meal to enjoy without lifting a finger—ok, you might have to lift one finger, but just to put in your reservation. If you're planning on dining out this Thanksgiving, get your reservation in early, they tend to fill up quickly. 
Here's where to go:
Affäre 1911 Main St., Kansas City | $85/person
Add German influences to your Thanksgiving dinner. Start your meal with a soup or salad, choose between sage roasted tom turkey, roasted tenderloin, Great Lakes walleye, or fall vegetables as your main course, and finish the meal with sweet potato-layered cheesecake or apple strudel.
The Captial Grill 4760 Broadway Blvd., Kansas City | $47/person
This Thanksgiving menu includes slow-roasted turkey with brioche stuffing and French green beans with Marcona almonds and cranberry-pear chutney, Sam's mashed potatoes, pecan-crusted mashed sweet potatoes with hot honey, and pumpkin cheesecake.
Chaz on the Plaza 325 Ward Parkway, Kansas City | $60/person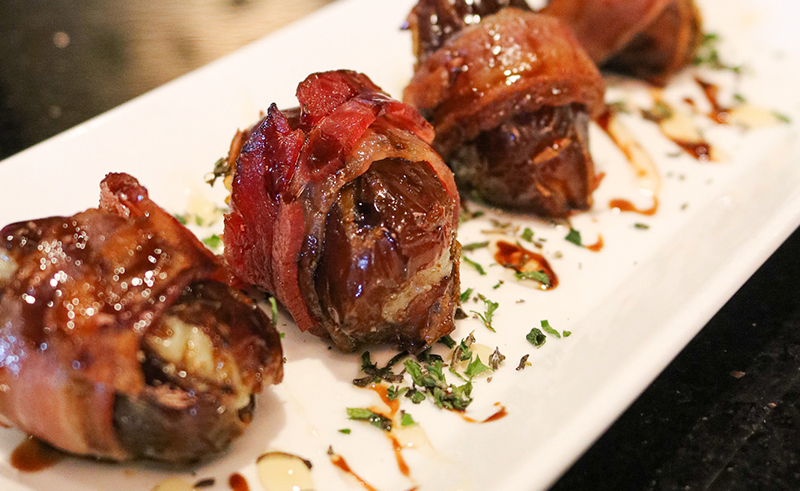 Savor Thanksgiving classics with a Chaz twist, such as roasted prosciutto-wrapped turkey with sausage and sage stuffing, whipped Boursin potatoes, red onion marmalade, haricots verts, and cranberry relish, or indulge in unique dishes such as black pepper-crusted seared twin tenderloin with a cabernet demi-glace. 
Eddie V's Prime Seafood 700 W 47th St., Suite 115, Kansas City | $47/person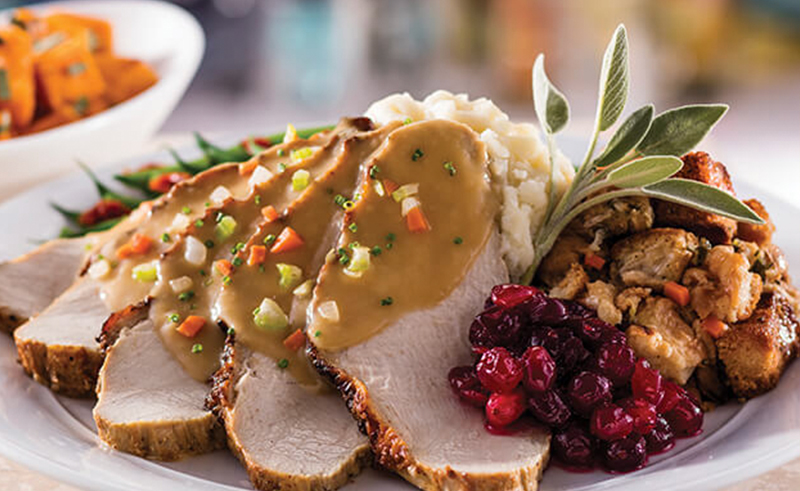 This traditional Thanksgiving dinner menu includes slow-roasted sliced turkey, French green beans with sun-dried tomatoes, brioche sage stuffing, butternut squash, pan gravy with mirepoix brunoise, cranberry chutney, house-made mashed potatoes, a breadbasket, and pumpkin pie tartlet with pecan ice cream.
Em Chamas 6101 NW 63rd Terr., Kansas City | $55/person
Thanksgiving dinner with a Brazilian twist! Enjoy Em Chamas's traditional rodizio menu, plus brined and marinated turkey, stuffing, cranberry sauce, mashed potatoes and gravy, sweet potato casserole, zucchini and corn with Parmesan, butternut squash and bacon soup, pasta with a sage-butter cream sauce, and sticky toffee pudding.
J. Gilbert's 8901 Metcalf Ave., Overland Park | $45/person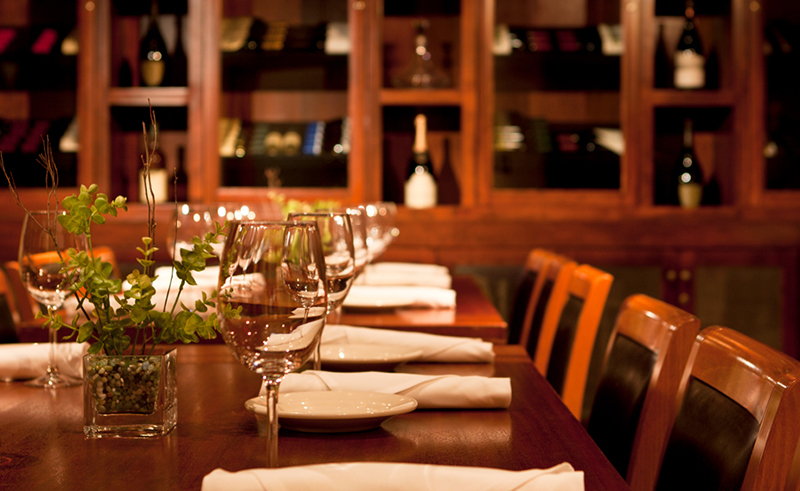 This three-course Thanksgiving dinner includes a choice of soup or salad, roasted turkey, mashed potatoes, cornbread and sausage stuffing, gravy, candied sweet potatoes, green beans with pecans, shallot jam and cranberry orange relish, and a choice of pumpkin pie, creme brûlée, chocolate velvet cake, or berries and cream.
Lazia 2101 Central St., Kansas City | $75/person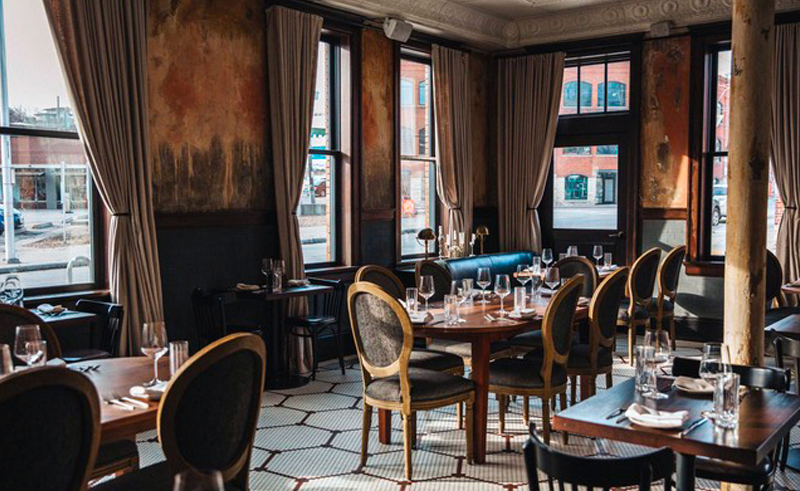 The Crossroad Hotel's Italian restaurant is throwing a Turkey Party and offering turkey four ways—each dish inspired by its tried-and-true Italian roots: turkey alfredo, olive oil-poached turkey breast, turkey leg fennel sausage, and turkey meatballs—plus appetizers and a vegetarian menu.
Lidia's 101 W 22nd St., Kansas City | $65/person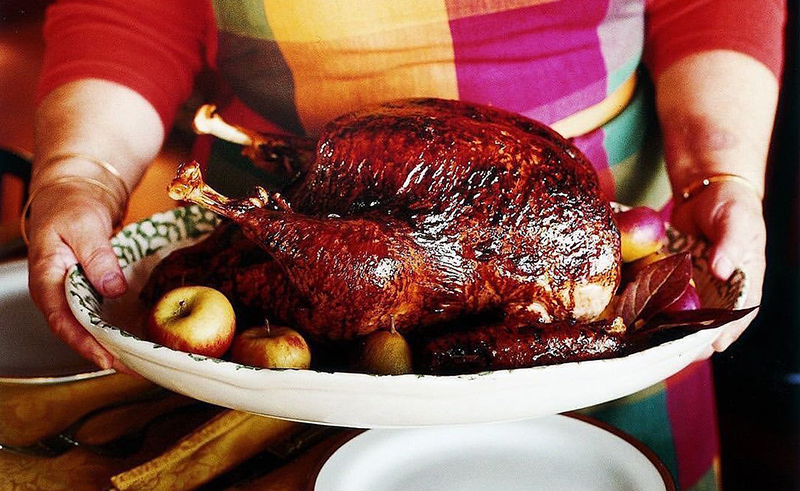 At Lidia's, expect a platter of family-style appetizers with one of four choices for your main course: turkey breast roulade, braised turkey leg, mashed potatoes and gravy, green beans, and cranberry-quince mostarda; osso buco with autumn barley risotto; grilled salmon fillet with braised lentils, root vegetables, and mustard sauce; or ricotta and herb filled manicotti and seasonal vegetables. End your meal with a full plate of family-style desserts.
Piropos Restaurant 4141 N Mulberry Dr., Kansas City | $55-$65/person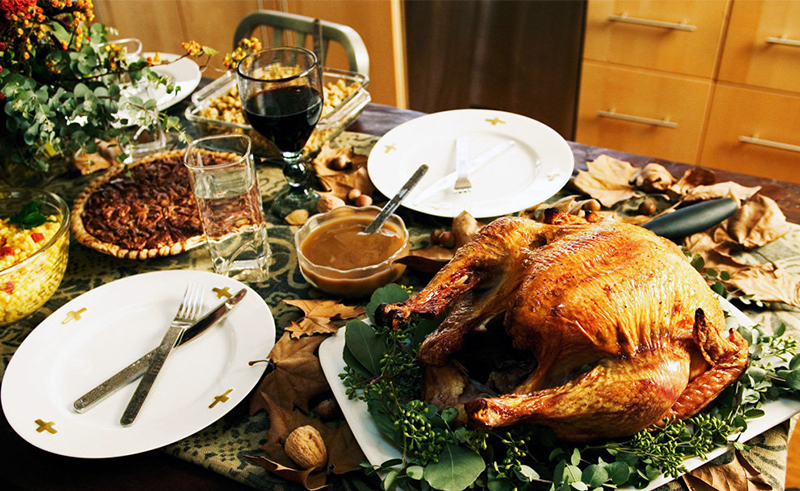 If you have some non-turkey lovers in your family, Piropos is offering two Thanksgiving menus. The traditional turkey dinner includes turkey with dressing, roasted-garlic mashed potatoes, sauteed mushrooms with shallots, salad, and dessert. Or order the 14-ounce prime rib dinner with sides and dessert.
Stock Hill 4800 Main St., Kansas City | Varied Pricing
While you can order from Stock Hill's regular menu, you'll also have Thanksgiving specials to choose from. This year's offerings include Southern deviled eggs, spiced autumn squash bisque, cranberry walnut salad, brined and smoked turkey breast, stuffed pork tenderloin, prime rib, an assortment of sides, pumpkin pie, and classic carrot cake.
Sullivan's Steakhouse – Leawood 4501 W 119th St., Leawood | $49/person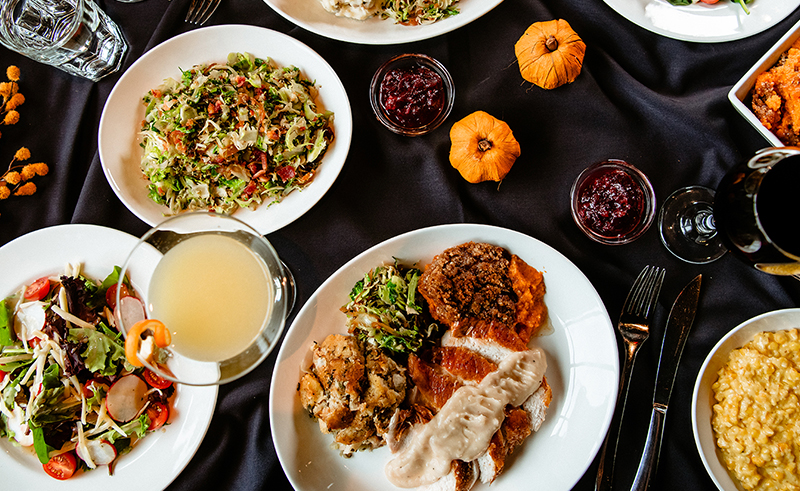 Join Sullivan's for a traditional Thanksgiving feast. Each meal includes one starter, an entreé of hand-carved roasted turkey, sweet onion apple stuffing with brown gravy, and cranberry relish, two sides, and dessert.
Summit Grill and Third Street Social Multiple Locations | Varied pricing
Summit Grill and Third Street Social are teaming up to create a special menu featuring a traditional plated turkey dinner, as well as other classic favorites from their menus.
The Stilwell 1515 Wyandotte St., Kansas City | $26-$36/person
Located in the Loews Kansas City Hotel, The Stilwell will be offering a traditional Thanksgiving dinner of roast turkey breast with fennel and mushroom stuffing, green beans, and Yukon gold mashed potatoes topped with sage turkey gravy for $26. Complete the meal with bourbon pumpkin pie featuring salted brown butter pecan streusel, fall spices, and caramel for $10.
The Town Company 1228 Baltimore Ave., Kansas City | $75/person
Enjoy your Thanksgiving dinner at the Kansas City Hotel's restaurant and choose a seat near the live-fire hearth or back-lit bar. There will be a prix-fixe menu showcasing the chef's take on Thanksgiving classics and family-style sides finished with a slice of pie.