Sponsored content:
Nearly a decade ago, the Christiansen family's world turned upside down.
They thought their 11-month-old daughter, Avery, had an inner ear infection. Extensive testing showed otherwise—a brain tumor.

While still reeling from the devastating news, Avery's mom, Jennifer, and her dad, Jeremy, jumped into action. The first priority: finding a hospital that could help Avery while also including Jennifer and Jeremy as decision-makers.
"That's an incredibly important part of any decision I make, especially with my children—that I'm on the team," Jennifer says.

Jennifer's search led her to the St. Jude Children's Research Hospital website, where she discovered a local family in a similar situation. With the help of proactive friends, the two families connected during a late-night phone call as Jennifer sat by Avery's hospital bed, Avery's tiny figure connected to a tube to prevent the fluid in her brain from moving.
That conversation prompted Jennifer to immediately reach out to Amar Gajjar, MD, chair, Department of Pediatric Medicine and co-chair, Department of Oncology. Before sunrise, she had an answer.
"He responded by saying that Avery sounded like a great fit for the current trial they were working through," she says. "He told me he'd connect me with his coordinator and that she'd call first thing in the morning. And she did."
Less than two weeks later, the Christiansen family drove to Memphis to begin two years of treatment. Even now, years later, Jennifer remembers the powerful first impression made by the St. Jude staff.
"Once you get there, it's a whirlwind," she says. "They put you in housing and help get you settled with everything you need. You meet with doctors right away. It was so well thought-out, so incredibly comforting to have all of the details mapped out. We knew we had made the right decision."
That personalized care, attention and expertise became even more important as Avery faced frightening challenges. Although she completed the initial study that Dr. Gajjar recommended, she relapsed three months later—and would relapse a second time. Through the fear, the pain, the never-ending waiting, the Christiansen family found strength in one unfailing constant: St. Jude.
"They partnered with us the entire time, even when we looked at other options," Jennifer says. "St. Jude not only talked with the doctors, but also the surgeons we worked with, all without me even having to ask. They were 100% on our team, even when it didn't fall within their wheelhouse."

When Avery relapsed a second time, Jennifer and Jeremy faced a terrifying decision, yet they weren't alone.
"We went back to St. Jude and said, 'What can we do to keep this kid with us?'" Jennifer says. "I'll never forget talking to the doctor and he said, 'We're at the end."  The Christiansen's asked what about full radiation?
After careful deliberation about the possible consequences of full radiation at such a young age (3 years old), the team opted to proceed. Avery persevered through six weeks of full spinal and cranial radiation in March and April 2012. And since then, she's had stable scans with no sign of cancer.

That said, Avery's medical journey continues—and seven years later, St. Jude is right by her side.
"There are a lot of new normals that we have to get used to — a lot of surprises have come up because of those treatments," Jennifer says. "But she's a happy, feisty little girl, and I think that's the reason she's still with us. It takes a lot of energy to get through what she's endured."
The Christiansen family still makes regular trips to St. Jude in Memphis for semi-annual and annual scans and tests. You'd think that spending that much time in a hospital would be nothing short of terrifying for a child. Yet Avery looks forward to the trips—so much so, in fact, that Avery's siblings, Emmett and Quinn, always want to go with her to the hospital!
"The environment they have at St. Jude is so beyond a traditional hospital," Jennifer says. "You don't even realize you're in a hospital. Avery goes there because she wants to play in the 'cool kitchens'—she doesn't equate it as a negative thing, she equates it with fun."
The St. Jude facilities are so impressive that Jennifer recommends anyone visiting Memphis take a tour.
"It's not what you think it's going to be," she says.
Although the Christiansen family is spending less time at St. Jude itself (thank goodness!), they know that when they're 450+ miles away at home, they're never alone.
"They do a tremendous job of checking in to make sure that we have what we need," Jennifer says. "Not everyone has the level of support or the luck that we've had with our local school, but St. Jude is right there to help navigate if we have issues. I can't say enough about the decision we made. Bringing Avery to St. Jude was the best thing we could have done, and we will be forever grateful to them."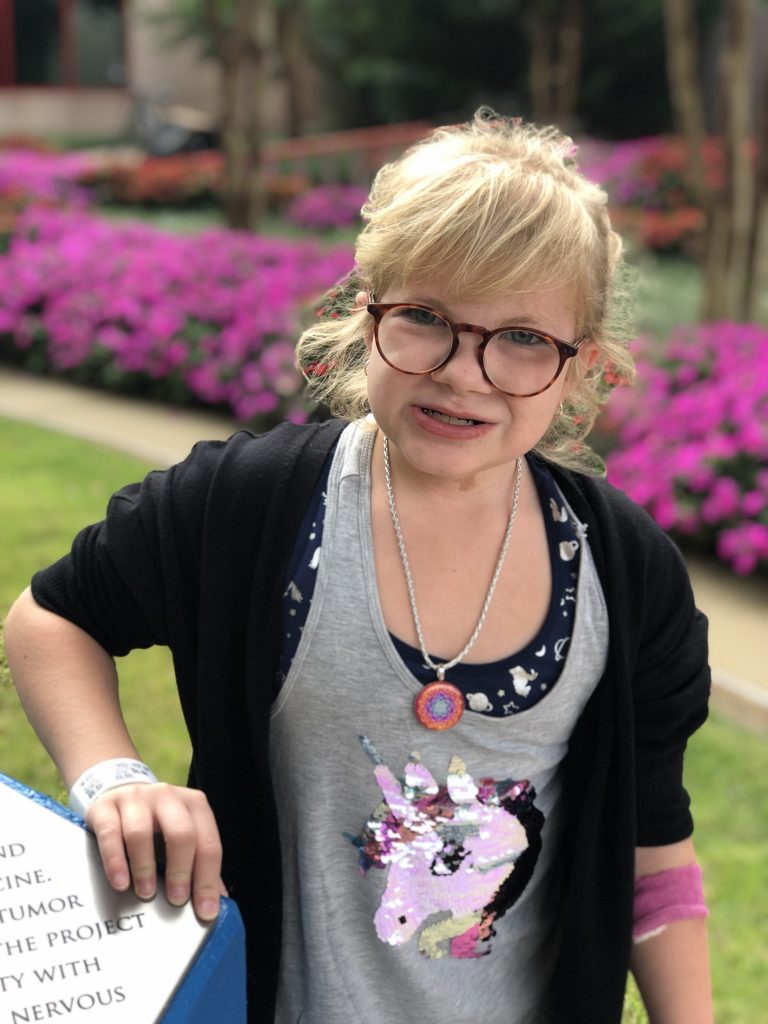 Get Involved
One of the many things that makes St. Jude Children's Research Hospital such an innovative facility is that the hospital's research, drug discovery and no cost patient care is primarily funded through public support.
Now's your chance to help families like the Christiansens. The fourth annual St. Jude Robert Streb Golf Classic will be held on Oct. 20 and 21 at Lake Quivira Country Club. There are a variety of ways to take part, above and beyond the golf.  Visit stjude.org/strebgolfclassic or reach out to Kelly.Hutsell@stjude.org for details.
"We left our first visit to the St. Jude campus inspired and knew the more people we could get involved—the better it could be, for everyone.  It's because of events like this one that families will never receive a bill for treatment, travel, housing or food," wrote Robert Streb and Maggie Streb, the event founders. "All a family should worry about is helping their child live."