Our two favorite adventurers, Kim Farrell and Mady Johnston, had a crazy idea last summer. They quit their respective jobs, hocked all their belongings to begin a devil-may-care, 18-month journey around the world. Now they're skipping around parts unknown and brazenly enjoying wherever the wind takes them. IN Kansas City is following these two travel buddies from Overland Park on their epic adventure.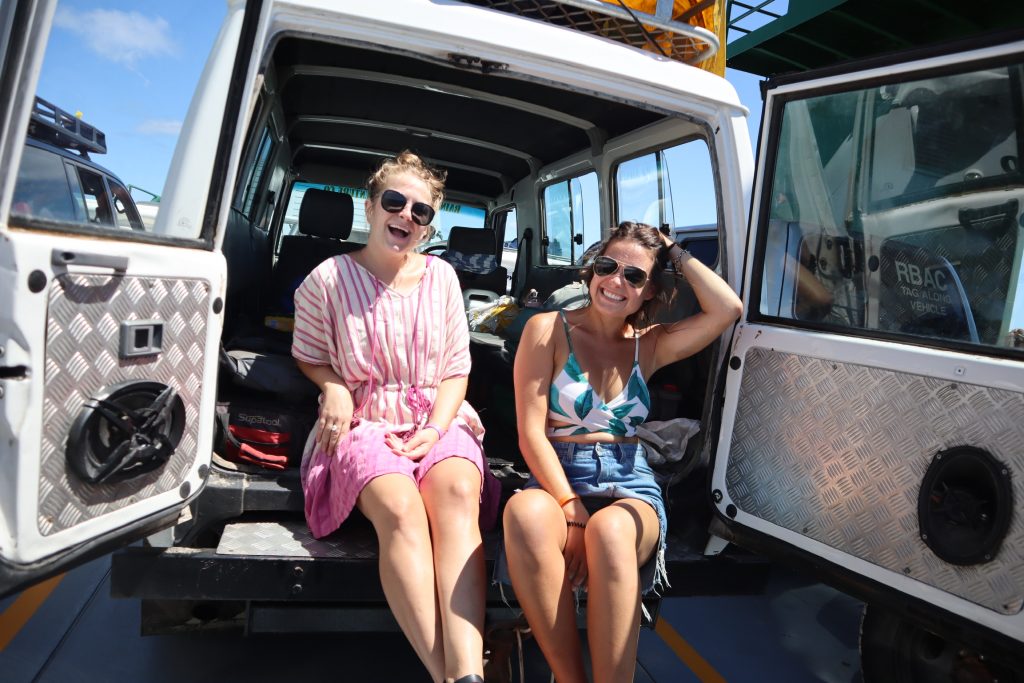 Since we last checked in with Kim & Mady, the girls have landed "down under" in the great land of Oz. No, not that Oz—the other one—Australia! Their journey began with boating through Cyclone Owen while touring the Whitsunday Islands and moved on to jeeping around and sleeping under the stars on Fraser Island. They are now posted up with friends in Byron Bay, a sweet surf spot half way down the East Coast, to celebrate the holidays with familiar faces from home.
What adventures have they had? First up, read up on some quick stories and travel highlights on their last two weeks—and look out for their next globetrotting update in the coming weeks.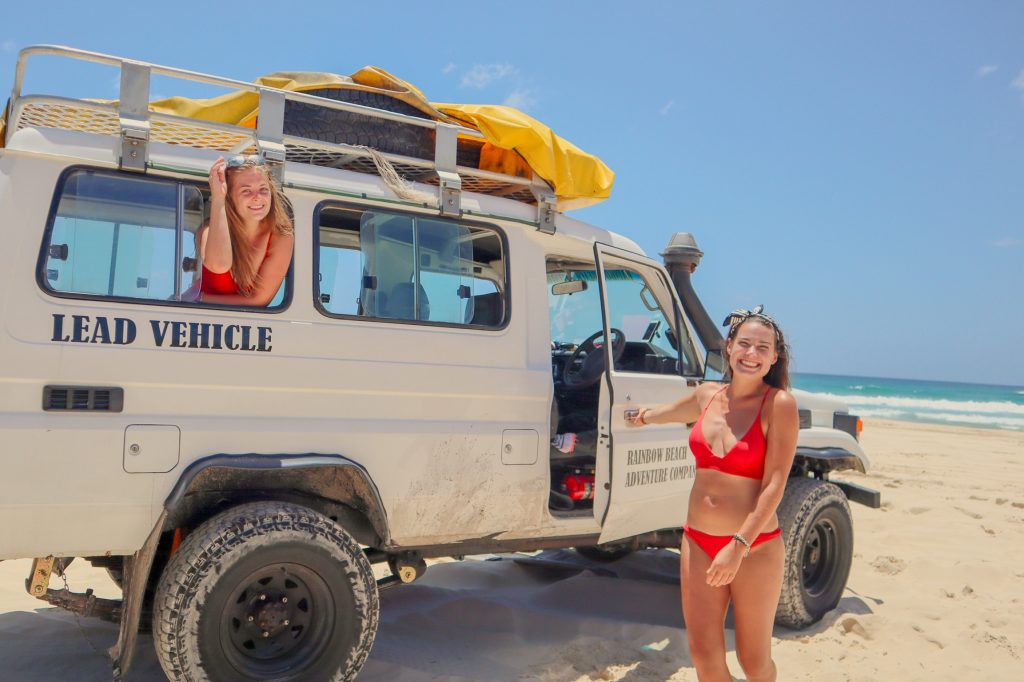 Kim: "Just our luck—as we arrive to Airlie Beach, we were greeted with the news of Cyclone Owen paving his route in our direction. As fate would have it, we had booked a three day, two night tour to the Whitsunday Islands on a boat called the Atlantic Clipper. Fortunately (or unfortunately!), we were the only boat brave enough to leave the port and set sail in the cyclone's path.
While we anticipated tropical weather, we weren't anticipating such tropical weather—it rained for most of the time, yet the crew and our fellow passengers made the best of it. Whitehaven Beach was still stunning even in Owen's shadow. Who knows? We may go back on our way out of Oz and get the experience in the sunshine.
Mady: "In full transparency, moving from four months in Southeast Asia to Australia has definitely shook our budget. We're now spending about $20 AUD ($14.08 USD) a meal, which is triple what we were previously spending. The good news is that Australian portion sizes are pretty comparable with the U.S., meaning that Kim and I can definitely share one plate. Now we just need to start doing that.
We're really looking forward to staying with a few friends in January, where we can fully utilize a kitchen and try to cook more than eat out. Not sure if that's actually going to happen, but we're going to think positive for now."
Currently in: Byron Bay, Australia
+17 hours ahead of Kansas City
Learn the Lingo:
Goon: slang term for bagged wine—essentially the equivalent to Franzia and the typical drink of choice for backpackers in Australia as it's thecheapest alcohol option. A 4L bag costs about $20 AUD ($14 USD)*. How do we know this?
Dingo: Wild dog that's native to Australia. You may have heard about dingos as they made news headlines back in the 1980s when Lindy Chamberlain claimed a wild dingo took her daughter. In case you're interested, you can check out the story here.
* Prices may vary based on the brand and number of liters per box.

Last thing you ate?
Christmas dinner at Trattoria Basilico Byron Bay
Total $460 AUD($323.59 USD) = $66 AUD/person ($46 USD)/person
Kim: "We spent Christmas with five of our friends from the states. For dinner, we snagged a reservation at a local Italian restaurant and enjoyed a wide spread of food, including: broccolini, bruschetta, calamari, capresa, eggplant primavera, pizzas, ravioli, salads, and a few too many liters of wine (not goon this time!). Not to mention the passionfruit cheesecake and Nutella calzone. All in all, it made for a Christmas that was magnifico."

Last thing you bought?
New clothes (three pieces total) from Karma Kameleon and Tigerlily – $300 AUD ($212 USD)
Kim: "December 26, Boxing Day: the Aussie equivalent to Black Friday. We treated ourselves some new pieces that naturally were not a part of the sale, but hey, it's the season of giving, and we gave our wardrobe a little update.'"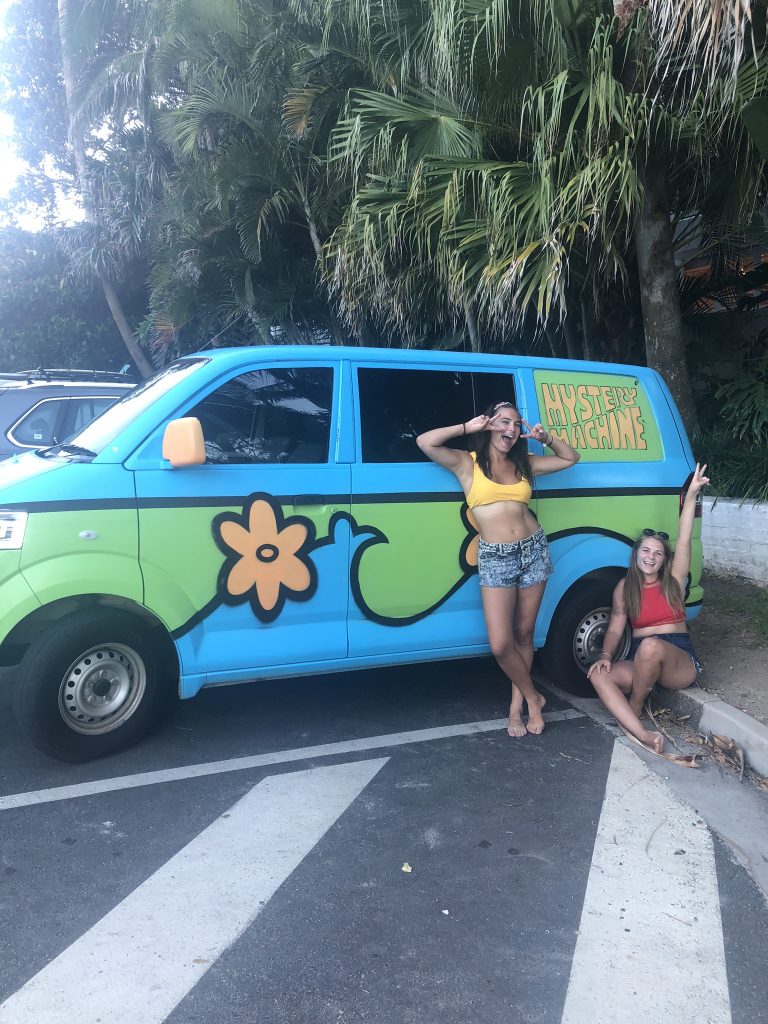 Learn the Lay of the Land:
Mady: "Camper vans. These vehicles are all the rage for traveling through Australia. And while it's common knowledge for anyone touring around down here, it's definitely a foreign concept for both of us. Travelers often rent and deck out camper vans to live out of during their journey through Australia. This saves on costs for accommodations and flights, allows you to move at your own pace and to see a lot of places off the typical tourist path.
Why didn't we choose to do this? A few reasons: (1) we've never driven on the left side of the road, (2) maps are not our specialty and (3) have you ever been in a car while one of us is driving?! In hindsight, I guess all three of those could have been great reasons to do it. Would have definitely made for some great stories. PS. Stay tuned. There is still time."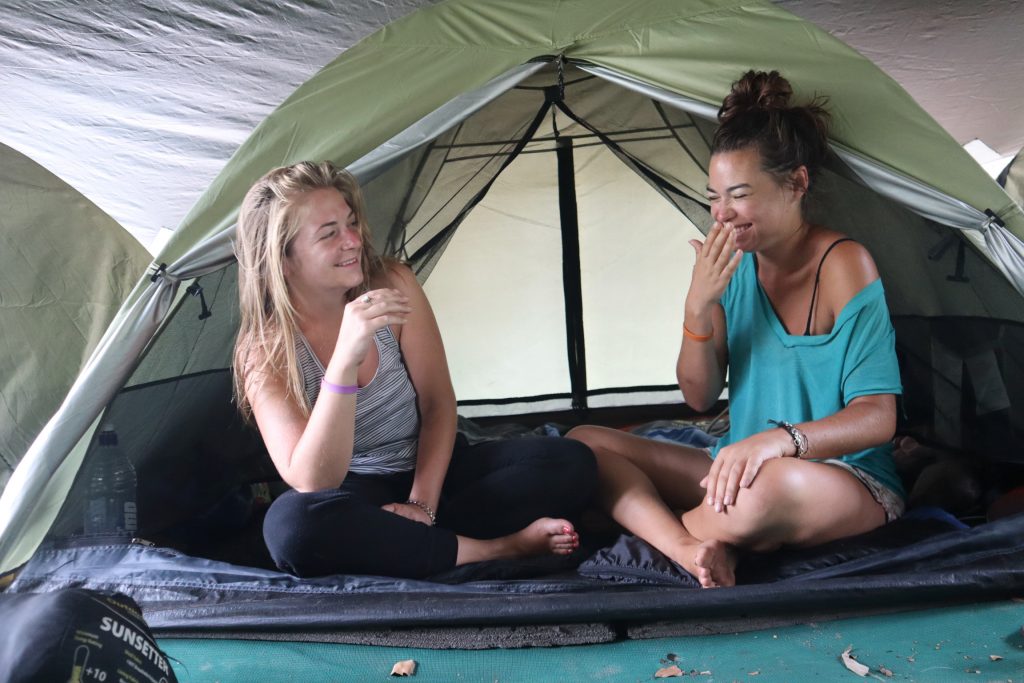 Last Night's Stay + Cost:
Dingo's Resort Hostel– $21.12 USD/night
Kim: "Now that we've hit Australia, our hostels are getting a bit more expensive. (Insert sad face here.) We stayed at Dingo's purposefully as they are known for coordinating the best tour of Fraser Island. What is Fraser Island you ask? The biggest sand island in the world, which is just south of the Great Barrier Reef. Our trip in one sentence: two girls, one tent and three days off the grid in the middle of nowhere with no cell service, electricity, or modern-day civilization. How do you think we managed?
It was both of our first times camping and somehow, we managed to make it out without any major injuries. Lucky for us, this could be considered more of a clamping experience as our tent was already pitched and food was provided for our meals. All we had to do was cook it! We spent our time exploring Fraser Island, drinking goon (see above) by a campfire and taking a little digital detox. Some may say it did our souls some good."
Wizard of Oz Tally: 64 (and counting)
"While we know Kansas City has a lot to offer, the majority of the world immediately affiliates us with one thing—The Wizard of Oz. We're keeping a real-time tracker of all the Dorothy, Toto, and tornado references made to us along the way."
Kim: "Somewhere over the coffee, a quaint coffee shop located in none other than Rainbow Beach. Obviously, we grabbed a cup of coffee and enjoyed a little warm feeling of home right before Christmas."
Next up?
Mady: "Sydney is next on the list as we're making our way down to see the spectacular fireworks for New Year's Eve. After that, we move onto Melbourne, getting a big taste of the place that's been consistently named the "most livable city" in the world. Melbourne is known for its unmatched bar/restaurant scene, psychotic weather changes on the drop of a hat, and adorable penguins on St. Kilda beach. Don't worry—we'll definitely experience all three of these, so look out for a full review on just how livable Melbourne is for these two KC girls in our next update."
Follow the girls in real time on Instagram via @kimfarrell10 and @aboutlastflight.