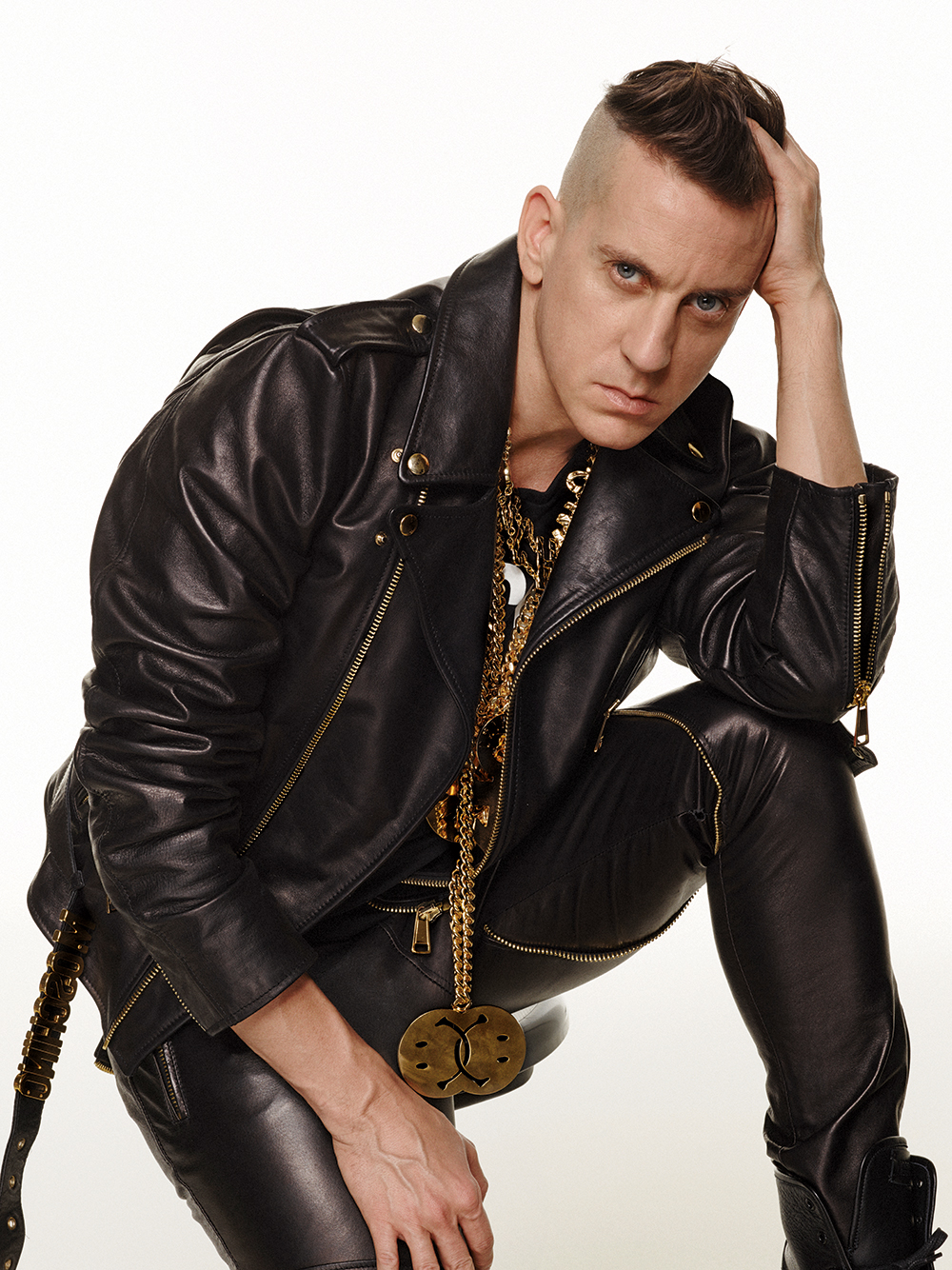 He's the internationally acclaimed head of Italian fashion powerhouse Moschino. He's the man the late, great Karl Lagerfeld once said was his only possible heir at the helm of Chanel. He was raised in a suburb of Kansas City where he was bullied at school constantly for his non-conforming hair and clothing, and yet, in a recent full-length film about his life (stream it on Netflix or watch it here), he sports a Royals jacket and an infectious positivism untainted by bitterness or triumphalism.
His name is Jeremy Scott and even if you've never heard of him, you've seen his clothes on red carpets and music videos.
At 43, the tall, dashing, blue-eyed bad boy of haute couture has dressed dozens of mega stars. Katy Perry, Beyonce, Rihanna, Lady Gaga, Madonna, Miley Cyrus, Nicki Minaj, Ariana Grande, Cardi B, Jared Leto, and Bjork are just the tip of his A-list iceberg.
After graduating high school, Scott moved to New York to study fashion design at Pratt Institute after being rejected by his first choice, Fashion Institute of Technology for "lack of originality." Against his mother's wishes, he moved to Paris penniless after graduating from Pratt. When he couldn't get the proper paperwork to secure a hoped-for internship at a major fashion house, he instead put on his own show in a bar and became an instant sensation.
In 2002, when Scott had become the toast of le Tout-Paris, he abruptly quit the city for Los Angeles, which at the time was far from being considered couture-relevant. Vogue editor Anna Wintour's shocked reaction when he told her: "You mean New York."
Far from throwing his career away, Scott continues to rocket ahead of trends and add to his stature from his California base.
He has been compared to Andy Warhol, splashing bold graphics and eye-popping colors in collections inspired by SpongeBob SquarePants and McDonalds. In addition to his Jeremy Scott line and Moschino, Scott has a wildly popular line of shoes for Adidas, has partnered with UGG and Swatch and recently teamed up with London Fog to "reimagine travel."
Savoir Flair wrote about his Spring/Summer 2019 collection for Moschino: "…pure magic, and one of the most thrilling finales Scott has ever done. Although we digest fashion news so fast it's scary, this is one moment that we will remember."   
Scott, in the midst of a flurry of preparing for upcoming travel and new collections, took the time to go deep about his roots, his muses and vision for the future with IN Kansas City.
Karl Lagerfeld, who just passed away, told Le Monde you were the only designer who could follow him at Chanel. What did he see in your work that some lesser critics missed in their harsh reviews of your collections for Moschino?
I cannot speak for Karl, but I think that anyone doesn't have to look too deep to see that both of us are known for putting on grand, spectacular fashion shows that move people and push fashion often outside of the general context of a fashion-show setting.
We are both designers who have employed our talents to various elements in design—from photography to collaborations with both high-end brands and much more mass brands to great success. And on another note, we both resurrected brands that were at one time not seen as being relevant or desirable any longer, putting them back on the map and squarely in the forefront of fashion.
Supermodel Devon Aoki became the face of Chanel, but you were the first one to put her on a runway at age 13. Where did you meet her and what set her apart in a sea of beautiful faces?
Devon is one of the singularly most beautiful women I have ever met in my life. Her unique beauty and delightful personality have set her apart and made her the star that she is today. From seeing her photo in a magazine to getting her over to Paris to open her first show—my third show—and starting a new friendship that has lasted over 20 years with me being the godfather to her three children, it's been one of the best friendships I have had the pleasure of experiencing in my lifetime.
"I love Kansas City and I have no regret that that is where I am from. I love seeing the big, open fields with the big blue skies of the summer with the trees in full bloom —it still takes my breath away. "
In Jeremy Scott: The People's Designer  you are wearing a Royals jacket in one scene and you let the film crew follow you back to Kansas City to visit your parents and sister. You have also said high school was four years of hell because of your sexuality and how you dressed. What kind of connection if any do you feel to Kansas City today?
I love Kansas City and I have no regret that that is where I am from. I love seeing the big, open fields with the big blue skies of the summer with the trees in full bloom—it still takes my breath away. Give me a few wide-open acres and I'm in heaven!
Have you had any contact since becoming famous with the kids that tormented you in high school? Have you gone to a class reunion?
I actually saw today one of my friends who I have known since 5th grade back at Santa Fe Elementary school! She and I are still very close, and I am the godfather to her two children as well. I don't really remember the people that were unkind—I have no emotional scars that need to be healed from the past. As I see it, the hardships we endure create the beautiful souls we become so I have no animosity or hard feelings toward anyone or anything that happened in the past.
Moschino and Jeremy Scott are known for humor, irreverence, pop influences and fun. Yet your first collection was inspired by car crashes, your second show "Rampage," you described as "Blade Runner, trash bags, and the apocalypse." and another show was called "Rich White Women." Your Jeremy Scott Fall/Winter 2019 collection tackled Fake News. Are people missing a deeper layer of social commentary when they focus on the pop culture references in your work?
There are always deeper messages, maybe more so even for the very colorful and glossy collections versus the ones you mention that are darker in tone or more brooding in their inspiration or output. Nevertheless, I think having a big 1950s style prom dress with "THE END IS NOT NEAR" written across it (in the fake-news inspired show) is still quite whimsical and humorous!
"Doing what I love to do and having the opportunity to share my work and have it be something that brings people joy—that is something to always be excited about!"
What are you most excited about today?
I try to live in the present and so I'm excited about today!
Doing what I love to do and having the opportunity to share my work and have it be something that brings people joy—that is something to always be excited about!