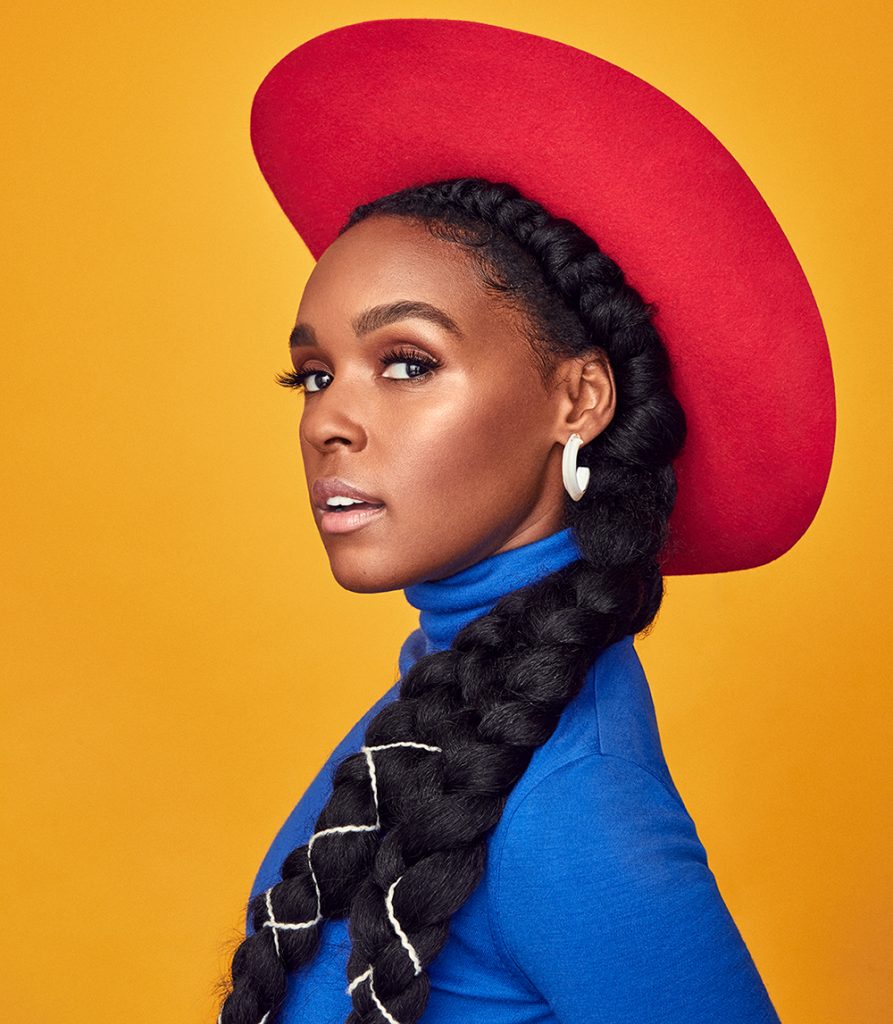 She is 5-feet-zero of incandescent, electrifying star power. At 34, singer/songwriter/actor/producer and Kansas City, Kansas, native Janelle Monáe is harnessing her celebrity to liberate the world. On Twitter, she regularly calls out racism, sexism, imperialism, voter suppression, and homophobia. Speaking about the #metoo movement at the 2018 Grammys, she announced, "We come in peace, but we mean business." 
Born into a large, close-knit clan (she has 50 first cousins) in the Quindaro neighborhood, Monáe starred in high school musicals at Schlagle High School and won the Juneteenth talent show three years in a row with covers of The Miseducation of Lauryn Hill. After high school she went to New York to study musical theater, then moved to Atlanta, where she was discovered by Big Boi and Sean Combs. 
She's earned eight Grammy nominations so far, including for best album for Dirty Computer in 2018. Prince and David Bowie were fans as well as mentors, and Monáe still calls Stevie Wonder for advice. She performed at Barack Obama's inauguration and attended his 55th birthday party. 
In 2016, Monáe starred in two movies that racked up multiple Oscar nominations, Hidden Figures and Moonlight, which won Best Picture. Currently she is starring in Antebellum, a horror film in which Monáe's modern-day character is transported back to a pre-Civil War plantation. She also took over the lead role from Julia Roberts in the second season of Homecoming on Amazon Prime.
IN Kansas City caught up with our homegrown superstar in a lengthy telephone call from Los Angeles, where she is sheltering during the pandemic.
What are you working on today?
I was just interviewing an incredible activist, Janaya Khan, one of the founders of Black Lives Matter. They just celebrated their seven-year anniversary, so I'm feeling very high and uplifted from that call.
I saw a video of you and Maxine Waters delivering lunches to families in Watts as part of your Wondalunch program, which provides boxed meals to people in need.
That started in Atlanta, when we partnered with Gate Gourmet to keep 500 people from being laid off by paying them to cook for the community. I haven't been able to travel, so I couldn't be there in Atlanta, but my mom, who lives in Atlanta now, was there. I've been partnering with Maxine Waters here in LA, and we distributed probably 15,000 meals. My hope is that I can come to Kansas City and do the same thing for my hometown whenever we get the word that it's safe to travel.
How is your family in Kansas City doing?
They're good. It's a big family. I have 50 first cousins. I came into the world at my grandmother's house, right off 21st and Quindaro. I spent most of my days down there in that community. 
Have your family members been able to stay healthy?
Yes, I haven't had any phone calls about anyone being sick, so I'm super thankful for that. Because, you know, in black families and communities, we are dying disproportionately, and we are affected by COVID-19 disproportionately. Pre-existing conditions and living in close proximity make it hard to escape that [virus]. So not only are we fighting to save black lives against police brutality, we're fighting to save black lives against COVID-19.
"I think for white people, listening is going to be key to eradicating white supremacy. I think listening to black voices when they are speaking about injustice and really hearing them— not listening to speak but listening to understand—is going to be key."
Some black activists have said that what makes the 2020 Black Lives Matter protests different than the 1960s civil rights protests is that more white people are participating. What role do you think white people should play in forcing needed change? 
I think for white people, listening is going to be key to eradicating white supremacy. I think listening to black voices when they are speaking about injustice and really hearing them—not listening to speak but listening to understand—is going to be key. 
I also think that white people are going to have to have conversations with their family members, with their colleagues and with their white friends around how to dismantle white supremacy, around how to dismantle systemic racism. 
White people started this, and you benefit from that structure. So the only people who can untangle centuries of oppression against black bodies and black people are the people who reap those benefits. 
We as white people built the system, so it's on us to tear it down, to do that work.
Absolutely. And there are books out there by black people that can help you understand the problem. And it might take you having to disassociate yourself from those who want to continue white supremacy and continue white violence against black bodies.
There is some tension for white liberals between the idea of not wasting your time trying to change your MAGA uncle's mind and the idea that silence is violence.
Yeah, absolutely. I have white friends who are seeking to be better allies who have said that they have been kicked out of their families because they have stood up against white supremacy. 
It's going to take not just posting Black Lives Matter hashtags, but putting your body in front of black bodies, who are constantly being beaten and taken to jail before white folks are. It will take you literally putting your life on the line, because you will be better protected than we are.
Dirty Computer was nominated for album of the year in 2018, but it works as a soundtrack for 2020. At the time, reviews focused on the angle that the record was your first not released as your alter ego, Cindi Mayweather, and on the pan-sexuality theme. But there's also political content that speaks directly to the current struggle.
A lot of my work has been written for the future. Even with my first album, The ArchAndroid, the themes still ring true today, and part of me hates that. I hate that we're living in a world where black and brown folks are other-ed, where in the LGBTQIA+ community we're still fighting for rights, we're still trying to protect trans lives and we're still treated as the other in America, where equality is supposed to be our foundation. Yes, inch by inch we are making progress but part of me hates that we could have been so much further along. 
I think music can be very healing, and I'm thankful that art can serve as a soundtrack and as a church and as a community for those who feel other-ed, for those who feel like there's a target on their back for their mere existence.
In Crazy, Classic Life from Dirty Computer there's a section that goes: "I'm not America's nightmare / I am the American Dream / Just let me live my life / I want a crazy, classic life." What were you thinking about when you wrote those lines?
I was thinking about how the American Dream looks different to each person depending on their values. We all have things that we aspire to be and aspire to do. And I believe the foundation of the Dream is having the freedom to choose and the freedom to make those decisions for ourselves. Denying anyone that freedom because of race, class or gender is a nightmare. 
What I'm getting at is, we should be able to make mistakes in this world as a black or brown person and not be incarcerated when a white person who does the same thing is not. That is something we have to look at. We have to look at our prison-industrial complex. When the color of your skin gets you a harsher sentence than a white person, we have to look at that.
Was it difficult for you, as a black woman, to shoot the plantation scenes in Antebellum?
Absolutely. I felt all my ancestors' power, though.
How so?
I felt the strength of every black woman, especially, that has had to bear the labor and burden of fighting racism and white supremacy. 
Without giving away too much, there's a scene at the end involving a statue that gave me chills knowing how that scene has now been overtaken by news clips.
Yeah. You know, the thing about this film, when I was watching it, all I could think about is how the past is not really the past. I think the white supremacy, the systemic racism, the micro-aggressions that run all through this film need to be discussed, because they are directly impacting our lives. And, particularly, the burden that black women carry to deconstruct white systemic racism and white supremacy every day is important to discuss. Because we're in the fight right now. 
This film is a reflection of who we are and what we can be. The themes in this film have not been in the faces of the people that perpetuate the delusions of white supremacy like they should be. I think this film is going to be triggering for some folks, and there's going to be discomfort. But discomfort is part of everyone's reality now, and we can't shy away from it. I think it's time to get uncomfortable. Real change requires an upsetting. Real change requires a re-routing. Real change requires a real honest look at ourselves. 
Your activism is so wide-ranging. Does it ever feel overwhelming? Do you wake up and think, 'What should we work on today, smashing the patriarchy? Canceling homophobia and transphobia? Ending systemic racism?
[Laughs.]  Some of them work hand in hand. Bigotry and patriarchy and imperialism—a lot of that comes together in the need to stay in power. Abuse of power is at the root of a lot of the issues that I try to combat. Right now, my focus is on liberating black people in the LGBTQIA+ communities, black women in particular, and making sure that we are protected. My focus is also on defunding and eventually disbanding the police and redistributing that money to our communities. Education has been defunded, and we all know that when we are not educated, we lack. Our world does not progress, we do not evolve, our economy suffers, and ideas that could really change the world for the better suffer as well. 
So I'm just really interested in protecting black lives. When black people are liberated, the rest of the world is liberated. 
What do you see looking around right now that gives you the most hope?
The things that give me the most hope are these trees right here that I'm looking at. These trees have seen a lot. They have listened to a lot. They have lived through decades and decades of trauma and joy. And when I go into another frequency, this tree will be here. 
Listening to the conversation we have around revolution and around protecting black lives, and knowing this tree is going to hear that and knowing that potentially, the next person who walks by that tree will reap the benefits of living in the world where black folks are liberated and protected and where our lives truly matter. That Afro-futuristic vision gives me great joy.  
Interview condensed and minimally edited for clarity.