Judd Apatow is responsible for some of cinema's most shocking—and sidesplitting—comedies like The 40 Year-Old Virgin and Trainwreck, and now the surprisingly heartwarming The King of Staten Island.
Co-written by the movie's star and narrative inspiration Pete Davidson, The King of Staten Island, though souped-up on the silly, proves far more human than it first appears. It has the ability to represent the attitudes of the contemporary twenty-something male and his mother. In addition, it presents the process of developing introspection, and showcases the course of learning respect and honor—which helps elevate the flick from the expected base floor humor to a truly inspired account.
Director Apatow took a beat to chat about this ode to that saucy Staten Island borough, its people, firefighters, and moms:
 First, I want to thank you for chatting with me with everything that's going on in the world. It's a pleasure to get to do this with you. I'm coming from Kansas City and I have to ask, have you been to Kansas City before?
"I have not been to Kansas City. I've been doing a lot of standup the last few years. I did my first mini-tour of the Midwest. I went to Milwaukee, Minneapolis, and Chicago. So next swing, I'm gonna come through."
Come on and see us. Another part of the reason I ask is because I think for The King of Staten Island, a surprise target audience would be Midwestern moms.
"Sure. A lot of the movie is about blue-collar people like Pete's mom. In real life, Pete's mom was an emergency room nurse his whole life. She was also a school nurse at the same time. One of the reasons he made the movie is he wanted to make a tribute to her for all the time she put into taking care of him. It really is a love letter to his mom."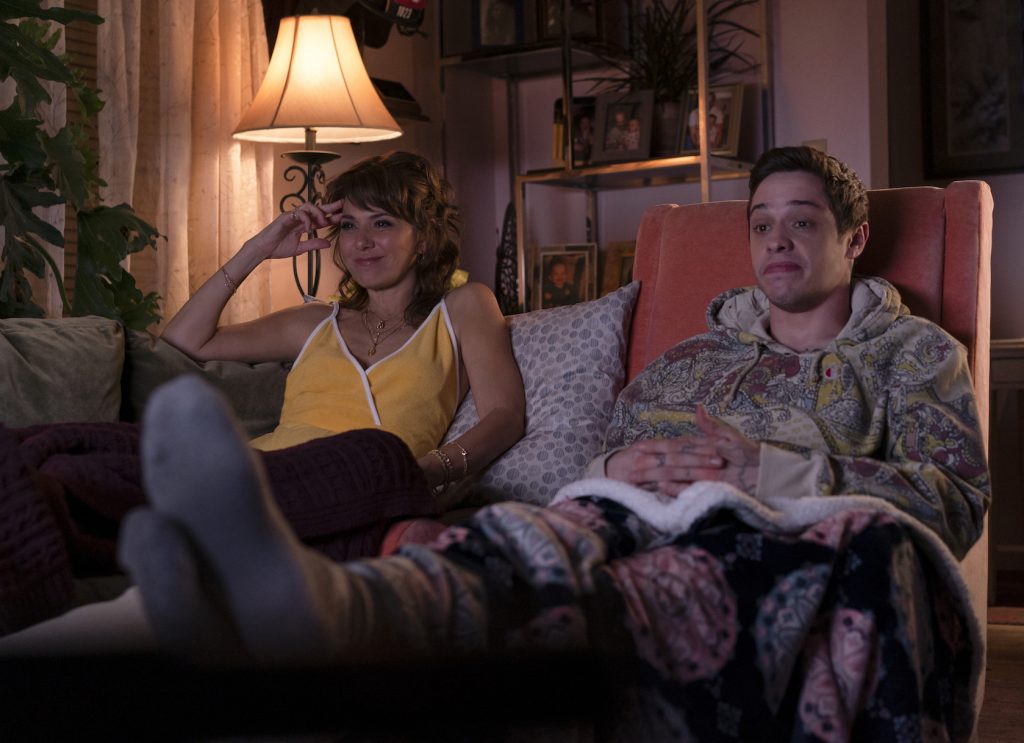 Another thing that I really loved about the mother/son dynamic is that, often times, as forty-something parents, we feel like there's a chasm between us and our twenty-something kids. This movie does a really great job in shrinking that chasm.
"Yes, I think that's true. A part of what's funny, but real in the movie is that Pete hasn't moved out yet and he is lost. When his mom starts dating a fireman, they start trying to figure out how to get him out of the house, get him to take some risk and move on with his life. He clearly feels like they don't understand what's preventing that and what he's going through emotionally. It's a little bit about that divide—and hopefully the movie illuminates some aspects of that that will be helpful."
I think you did a really great job capturing and representing the attitudes of both the forty-somethings and the twenty-somethings. Another thing that I think is really special and universal about The King of Staten Island is that, oftentimes, we're no strangers to tough love, but we feel that if we employ that tough love with our kid, we fear it might backfire.
"Part of what we're talking about is being a parent. I have a 17-year-old daughter and a 22-year-old daughter. In the modern era, it's all about getting them to like you. Just like me. It's very hard to keep your boundaries with your kids these days. Because they're so smart, they're so smart emotionally, they know how to manipulate you and make you feel guilty. It's definitely very challenging. It was easier for my parents who just ignored me."

You're the king of the "goofy guy love story." Why is The King of Staten Island the best next move for you as a director?
"I just try to think of ideas that I can be passionate about for years. When you make a movie, it's often three years that you're on it. It has to be something that you don't mind thinking about every second of the day for three years. This movie is about things that I care about. Some of it is about the firefighting community. I was so impressed by meeting all these people. They dedicate their lives to saving other people. They put themselves at risk to do that. That was another area where Pete wanted to pay tribute."
The King of Staten Island streams now On Demand.
Director
Judd Apatow
Cast
Pete Davidson, Marisa Tomei, Bill Burr and Maude Apatow
Run time
2 hours 16 minutes