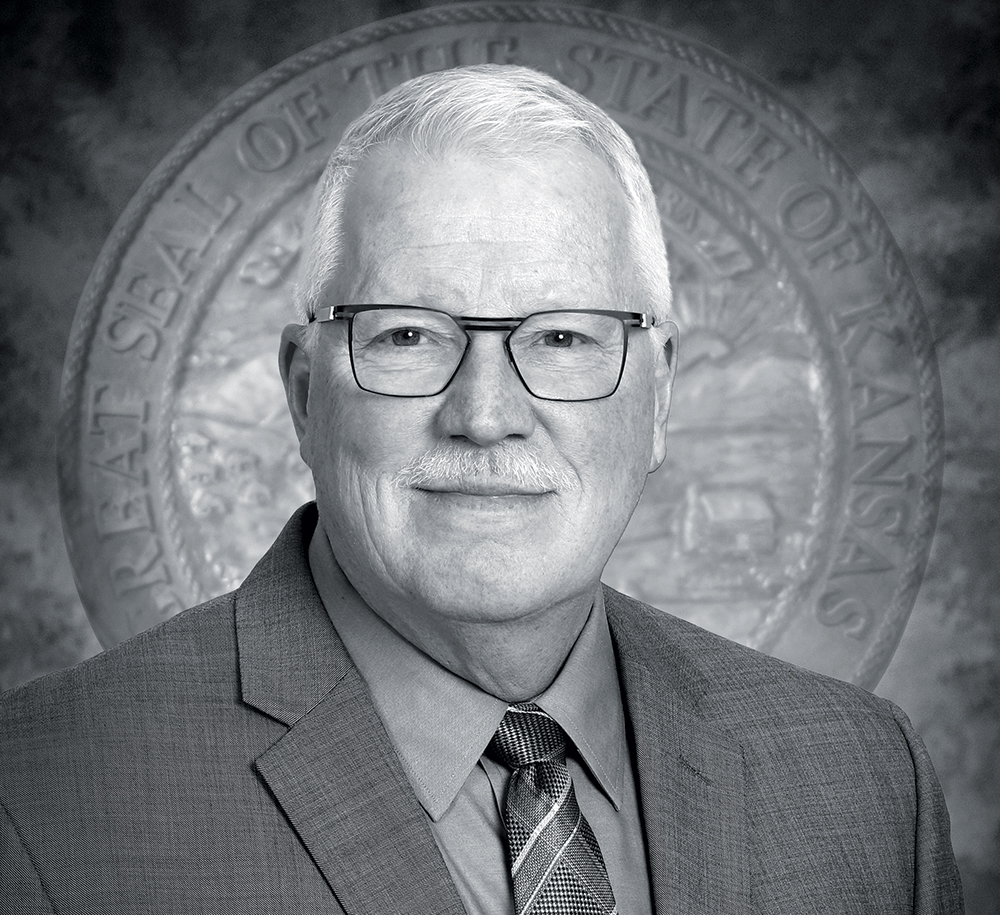 Some people set out to make history. For others, history finds them. History intersected with the quiet arc of Dr. Lee Norman's life last month. In a day, Norman went from being a well-respected but little-known state agency head to being Kansas's version of Dr. Anthony Fauci as the coronavirus epidemic bore down. On daily livestreams, seated six feet away from Gov. Laura Kelly, Norman reassured a jittery citizenry. When a tussle between Gov. Kelly and the legislature over closing churches in Kansas on Easter Sunday hit the national news, Norman was interviewed by Rachel Maddow on MSNBC.  
That was an unexpected development for a doctor born and raised in Adel, Iowa (pop. 3,600), who got his medical degree at University of Minnesota and practiced medicine for 20 years in Seattle. Norman was hired as chief medical officer at University of Kansas Health System in 2007 and at age 61, Norman joined the Kansas National Guard, where he still serves as the State Surgeon of Kansas, guiding medical troop training, force health protection, and biosecurity. In March 2019, Gov. Kelly appointed Norman as Secretary of Kansas Department of Health and Environment. 
Norman, who has two children and two grandchildren, lives in the River Market area of Kansas City and also keeps a residence in Topeka. He uses his proximity to the City Market to indulge in a favorite hobby, canning. Having scores of jars of jellies, chutneys, dill pickles, pickled okra and picked asparagus lining his pantry shelves turned out to be handy when coronavirus hit, and he began working essentially around the clock. He made time for a long telephone call with IN Kansas City on a Sunday morning.
You've had a long career of dealing with infectious disease, but are there political aspects of dealing with the crisis that are new for you?
Yes. The political part is very new to me. It does require a different kind of navigation to get things done.
What do you mean?
The thing that is different is, I've always been able to focus single-mindedly on making the infection go away and protecting people. What is very clear in the political process is, other people have agendas other than that. 
In Kansas, public health has been very under-funded for decades. When you look at the state of funding, $50 per resident per year, that is in the very bottom part of the rankings in the United States. That's four to five times less per person than the states in the upper tier. So when an infectious disease breaks out there is no resiliency built in, in terms of people or resources.
There is a strong anti-tax sentiment in Kansas and also a widespread belief that government spending is often wasteful. What does that $50 per person go towards and why would we be better off if we spent more?
For example, we have this coronavirus pandemic going on, and we have a huge syphilis outbreak in Kansas, with babies being born with congenital syphilis. So we are never fighting just one wildfire at a time. 
There are also so many undesired pregnancies in the state of Kansas because of lack of access in so many areas to contraceptive services. 
We've got a huge battle on vaccines, and a lot of the funding for public health goes toward purchasing vaccines so people can get them at no cost. We have ten times more whooping cough than we ought to. Whooping cough is a preventable illness. My biggest battle in this job before this pandemic was immunizations and the fact that there is so much of an anti-immunization sentiment in Kansas. 
When a vaccine for the coronavirus becomes available, what will be your message to people that have safety concerns about vaccinations?
So many people don't have their children vaccinated, for example, that I'll be curious whether the same anti-vaccine persons will view a coronavirus vaccine as anything different than measles-mumps-rubella, etc. One of the real challenges we're experiencing with the coronavirus is that there's no vaccine and no treatment. We won't make this thing go away until we have a vaccine for it. The best we can do is, one, understand what people's fears are about the vaccines and, two, have a fact-based discussion and not an internet-based discussion as to what the material risks really are. And three, see what is the common ground that we can agree on in order to increase the likelihood of herd immunity—I think it can be achieved through vaccination.
Two years ago, when you were Kansas State Surgeon, you gave a speech at Ft. Leavenworth entitled "Modern epidemics: Why they occur, and why we should worry!" The exclamation point struck me as unusual in a scientific presentation. Was that intentional?
Yes. I saw this coming. I didn't know that it would be a coronavirus, but I knew that a modern-day epidemic is not only a health threat but a national security threat.
Do you have any theories about why people failed to take the threat seriously two years ago?
Well, I think it's because these kinds of things seem remote when they're not happening. It's kind of like tornado insurance. People don't think of it until it happens to them. I think also, that when we have leaders that don't listen to science and don't plan based on good scientific forecasting, it takes us down a different path. 
Was there an aspect of the crisis that you did not see coming?
Yes, the supply-chain issues. We rely heavily on China for much of our pharmaceuticals and so on. I certainly didn't see that the supply chain would be so disrupted by having China be so disrupted. It seemed like an endless flow of goods from there, and then, quickly, it was cut off. It's a wake-up call. We need to diversify our supply chain. 
Is that something that can happen at the state level or does that need to come from the federal government?
I think it has to come from both, really. I think there need to be incentives for diversifying. Quite honestly, it's profit-driven. Things coming from China are cheaper than things made in the United States. We can talk about "made in America" all we want to but until companies are willing to pull that manufacturing back home and reduce their profit margins, we don't have any Plan B or Plan C for the next time that chain gets disrupted.
And we haven't seen the worst of it yet. On the pharmaceutical side, there are things not even related to COVID-19 that are going to be problems for us, things like anesthetic agents and paralytic agents we use for putting people on ventilators. When we turn the switch back on for elective surgery, we're not going to have enough pharmaceuticals for the kind of anesthesia that we're accustomed to.
Why is it taking so long to get to a vaccine?
SARS, which hit back in 2003, was a coronavirus, and it fizzled out quickly. Once that happened, it was no longer profitable to work on a coronavirus vaccine. Better planning would have been to say, "We know it could happen again, let's get a coronavirus vaccine." 
But it's hard for a government or an administration to take credit for something that doesn't happen. Let's say in '03 and '04 that we had continued with a coronavirus vaccine, implemented it as a routine. People would say, "Why are we spending money on something that's not even around anymore? We should be worrying about influenza." 
Will we be contending with COVID-19 in the future, after the current outbreak is controlled?
Yes, I think this will continue. I was deployed in the Middle East in 2017 and 2018. There's a respiratory coronavirus there, and it didn't peak out until its fourth year. There's still no vaccine and it's still grinding along in its seventh year. 
What gives you hope?
We have a number of things on our side. Spring and summer are coming, and respiratory illnesses tend to decrease in spring and summer, so I expect we will see a natural decline. I fear we will see an uptick when people start relaxing their stay-at-home and social distancing behaviors. I fully expect it will come back in the fall. If we look at other pandemics, history even suggests it will come back larger in the fall. I don't think a vaccine will be available by this fall.
If you expect it will come back even bigger in the fall, why should people not despair?
I think the pause will give us time to regroup. I think in relatively short order we'll be able to relax on staying at home. I think eventually businesses and work will recur. The economy will take an uptick. People will be able to go to restaurants and socialize and go to church. I also think the breather will allow us to restock the supply chain, so we don't have to ration protective equipment. 
Your son in Brooklyn came down with coronavirus and has recovered. What were his symptoms like?
Curiously, the first thing he noticed was that he couldn't smell anything, and he lost his sense of taste. Then it moved into the usual stuff with fever and cough, chest pain and body aches, headache. He was never in peril, and he has returned to work, but he was down and out for 15 days. It was not a fun trip for him.
You've been working 16-hour days. How has that impacted you personally?
[long inhale] Yeah. This has been hard. When I was deployed with the Army in the Middle East in 2017 and 2018, I had a big responsibility and a big area of operation. This absolutely feels like deployment again. It's a single-minded focus in a very complicated theater with lots of moving parts. 
What do you most look forward to getting back to, when life returns to normal?
The thing that I enjoyed more than anything when I was in the Middle East was doing laundry. That felt familiar, like back home. Sitting and listening to the rumbling machine while I'm reading my novel and smelling fresh, clean laundry. 
Interview condensed and minimally edited for clarity.